The iPhone went on sale for Verizon customers today, and while Business Insider has an amusing photo gallery of short-to-nonexistent lines for the phone at many of the nation's retail stores, the introduction of the ubiquitous Apple device is expected to generate big business for the wireless carrier.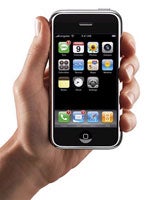 Analysts expect Verizon to sell anywhere from 10 million to 12 million iPhones this year, although it's less clear how many may go to former AT&T customers (yes, they'll have to buy new devices if they want to switch).
Gerald Faulhaber, a Wharton emeritus professor of business and public policy, recently told Knowledge at Wharton that with the introduction of the iPhone, Verizon "has the opportunity to become the Nordstrom's of wireless" referring to the high-end retailer known for its customer service.
AT&T gained a lot of users from its exclusive partnership to sell the iPhone: According to research firm comScore, the company leads in smartphone market share with 38%. Verizon was the overall market leader, but trailed in the smartphone arena with a 27% share, comScore reported.
But the pact with Apple hasn't been a home run for AT&T, which has taken a lot of flak from customers — and mocking from competitors — about the reliability of its coverage, particularly in large markets like New York and San Francisco.
New York Times personal technology editor Sam Grobart recently pitted iPhones from AT&T and Verizon against each other to see which did a better job of placing and receiving phone calls and downloading web content from locations in Brooklyn, the Bronx, Queens and Staten Island. As a video posted to the newspaper's website shows, the Verizon phone came out on top. But, as Grobart warned — and experts recently told Knowledge at Wharton — it remains to be seen how Verizon's service will be affected once all of those newly minted iPhone users jump on its network.
"Who wins the game in the end? The company with the best customer service," Faulhaber said.