Legacy retailers' ongoing struggle to stay relevant in a landscape increasingly dominated by Amazon and online upstarts has come to a head in the past year. Companies will close thousands of stores this year – and some may not survive at all.
While it may seem that retail is headed for an apocalypse dominated by dead malls, in reality it's a needed industry shakeout.
"The U.S. is overstored and we're in the middle of a painful reset," said Carrie Ask, executive vice president and president of global retail for Levi Strauss. "What's dominating the headlines is that retail is not successful; it's not transforming fast enough. But when you pull back the top layer, that perception is people's reaction to all of these headlines talking about store closures."
At the recent Retail East Summit in New York, Ask, Avon director of digital strategy and e-commerce Sapna Shah Parikh and Shyam Gidumal, leader of EY's consumer products and retail market segment, discussed where retail is headed next and what the landscape might look like in the next decade. The conference was organized by Knowledge at Wharton and Momentum Event Group.
Retailers including The Limited, Bebe, Wet Seal and hhgregg shut down for good this year. Michael Kors, Payless ShoeSource, Sears, J.C. Penney, Macy's, Abercrombie and Fitch and others will close dozens – in some cases, hundreds — of stores in 2017. Over Memorial Day weekend, Radio Shack closed more than 1,000 stores across the country. The company once had over 7,000 stores; now, just 70 corporate-owned stores and 500 dealer stores are left.
"We need to raise our game as an industry because we don't own that consumer; they're not captive to us anymore." –Carrie Ask
Levi Strauss's Ask noted that the U.S. has as much as five times more retail square footage per person than that of other developed countries, leaving it with an unviable store footprint. While many of the current doom-and-gloom headlines are more about industry retrenchment than an outright death for traditional retail, she said that brands will not survive if they don't find ways to transform the customer experience.
"Even 10 years ago, consumers had to do a lot of settling. They went to a store and wanted a thing and, when it wasn't there they had to either pick something different, go to a different store or come back later," Ask said. "Consumers no longer have to settle. They have more options than ever, and it's all right there on their phone. We need to raise our game as an industry because we don't own that consumer; they're not captive to us anymore."
The End of 'Settling'
Although most retailers know they need to transform, few are confident in the exact path forward. Parikh said that there are a couple of key truths that retailers need to face as they find a way to change course. Number one: The industry "missed the boat" in understanding the impact of Amazon.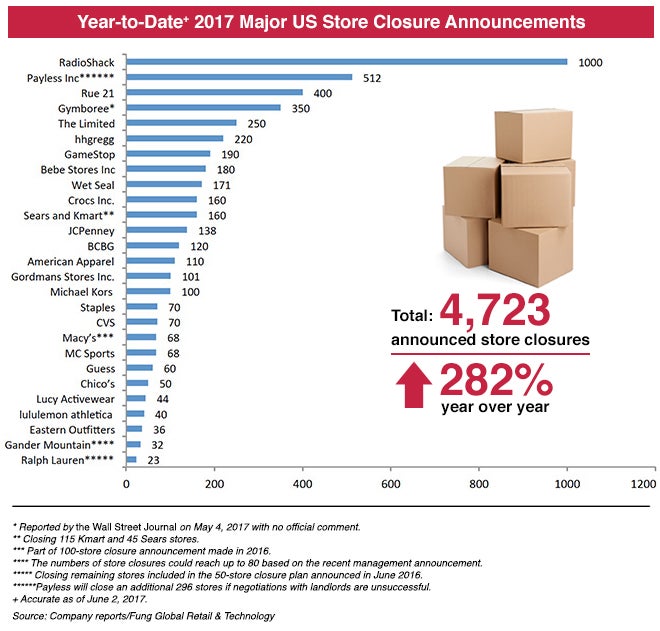 "With that miss, there was the ability for companies like Amazon and others to really create a customer expectation and also meet those demands," she said. "Now that we missed it, we need to figure out how to correct it."
Infrastructure is a big part of that, Parikh noted, but it's more than just changing a company's footprint. "For a company like Avon, you have legacy systems and the massive footprint of millions of representatives across the globe. How do you change and innovate with that footprint? We have to look at the incentive structure for employees – have they been incentivized to take risks?"
Gidumal added that retailers' legacy organizational structures and systems are often built around the idea that the digital arm of the business is separate from the rest, with a different management team, inventory and pricing methods. But modern consumers "don't want to go to the store and have one experience and then go online and have a totally disconnected experience."
But creating a totally connected experience is easier said than done. For Levi's, one of the challenges is tying together the customer's experience on the company's website or in one of its company-owned stores with what happens when someone visits a franchise store or buys a pair of 501 jeans at a department store. Ask said there are six things that really matter when a brand is trying to create an integrated marketplace:
A single destination that houses all product information so every point of distribution has the same information.
One view of inventory – "so you can make commitments to consumers that if they make the effort to pick up a product, it will be there for them."
Detailed transaction information.
A single consumer profile that houses their transaction history: "It drives me batty when I get a pop-up ad on a website for something I just bought."
An integrated cross-channel strategy for contacting customers.
Walkthroughs: Ask pointed out that marketers used to do store walkthroughs prior to seasonal launches. She said the practice should be revived to make sure that campaigns are cohesive across all channels.
Gidumal said cost is often one of the biggest obstacles to bringing all the pieces together. "The cost that comes with retooling is so meaningful and the benefit is aspirational," he noted.
The Cost of Retooling
Ask, who noted that that she works directly alongside Levi's president of e-commerce and chief information officer, said the company keeps three key inputs in mind when considering investments in new systems and technology. The first is current financials by channel and by market, which she noted vary considerably.  "What is the channel-specific economy and what are the drivers of that?"
"We have to look at the incentive structure for employees — have they been incentivized to take risks?" –Sapna Shah Parikh
The second is analyzing what capabilities need to be built and what the benefits are likely to be by channel. Finally, Ask said they discuss what it would take to build the tool or system so it will be dynamic and can be turned on and off so the company can analyze the costs and benefits through every layer of the marketplace. "It gets to be a really fascinating way of thinking about an idea; it shatters the idea of a digital arm of the organization because it forces all of us to think digital," she noted.
Parikh said Avon has tried to break down siloes by keeping the focus on Avon representatives and how different systems can make it easier for them to sell to their customers. "Understanding the end consumer has helped us to raise the bar for representatives in their entrepreneurial activities," she said. "Because of advancements in AI and social media data, we're able to connect them better with potential customers and empower them with data they need to help sell.
"At the end of the day, it should come down to that single customer," she added. "What does a company like Amazon do better than we do? They know the customer; they know the customer inside and out. They have the ability because they have one channel."
Ask expected the challenges that retailers are facing will also spill over to developers. "I think we're going to descend into the world of haves and have nots in real estate, and the tipping point is traffic," she said. "Retailers should be asking landlords what plan they have to preserve, protect and develop traffic at their locations. Retailers can't afford to pay yesterday's rent for a store that is down in traffic by double-digits. They're going to have to walk away from those locations."
But she noted that while U.S. retail is overburdened as a whole, plenty of individual brands are not, and many individual shopping centers are still growing their traffic. The differentiator, Ask added, is often which brands or developments are creating unique experiences for customers.
Retail of the Future
That trend toward the experiential is also what Ask named as one of the drivers of successful retail in the future. "From now on, there is no day off, no downtime; consumers are on all the time, and so should we be," she said. "We're not just competing with other retailers and other brands. We're competing for what consumers want to spend money on." She noted that the U.S. apparel industry last year grew 3%, while the U.S. domestic travel industry grew 5%, and there are seven million more cruise passengers today than there were 10 years ago.
"People are spending more on experiences. We know they want to look good when they're taking all those selfies — so how can we be there?" –Carrie Ask
"Last year, for the first time, American consumers spent more at bars and restaurants than on groceries," she noted. "People are spending more on experiences. We know they want to look good when they're taking all those selfies – so how can we be there?"
Parikh also expected winners to emerge from retailers that can find innovative ways to deliver goods. She noted that free shipping is "ubiquitous," but is also one of the largest P&L expenses from an e-commerce standpoint. "It's just not sustainable having UPS and FedEx be our core delivery system," Parikh said. "Amazon has done great stuff around drones and developing pick-up spots. I see that trend increasing."
In closing, Parikh and Ask were asked to describe the consumer experience in 2027. Parikh imagined that she would be "sitting on my sofa, and my refrigerator will be automatically replenished with products I need without me having to do anything."
Ask imagined a consumer visiting the Coachella music festival and "checking out a trucker jacket or denim shorts and being able to take a photo of them and find out what it is, where it is available near them and choosing to ship it to their house or to get it in a store." She noted that the latter is more cost-effective from the retailer's standpoint. "So how do we make it so compelling that they want to go to the store because of the benefits?" she asked.
Image by Phillip Pessar from Miami, USA – Radio Shack Sprint Store Closing, CC BY 2.0, https://commons.wikimedia.org/w/index.php?curid=50681716