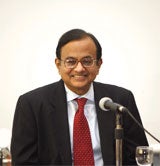 India's new finance minister, P. Chidambaram, was given the job only last week. But he seems to have hit the ground running — not so much because of what he has promised to do, but for what he has promised to undo.
The Union Budget presented earlier this year by then finance minister Pranab Mukherjee was widely considered to be one of the worst in recent times: It imposed a huge tax burden on Vodafone, when the Supreme Court had already ruled that the tax was not payable. It also introduced the General Anti-Avoidance Rules (GAAR) with the aim of stopping tax evasion by Indian companies. Some Indian entities had been found to be routing their investments through tax havens. This was unexceptionable, but foreign investors were worried by the unclear wording — interpreted one way, they would also come into the net.
It was Mukherjee who announced a month ago that the implementation of GAAR would be delayed. The market, however, didn't react to his announcement. Chidambaram seems to command more trust — on Monday, the Bombay Stock Exchange Sensitive Index (Sensex) went up 215 points or 1.25%.
The problem with both the Vodafone capital gains tax and GAAR was that Mukherjee's budget had made them applicable with retrospective effect. This had the effect of foreign firms putting their investments in India on hold. "Uppermost in my mind is the duty to regain the confidence of all stakeholders," Chidambaram said in a statement on Monday. "Obviously, where necessary, our policies have to be modified."
The finance minister has set a committee to look at the GAAR guidelines. There will also be a review of all tax provisions with retrospective effect. "[We have] to find a fair and reasonable solution," he said.
There are signs that Chidambaram also plans to undo other unpopular policies put into effect under Mukherjee. Revenue Secretary R.S. Gujral, considered the brains behind Mukherjee's taxation moves, has been moved out. The finance minister has also met with Reserve Bank of India (RBI) governor D. Subbarao. It was well known that Subbarao and Mukherjee didn't see eye to eye on many issues. In fact, the RBI governor has complained in public forums that the government has left the RBI to tackle the problem of inflation all by itself. The only weapon in its hands was to raise rates — which it did 13 times in a row — and then refuse to lower them. High interest rates means that growth slows down as industry refuses to borrow and invest. Chidambaram indicated in his statement that rates would be brought down. "Current interest rates are high," he noted. "High interest rates inhibit the investor and are a burden on every class of borrower…. Sometimes it is necessary to take carefully calibrated risks in order to stimulate investment…. We will take appropriate steps."