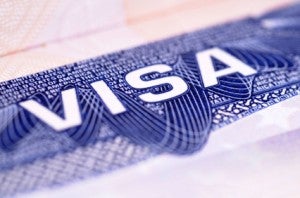 The Indian software industry is bristling at the immigration bill passed recently by the U.S. Senate. While much of the debate among American lawmakers is concentrated on a provision that would provide a path to citizenship for illegal immigrants currently living in the U.S., Indian firms have honed in on clauses in the bill relating to non-immigrant visas.
For instance, the bill bans outplacement of H1B visa holders if they form more than 15% of a firm's U.S. workforce. It also limits the proportion of H1B and L1 visa workers relative to a firm's total U.S. employees to 50% by FY17 (starting October 2016). Indian IT firms send large numbers of their employees to the U.S. to work at client locations on temporary work visas — the H1B or L1 visas. If the bill is passed in its current form, Indian firms will be forced to cut down on sending their employees from India. "We estimate that visa workers currently comprise 60% to 75% of offshore IT firms' U.S. employees," says Sudin Apte, CEO and research director of Offshore Insights, a Pune-based IT research and advisory firm. "Also, with an estimated 35% to 60% of [Indian companies'] U.S. workforce on H1Bs, [the bill implies] that offshore-centric IT firms will not be able to place these workers at the client's site."
What this means is that Indian IT firms will have to employ more U.S. residents, which will increase their spending on wages and benefits. Leadership at the companies say an increase in American hires will also reduce their flexibility in managing onsite employee utilization.  The bill poses other challenges, too: Indian firms will have to pay more by way of visa fees and pay higher wages to H1B visa holders. All of this could disrupt the companies' business model. "Hypothetically, FY2017 [earnings before interest and tax] margins could be 60-120 [basis points] lower and FY2017 [earning per share] could be 3% to 6% lower," Apte notes.
According to Som Mittal, president of the National Association of Software and Services Companies (Nasscom), the bill "almost amounts to punitive treatment to our sector." Mittal notes that Nasscom fully supports the need for comprehensive immigration reform in the U.S., "however we have deep concerns regarding provisions that arbitrarily single out Indian IT services providers." Mittal points out that while the visa provisions in the immigration bill impact other countries also, "India will be hit the hardest because it has a 55% market share of the global IT outsourcing industry."
Praveen Bhadada, director of market expansion at Bangalore-based management consulting firm Zinnov, agrees: "Indian companies will be affected more as they are the largest applicants of H1B and L1 visas globally." The IT sector makes up about 4% of India's GDP at present. The U.S. accounts for 60% of India's software exports.
A Question of Impact
A recent J. P. Morgan report suggests that the immigration bill in its current form has worrying aspects for the Indian economy. "Our estimated adverse impact on India's FY2015 GDP (including the downstream multiplier impact) due to the outplacement clause in the immigration bill at 0.3% to 4% is large enough for the government of India to get worried about the immigration bill (as it currently stands)," the authors wrote. "Even more worrying, perhaps, is the adverse implications this finding has on downstream lower-level employment this sector generates."
Nasscom's Mittal says that the bill in its current form gives an unfair advantage to U.S.-based IT firms. "There seems to be an attempt to characterize good companies and bad companies based on the location of their headquarters," he notes. "Many U.S. IT firms also use the global delivery model and take people by the thousands from India. They will be able to continue with their business model." He adds that concerns about unemployment in the U.S. technology center because of the jobs taken by workers from India are unfounded. "The Department of Labor estimates the current level of unemployment in the tech sector to be around 3%. In its own parlance, anything less than 4% amounts to a shortage. And the bill itself provides for increased H1B visas to address this issue."
Offshore Insights' Apte points out that a 3.5% rate for tech unemployment means that "there are approximately 120,000 people available, but they are [spread out] across [all] skill sets, experience levels and limited geographical mobility. We estimate that not more than 50,000 of these are hirable. Total head count required to get Indians to a 50-50 ratio by October 2016 will require approximately 150,000 U.S. hires. This means it is practically impossible to meet these numbers and comply with the bill in this straightforward fashion."
Observers suggest that the bill will pose challenges for American businesses also. According to media reports, Ron Somers, president of the U.S.-India Business Council, told Indian news agency PTI that the bill "unfairly targets American companies trying to remain globally competitive by reducing their ability to contract with global IT service providers and restricting their access to the international expertise they need. Such restrictions could stifle U.S. innovation, slow local job creation and force companies to move jobs overseas."
Talking to reporters on the sidelines of company's recent annual general meeting, N. Chandrasekaran, managing director and CEO of Tata Consultancy Services (TCS), India's largest IT firm, said that the bill "will not only impact companies like us, but all U.S. companies [will also be impacted.]"
Apte notes that large offshore clients in the U.S. are concerned about the implications of the bill, especially in the case of contracts worth more than $100 million, which also tend to have long gestation periods. "Such deals are few in any case but we are now seeing a perceptible slowdown in decision making," says Apte. He adds that clients are looking at multiple options: They can wait and watch to see if the bill is passed in its current form (or at all), set up their own centers in low-cost locations within the U.S. or partner with an American IT firm.
Is there a possibility that, in order to circumvent the visa constraints created by the legislation, more work may actually move to India? Apte doesn't think so. "The nature of on-site work is such that only around 20% to 25% of it can be moved offshore. But this will also impact vendor revenue."
Unnecessary Tension?
According to Mittal, the bill is "creating unnecessary tension" in India-U.S. relations. "Of the top 15 technology providers in India, 10 are American companies. India is open to business for them. India is where the growth will happen for these U.S. companies. If the [U.S. government] puts restrictions on a sector that is so important to India as a country, then surely the Indian government is not going to sit back."
Adds Zinnov's Bhadada: "Unemployment is still a big challenge in the U.S. and the government there has the intent to create more jobs locally. However, such policies/bills should be created [while also] keeping in mind the economic interest of the country and the companies operating there."
But Sajai Singh, partner at Gurgaon-based law firm J. Sagar Associates, has a different perspective. "What is the harm in a country trying to provide an advantage to its [own] companies?' asks Singh."[If] a country is increasing the absolute number of visas it offers to foreign workers, but is regulating how [employees] can come and work in that country, is that wrong? [Is it a move] against any other country or against foreign workers? I think the challenge is to the current business model of Indian IT companies, which [uses] elements of an age-old concept of 'body shopping.' That business model [itself] may be challenged and not feasible anymore."