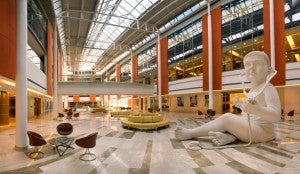 India's health care sector is a study in contrasts. Even as doctors like Devi Prasad Shetty, cardiac surgeon and founder of the Narayana Hrudayalaya chain of hospitals, are cutting out the bells and whistles and using innovative models to deliver quality health care at the lowest possible rates, some others are busy adding upscale offerings to their range of services.
Take the Fortis Memorial Research Institute (FMRI) in Gurgaon near Delhi. The flagship hospital of Fortis Healthcare, FMRI describes itself as the "next generation" hospital and the "Mecca of health care." In the lobby, a mammoth art installation of a child with a stethoscope basks under natural light filtering through the trapezium ceiling. The hospital — spread over 12 acres and estimated to have cost around US$84 million — boasts a dancing fountain, a play area for children, retail outlets, art works, a lounge to relax in, a café and food court where one can dig into a Subway sandwich or enjoy a gelato, and a state-of-the-art wellness center. Moving to a new level in service offerings, FMRI recently introduced a 36-seat cinema theatre where it screens movies. On the clinical side, there's ambient mood lighting to reduce the stress caused by diagnostic procedures such as MRI.
"Keeping health care as our backbone, we wanted to create a congenial and more caring atmosphere to help alleviate the stress that patients and their attendants usually go through. The idea of introducing these value services is to assist them with speedy recovery. Right now, we are not charging anything for the cinema screenings – [they are] complementary. Even in the future, the charges would be minimal," says Dilpreet Brar, regional director at FMRI.
Rana Mehta, leader of the health care practice at PricewaterhouseCoopers (PwC), notes that there is a growing trend towards enhancing the hospitality side of health care and providing a non-clinical environment. "These [services] matter a lot for high-value patients. It's a trend we have already seen in Southeast Asia. Bumrungrad International in Bangkok or Gleneagles in Singapore are a few examples," he says.
Charu Sehgal, senior director, consulting – strategy and operations and head of the health care vertical at Deloitte, suggests that these are means by which service providers are seeking to stand out in a cluttered market. They help to attract high-profile and elite clients. Says Sehgal: "In the big cities, hospitals have best of equipment, technology, doctors…. With everything else almost the same, players look for differentiators, for fancy frills that make them stand apart. Though a small percentage, there are still a large number of people who can afford these services, and the market is catering to them." According to Sehgal, these services are targeted as much at the patients as the attendants.
Some health care services are also going the boutique way, including maternity services. Apollo Health and Life Style, a wholly owned subsidiary of Apollo Hospitals, runs a chain of boutique birthing centers called The Cradle. By its own definition, it is a "world-class birthing facility that offers 5-star hotel amenities" targeted at high-net-worth individuals, senior corporate professionals and business families. A suite for normal delivery at The Cradle can cost around US$1,700. In Bangalore, the Cloudnine chain offers a four-night, three-day "Signature" package for around US$2,400. Lamaze professionals, doulas, lactation counselors — you'll find them all here. In contrast, a delivery at LifeSpring, a chain of low-cost maternity hospitals, costs US$180. And at a government hospital, such as All India Institute of Medical Sciences (AIIMS) in New Delhi, it is about US$50.
Aesthetic treatments are also becoming part of the gamut of boutique health care services. The UniHealth Center for Cosmetic Surgery has luxury four-seater helicopters to ferry its patients from Mumbai to its facility at Aamby Valley City – a distance of around 100 km. Patients also have the option to drive down in one of the luxury cars the facility offers. The Madras Institute of Orthopedics and Traumatology (MIOT) has a multi-cuisine restaurant, a beauty parlor and a salon as well.
Will this trend boost India's status as a medical tourism destination? According to estimates released in August 2011 by the Associated Chambers of Commerce and Industry (ASSOCHAM), the inflow of medical tourists in India would increase at a compound annual growth rate (CAGR) of 40% to reach 3.2 million by 2015. The study, which pegged the Indian medical tourism industry at around US$845 million then, estimates it to be worth US$2,028 million by 2015. Deloitte's Sehgal is not sure: "The factor that will really matter is the cost differential and the quality of service."