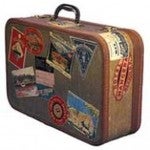 Last week, Google announced plans to buy the Frommer's line of travel guides from publisher John Wiley & Sons. While many experts agree that the move is a smart one for Google, the deal raises some concerns about antitrust — similar to those that surfaced regarding the search giant's purchase of restaurant review guide Zagat nearly one year ago.
Last September, Google paid $151 million to acquire Zagat in attempt to offer improved local listings on its search engine — a deal that drew fire from regulators and review services like Yelp, which claimed that Google was giving preference to Zagat information in its searches. The Frommer's deal — the terms of which were not disclosed — would give Google access to the travel guide publisher's extensive reviews of hotels, restaurants and sightseeing attractions in more than 4,000 locations around the globe, according to Reuters.
"Clearly, Google is showing interest in content with its acquisition of Zagat and now Frommer's," says Wharton operations and information management professor Kartik Hosanagar. "Part of that is due to the opportunity to monetize content and leverage its brand and search dominance [in] the content space. [Also,] Google wants to show local reviews on its various websites [such as Google Maps] and faced some flak for taking content from other sites like Yelp and displaying it…. It responded to that criticism by acquiring Zagat, and now Frommer's."
Hosanagar notes, however, that the deal is likely to face scrutiny because — just as with Zagat — Google will have the ability "to give preference to results from Frommer's over TripAdvisor and other [travel] sites."
According to Anindya Ghose, a professor of information, operations and management sciences at New York University's Stern School of Business, the move "would make Google a huge player in the online travel business, primarily because of the trustworthy reviews from Frommer's." However, like Hosanagar, he predicts that regulators will pay careful attention. "Google is now both a search and content provider, and there is an uneasy duality — some may even call it a fundamental conflict — between the two goals. Recently, The Fairsearch.org group, which includes TripAdvisor, Expedia and Kayak among its members, asked government officials to look closely at Google's ability to use its dominance in search and search advertising to steer users away from competitors." Ghose adds that last year, Yelp complained before a Senate judiciary committee that Google has abused its dominance in search, and earlier this year, the CEO of price-comparison site Nextag called for more transparency in Google's search ranking process.
Such issues aside, Google's latest effort to amass new content could be a boon to consumers looking for concise travel information. "It would make consumers' lives a lot easier when it comes to local and travel planning," Ghose says. "It [would enable them] to get personalized answers to their questions from an authoritative source. The future of online search is increasingly going to be about getting personalized answers and getting them quickly, on the fly. When one is traveling and they want to find a good restaurant nearby, they want an authoritative source to provide a descriptive paragraph that tells them in a personalized manner where to go. They don't want to be scrolling down a list of multiple choices and doing the hard work of figuring out the ideal venue themselves, especially given the abundance of information on the web. The future of travel, restaurant and local search is going to more and more on mobile devices."
What does that mean for the old-fashioned, printed travel guide? Will the format die out? The search company has not said what it will do with Frommer's printed editions, but Stephen J. Kobrin, publisher and executive director of Wharton Digital Press, says that he "cannot imagine that Google is interested in Frommer's print business. Given the ubiquity of smartphones and tablet devices, electronic travel guides make more sense than print. It is easier to customize for a given trip and easier to carry with you when you are out and about. Do you really want to lug the entire guide for Italy if you are only going to Tuscany?"