In the age of the Internet, every consumer has the power of a professional critic at his or her fingertips. Raving about a great new product, or detailing a nightmarish customer service experience, is as easy as pressing "send" on an e-mail or posting to Twitter or Facebook.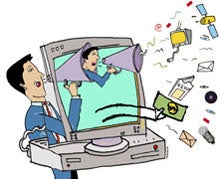 With so many conversations going on in so many different places, it's a significant challenge for companies to harness all the talk and figure out how it is affecting their brand. As a new survey indicates, many marketers admit they haven't cracked the code yet.
According to the 8th annual survey of marketers by integrated marketing services provider Alterian, less than one-third of respondents said they had a strong understanding of the social media conversations happening around their brand. Perhaps more significantly, 31% indicated having little to no understanding.
The potential consequences of this were not lost on marketers — nearly 80% said they are concerned that a lack of engagement with consumers, or gaps in understanding of how online conversations are impacting the brand, could be putting their companies at risk.
Debate about what is the right social networking formula for individual firms has been going on at least as long as Facebook, Twitter and other sites began to be widely used. Back in 2007, Knowledge at Wharton published a story on generating value from online input. At the time, Wharton marketing professor Christophe Van den Bulte said that interacting directly with customers through blogs and other venues had two key payoffs for companies: "One, it is a market research tool; you can tap into your customers and find out what  their concerns and objectives are. Two, you can profile your company as one that is working with customers, not just one that is only trying to influence their purchasing decisions."
More recently, at a Wharton Retail Conference panel on e-commerce, speakers from the retail and marketing industry noted that consumers now expect a personalized experience when they visit a firm's online store or Facebook page — they want to see product reviews from other customers, get accurate recommendations for future purchases and interact with friends who might be frequenting the same stores. "If [an online promotion] has no value, no creativity, it doesn't show that you thought about the audience," said Dave Larkins, vice president of NetPlus Marketing and a co-creator of The Colony online boutique. "A lot of this starts with the audience and understanding and exploring, enlightening and engaging them in a completely different and new way."
Larkins suggested that companies can use new analytical tools to gauge the response they are getting online. But analytics were a roadblock for many respondents of the Alterian survey. Six percent said they had no analytical experience when it relates to digital media, while 29% said they had only basic skills and 28% struggled to tie the numbers back to a marketing campaign strategy.
Panelists at the Retail Conference stressed that companies need to have technology in place to measure the impact of online branding programs. As the survey shows, however, getting it right is easier said than done.