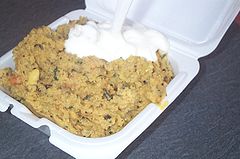 Upma, an unpretentious semolina dish popular in South India as a breakfast item and evening snack, recently made news by catapulting the Mumbai-born New York chef Floyd Cardoz to the winning position on Top Chef Masters, a reality show on the Bravo network that pits seasoned chefs against each other in a series of cooking challenges. Cardoz won the US$100,000 top prize at the contest for a three course meal that called on the chefs to cook dishes that evoked memories from their pasts, and the pasts of the judges.
Cardoz's first course was wild mushroom upma with kokum and coconut milk (Check out the recipe here.) "In the end, Cardoz impressed because of the spice and passion that infused his final meal of the season," Wall Street Journal writer Charles Passy wrote in his recap of the episode.
There is perhaps more to it than just that. The level of interest and popularity of a nation's cuisine often reflects the country's importance to the world economy, observers say. By that yardstick, humble upma's position in the contest reiterates the growing importance of India on the global stage.
Cardoz's winning dish is not the only signal. For some time, chicken tikka masala has been among the top favorites of diners in the U.K.  It has even earned the tag of being "Britain's national dish."  But now other Indian dishes are also gaining in popularity, and Indian food chains are expanding to all corners of the world. Some of the growth has to do with large Indian expat communities living around the globe, but the local population also forms a big chunk of the customers who walk in to add to their food repertoire.
Harish Bijoor, a brand-strategy specialist and visiting professor at the Indian School of Business in Hyderabad notes that a country's brand is an amalgam of many things:  "Of its peoples, their cultures, their religions, their clothes, their history, their festivals and most certainly their foods."
Pointing out that food is one of the easiest things to embrace about a foreign culture, and one of the easiest ways to get to know a particular country, Bijoor says that the inroads that Indian cuisine is making across the globe is a testament to the fact that "brand India" has arrived. "The recognition of Indian foods and their acceptance is all about the growing importance of the country at large. Recent economic advances and our reasonably frenetic pace of GDP growth have attracted the attention of the world to India. Food is the simplest form of a country-embrace."