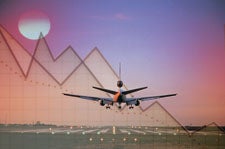 Diwali, the Indian festival of lights celebrated earlier this week, did not bring any cheer to the employees of India's liquor-to-airlines tycoon Vijay Mallya's cash-crunched Kingfisher Airlines. The employees have not received their salaries for the past several months. A few weeks ago, Mallya had promised that by Diwali, he would clear most of their dues. The Kingfisher employees have other causes for concern: Earlier this month, the State Bank of India (SBI), the lead lender to Mallya's airlines, warned that the carrier would not be allowed to fly if Mallya failed to infuse the business with fresh capital by the end of this month. SBI has an exposure of around Rs. 1,200 crore (approximately $220 million) to Kingfisher. The airlines has a total debt burden of around Rs. 8,000 crore ($1.4 billion) and accumulated losses of around Rs. 9,000 crore ($1.6 billion).
In October, Kingfisher's license was suspended by the directorate general of civil aviation (DGCA) for failing to come up with a tangible revival plan. The regulator has said that it is willing to renew Kingfisher's license if it can prove that it can operate in a "safe, efficient and sustainable manner."
Last week, there seemed to be a spark of hope. Mallya sealed a deal to sell a majority stake in his flagship firm, United Spirits Ltd. (USL) to British distiller Diageo. The deal size is $2.04 billion. Mallya and other stakeholders are selling 19.3% of the firm. USL will make a preferential allotment to Diageo, which will amount to 10% of the post-issue capital, and Diageo will make an open offer to ordinary shareholders for another 25%. If the open offer is fully subscribed, Diageo will end up owning 54.3% of USL. Mallya's United Breweries Holding Ltd (UBHL) — also the parent company of Kingfisher — will be left with 14.9%. Mallya himself will continue as the chairman of USL.
But this much-speculated sale doesn't seem to hold any promise for Kingfisher. Mallya has been categorical that the money from the USL-Diageo deal will not be plowed into his airlines venture. Talking to the media he said: "We have multiple businesses, and each business operates independent of the others. There is no cross-contamination. There never has been, there never will be. I have now done what I think is best for my spirits business." According to Mallya, Kingfisher will "chalk out its recapitalization plan separately and independently of this transaction."
Meanwhile, the USL-Diageo deal is expected to change the dynamics of India's booming Rs. 55,000 crore ($10 billion) liquor market. The country is one of the fastest-growing geographies for alcoholic beverages. This deal will give Diageo more than 50% market share in the country. It will also make India Diageo's second-largest market after the U.S. According to Ivan Menezes, Diageo's chief operating officer, "India has the potential to become the largest market in the long term."
With the Diageo deal, 70% of India's liquor market will be controlled by two multinationals — Diageo and its French rival Pernod Ricard. Talking to the business daily, The Economic Times, Ravi Jain, industry veteran and former partner of Mallya, said: "[This deal] will change the shape of the business in the spirits segment." According to Kishore Chhabria, chairman of Allied Blenders and Distillers, "The multinationals will focus on the bottom line rather than the topline." The multinationals are also expected to bring in global best practices and more investments in brand building.