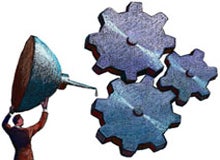 In an effort to build the country's manufacturing base, the Indian government is planning to establish seven national manufacturing and investment zones (NMIZ) — large industrial parks that, similar to counterparts in China, promise to ease the compliance and tax burdens of doing business.
The zones are part of a national manufacturing policy, the country's first, unveiled by the Indian government on October 25. Officials hope to create 100 million jobs over the next decade and to help spur growth in a sector where India lags behind other nations.
Conventional wisdom is that China is the factory to the world while India is the back office; the country's strengths have traditionally been in providing outsourcing services in areas including information technology, business processes and health care. Currently, manufacturing only contributes 15% to 16% of Indian GDP, compared to 34% in China, 28% in South Korea and 27% in Indonesia. The goal of the new policy is to raise the share in India to 25% by 2022.
Anand Sharma, Union minister of commerce and industry, has been steering the manufacturing policy through different layers of the political arena and the government for nearly two years now. "The policy is a reality today," he told Indian financial daily Business Standard. "All of us understand that this was needed." But three critical issues related to the NMIZs that have generated controversy in recent times — labor, land acquisition and environmental clearance — have been left for the states to handle.
And many critics note that, unlike China, India doesn't have enough funds to finance the infrastructure needed to make the NMIZs a success. "China's manufacturing success is because of three reasons: cheap logistics, cheap labor and cheap money," says C.R. Sasikumar, chief executive officer of the Shanghai branch of the State Bank of India. The Chinese government was able to build roads, extend power supplies and offer other incentives to bring in foreign companies, adds E.B. Rajesh, chief representative of the Confederation of Indian Industry (CII) in China.
Instead of trying to follow the exact path of the Chinese, many analysts say that India must concentrate on the strengths it can bring to the table, such as innovation and what Renault CEO Carlos Ghosn described as "frugal engineering." For example, a Renault joint venture with the Mahindra conglomerate produced the Logan, a compact sedan. Local engineers managed to cut 15% of the production price.
But trying to compete on innovation won't rid India of China as a competitor. Weimin Yao, vice president for corporate affairs at Shenzhen-based telecommunications and networking firm Huawei Technologies, predicts that China's days of being purely a manufacturer of other countries' products are coming to an end. "Our new thrust is research and development," he says.