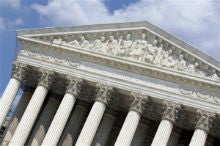 By deciding to reduce the size of its entering class by 10% beginning next fall, Northwestern University School of Law has joined a number of other law schools that have already adopted this strategy. The move reflects the fact that fewer jobs are available these days for law school graduates, but it also suggests a change in the law profession's business model.
The downsizing announcement by Northwestern — which translates into 20 to 25 fewer students in the entering class — is especially significant because "Northwestern is definitely in the top tier of law schools," says Richard Shell, Wharton professor of legal studies and business ethics, who has a law degree from the University of Virginia. "Most people thought that a shakeout in law schools would occur closer to the bottom of the pyramid than to the top."
Law school grads are having difficulty finding jobs because "the legal services market is being upended," adds Shell. "Law firms — which have been the traditional employers — are having to revise their compensation and fee practices because clients are demanding more fixed price contracts and less billable hours…. We just saw that Goldman Sachs is cutting back this year on the number of partners they plan to make. I think law firms will face the same pressure. They will hire fewer people and make fewer partners."
It is "the second wave of the financial crisis in the services industry," says Shell. "The first wave was a reduction in business; this is a change in business."
In the announcement yesterday, Northwestern Law School dean Daniel B. Rodriguez noted that "underlying this decision is the match — or, if you will, the mismatch — between the number of JDs who graduate each year and the actual demand the legal economy is creating and can sustain." He quotes a report from the Bureau of Labor Statistics predicting that the economy will create about 75,000 new jobs in the next decade even as law schools — each year — are churning out more than 40,000 graduates. Rodriguez also noted that this year saw a 20% decline in the number of people who applied to law school, and he cited the high number of law school students who graduate with "student loan debt that seriously affects both their career choices and their quality of life."
As for those graduates who do find jobs, Shell suggests that "more will probably end up in the general counsel's office of large companies. That used to be a job you took after you had been at the law firm for a while. But now people will increasingly be recruited straight to these positions. In a way, the new management program offered by Wharton to law students at Penn reflects a sense that management skills — which are much more in demand for people working in a corporate setting — will be at a premium."
Shell's reference is to a new 12-week program — to be offered to upper-level University of Pennsylvania law students by Wharton starting next fall — designed to teach management, leadership and strategic decision-making skills as well as financial and accounting literacy. Students who complete the course will receive a Wharton Certificate in Management.
According to a survey by Kaplan Test Prep that was cited in today's Wall Street Journal, "51% of U.S. law schools had cut their admissions" as of last summer. The Journal also cites a law professor who suggests that the downsizing trend reflects efforts by some law schools to maintain their place in the law school rankings, given that continuing to take in more, and potentially less qualified students, could mean a drop in median admissions statistics accompanied by a rankings decline.
Shell notes that law school may have lost some of "its allure for the average college graduate" who is not sure what he or she wants to do and has traditionally fallen back on getting a law degree. The practice of law, he adds, "has always been a business. The fact that it is now a much more competitive business changes the way people think about it. Medicine has gone through the same evolution. It tends to attract a different mind set. You have to be able to balance more than just the social purpose. You also have to stay in business, be relatively efficient, and so forth."
Meanwhile, a move to cut law school from three years to two is currently under discussion. "The American Bar Association is considering recommending that law schools do something more creative with their third year, or perhaps even eliminate it," Shell says. "That could, of course, lower the cost of law school and therefore make it more attractive for students to attend. While that will [perpetuate] the problem of grads not being able to find jobs, it also reflects a concern for expenses and opportunity costs."
Finally, Shell adds, the fact that fewer students, including the most qualified ones, are applying "to law school means those applicants are going to do something else. Maybe business schools will get some of them. Or maybe they won't go to graduate school at all."