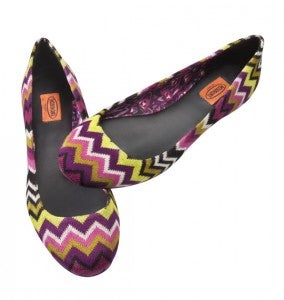 Target's latest collaboration with a high-end designer — in this case, Italian fashion house Missoni — got off to a strong start today.
Maybe a little too strong. Demand was so high for clothing, shoes and other goods adorned with Missoni's trademark zigzags (but not its usual high price tags) that it brought down all of Target.com. Missoni items became available this morning and by 9 a.m., the Minneapolis-based retailer's website was on the fritz. Meanwhile, fashionistas were also inundating retail stores, cleaning out many locations in just a few hours.
The site has been working intermittently throughout the afternoon, but many items are now out of stock. For example, fans of the ballet flats adorned with multicolored zigzags will have to look elsewhere — possibly eBay, where the shoes, which Target priced at $29.99, are selling for $129.99. That's still a steal, however, compared to a pair from Missoni's upscale line: A flat similar to the Target pair is selling on Amazon.com for $435.
While Target has spent much of the day apologizing to customers, and still has to face the consequences of its technical difficulties, the excitement generated by the Missoni collection is exactly the reaction retailers are trying for when launching a celebrity brand.
"Retailers are in a difficult situation right now because the price of cotton is going up, as are labor and operating costs," Wharton marketing professor and director of the Jay H. Baker Retailing Center Barbara Kahn noted in a recent Knowledge at Wharton story about the upsides and pitfalls of celebrity collaborations. "But with private labels, they have many more pricing options and much more control over their brands.  Attach a celebrity name to an exclusive store brand, and retailers get all that dazzle and panache along with all the profits. It's a way to create excitement in the store and make it special."
In addition, consumers like brands with a "name" attached, Wharton marketing professor Jonah Berger told Knowledge at Wharton. "They feel better about wearing them and they feel better about giving them as gifts. This is why name brands are more resistant to a downturn."