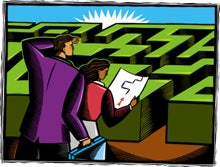 While optimism among companies in the U.S. and Europe seems to be growing, the big question for Indian offshore information technology (IT) vendors is whether this positive sentiment will convert to actual IT spends. A recent study by Offshore Insights, a Pune-based IT research and advisory firm, notes: "[The] mood looks positive compared to the past two years … [and] many clients intend to spend more in the coming year." The study suggests that while around 14% of those surveyed plan to increase their budgets by 5% to 10% over last year, around 43% will increase it up to 5%. At the same time, around 27% expect to see no change and 12% expect a drop in their IT budgets.
According to Sudin Apte, CEO and research director of Offshore Insights, the survey indicates that while 49% of the firms continue to see the coming year as being challenging, 41% are optimistic regarding their business outlook. (The rest say that it is too soon to take a stand.) Apte, who was earlier with Forrester Research, notes: "A couple of years ago, we saw that the majority of clients were not taking decisions and were even cancelling projects. Decisions that were being delayed will now be taken in the coming year, but budget increases are going to trail sentiments."
Apte points out that enterprise applications, applications integration and modernization are emerging as high-growth areas. "Our survey also shows that while the adoption of emerging technologies is maturing, we are not seeing big deals happening in this space," he adds. "Big data projects and mobility deals are small and sporadic."
More importantly, the survey indicates that compared to large on-shore services firms like IBM and Accenture, Indian offshore providers lack adequate client centricity. "Clients do not find Indian providers genuinely client centric. And they feel that while MNC services firms are catching up in cost saving, quality and software process, Indian firms are not moving up fast enough regarding domain knowledge and consulting expertise," says Apte. The study also points out that clients clearly want vendors to deliver business benefits "far more than ever in the past." Their top priorities include improving IT's impact on business performance, increasing IT resources to drive business innovations and improving business processes by using IT.
Companies, meanwhile, are fine tuning strategies — in geographies, verticals and billing models. Infosys is increasing its focus on Europe. As a first step, it plans to shift its listing from Nasdaq to the New York Stock Exchange (NYSE). This will make it easier for European investors to trade through the NYSE Euronext platform. The company expects this to improve its branding in Europe and, therefore, its business.
The Bangalore-based Mphasis has taken another step in its strategy to focus on select micro verticals. It has announced the takeover of U.S.-based analytics firm Digital Risk in an all-cash deal for US$175 million. Last year, it had taken over U.S.-based insurance software vendor Wyse Corporation. Mphasis, a mid-tier company, likely realizes that the big players will always have an edge in the undifferentiated BFSI (banking-financial services-insurance) space.
In a radical departure, iGate Corp., a Nasdaq-listed firm which has the bulk of its delivery team in India, has recently launched a high-decibel multi-million dollar marketing campaign in North America promoting an outcome-based business model instead of the traditional time and material (T&M) model adopted by most Indian IT firms. (Under the T&M model, vendors charge their clients based on the number of people and hours spent on a project, irrespective of the final business benefits to the client.) Industry observers note that while some other Indian vendors also have started on the outcome-based route, they still have a long way to go.
Meanwhile, despite skeptics in the IT industry, the National Association of Software and Services Companies (Nasscom) has stuck to its earlier growth projections, only it will be closer to the bottom end of its range. As against its earlier forecast of 11% to 14% growth for financial year 2012–2013, a few weeks ago Nasscom pegged it at 11%. In a statement, Nasscom said: "For FY2013, a year marked by significantly varied trends, the industry is expected to meet the lower-end of its growth guidance and at least achieve a double-digit growth."