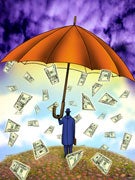 This June marked two years since the recession officially ended, but small businesses across the country generally seem an unhappy lot. Many complain about the increased costs of healthcare premiums and regulatory compliance, an uninspiring uptick in business demand and insufficient access to credit. These factors and others explain companies' reluctance to resume hiring after two years of layoffs and furloughs. However, smarter small firms can thrive, and if they are in the right industry, also profit from government policies, according to Therese Flaherty, director of the Wharton Small Business Development Center.
But first, the bad news. Two Wall Street Journal articles earlier this month were not exactly upbeat. One WSJ report said it costs about $2,830 more for firms with less than 20 employees than those with 500 or more employees to comply with government regulations on a per-employee basis. Those regulations covered taxes; employment and the environment, including product and workplace safety laws; and employee health care rules in the recently enacted Patient Protection and Affordable Care Act. Another WSJ report says the recession isn't over for many small businesses, noting that 70% of 1,004 U.S. firms with annual revenues of less than $10 million have no plans to expand their staffs in the next 12 months.
Yet hiring is an inefficient indicator of how small businesses are doing, according to Flaherty, who notes that even big corporations that have rebounded well from the recession are going slow on hiring. As for small companies, they can succeed by "finding a differential value-add and delivering well. If you can [identify] an industry that has strong government support, it can be terrific. That goes against the statement that government regulation is going to stifle business," she says.
Flaherty cites MainLine Solar, a two-year-old West Chester, Pa.-based firm that has built a rapidly growing business of solar power installations based on federal and state government incentives. From its origins in a business plan competition at Bucknell University in Lewisburg, Pa., MainLine Solar's revenues grew from $500,000 in 2009 to $5.5 million in 2010, and it expects to close 2011 at $25 million, says CEO Craig G. Dwyer, who cofounded the firm with Richard Potocek, its chief operating officer. The 10-member firm hired six employees last year.
MainLine Solar started installing residential solar panels in Pennsylvania, but has since diversified into commercial installations in the largely untapped market of Massachusetts. While Flaherty acknowledges that a business dependent on government incentives is not sustainable, Dwyer says declining installation costs and large renewable energy savings will help sustain growth even without incentives.
Wharton management professor Raffi Amit forecast that bright future for renewable energy firms in an interview with Knowledge at Wharton two years ago. "[One] sector with a better track record for securing loans is clean energy, primarily because the government is making it attractive by providing incentives in order to reduce emissions and energy dependency on other countries," he said. In fact, adds Flaherty, many firms in the Philadelphia 100 list of fastest-growing small businesses are in alternative energy.
Some firms find opportunity where others see excessive regulation. Flaherty points to a company at the top of last year's Philadelphia 100 list: NextDocs, a King of Prussia, Pa.-based software provider that enables businesses in regulated industries, like life sciences, to achieve compliance while automating processes and reducing costs for clients. NextDocs' revenues grew from $296,000 to nearly $6 million between 2006 and 2009. It "is truly a global company" with operations extending to the European Union, says Flaherty.
Another high flier is Cetra Language Solutions of Elkins Park, Pa., that offers translation services and has expanded to open offices in San Francisco, Europe and Asia. "Cetra is in an industry that is growing, provides excellent service and has an operating model that allows it to scale and maintain quality," Flaherty says.
Flaherty's last pick is a firm whose experience undermines complaints about credit access. Union Packaging, a minority-owned paper products company based in Yeadon, Pa., recently secured a bank loan of a few million dollars guaranteed by the U.S. Small Business Administration (SBA). The firm's clients include McDonald's and Burger King, among others.
Credit Revival
Compared to last year, the SBA has approved 37% more loans so far this fiscal year through its 7(a) and 504 loan programs, although fewer firms were beneficiaries because individual loan sizes got larger. Loan approvals under those programs totaled $19 billion for 47,633 firms in the first three quarters of the current year through June. That compares with loan approvals of $13.9 billion for 47,781 firms in the same period last year. "Smaller dollar SBA loans have fallen off in volume since 2007, in part because they are the costliest for lenders to make," the SBA says in its latest report to Congress.
SBA-approved loans have also helped "create or retain" more jobs so far this year, compared to fiscal 2010 (ending October). As of July 22 this year, they created or retained 557,209 jobs, compared with 556,045 jobs in the whole of fiscal 2010, according to Michael Stamler, SBA's press office director. More loan officers have reported easing loan standards than have reported tightening since the third quarter of 2010, he says, citing the quarterly survey of senior loan officers issued by the Federal Reserve Board of Governors.
Many small businesses haven't seen demand bounce back, and continue to face difficulties in accessing bank credit, points out Joe Kran, founder and managing partner of OI Partners-Gateway International, a global talent management and recruitment services firm in Parsippany, N.J. But he also says that many small and mid-size firms are "choosing" not to seek loans to expand and [choosing not] to re-invest the cash on hand that they do have. "They are intentionally not expanding, even though some can, because of a great mistrust of our government," he notes.
Clients of Extensis, a Woodbridge, N.J.-based firm that provides human resources outsourcing services to small and mid-size firms, are reporting reduced pressure to cut costs and head count, says Don Mallo, its group vice president of human resources and general counsel. Two years ago, many of the firm's clients called in for advice on job eliminations, furloughing employees and cutting costs, but those calls have fallen by up to 60%, he adds.
Mallo's advice: "Forget about reality; it's the perception of reality that is more important. Once people feel good about job creation and have confidence in the government, consumers will spend more, businesses will pick up and companies can retool, start building up inventory and resume hiring."