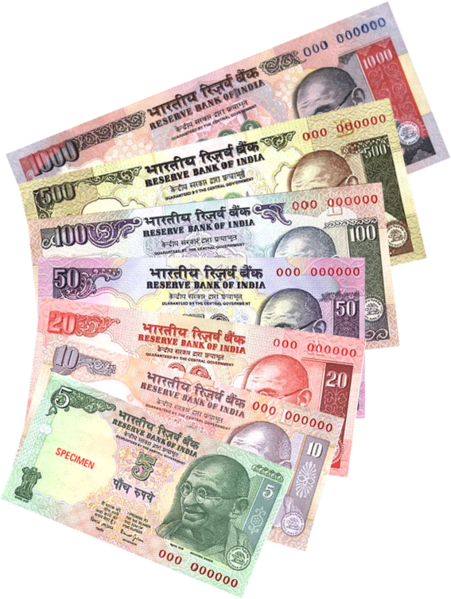 Last week, when the rupee touched 61.10 to the dollar at close on Friday, newspapers reported that it had reached its lowest level ever. The currency lost 66 paise that day.
It is looking likely that the papers will have to repeat their headlines. Despite attempts by the Finance Ministry and the Reserve Bank of India (RBI) to buoy the currency, it appears that the rupee still has some steam to lose.
How much? That's anybody's guess. "The rupee remains inexpensive relative to our fair-value estimate of 65, which also suggests the currency can continue to weaken," a statement from Goldman Sachs said. Credit Suisse, which had only recently put out a figure of 55, reworked its sums to 61.50. Japanese equity house Nomura was more bearish; its report said that around Rs. 60, the rupee was 17.5% undervalued against the dollar.
RBI has been selling dollars, but it does not have enough in its reserves to halt the rupee descent. The latest weekly supplement of RBI puts reserves at $280.16 billion for the week ended July 26.
According to a Bank of America Merrill Lynch calculation, the rupee will breach the 65-mark in 2014 unless there is an issue of sovereign or non-resident Indian (NRI) bonds. RBI is not in favor of sovereign bonds, however. "The cost of a sovereign bond issue, especially at the current juncture, outweighs the benefits," RBI governor D. Subbarao told the media after the recent first quarter monetary policy review. "We should be doing a sovereign bond issue, if at all, from a position of strength, when we are much less vulnerable, [rather] than at this time."
What RBI has done so far exposes its vulnerability, observers say. The agency has reduced the liquidity adjustment facility for banks from 1% of total deposits to 0.5%. The cash reserve ratio has also been hiked. This did not reduce much pressure on the rupee, but banking stocks have tumbled. Some were down 6%-7%. The market itself fell 3% with the Bombay Stock Exchange Sensex closing at 19,164.
Subbarao has not done any good by shifting his priorities. For some years now, he defined tackling inflation as his main agenda. To achieve that, Subbarao kept interest rates high and throttled industrial growth. Today, he is singing a slightly different tune. "Our main focus is on curtailing rupee volatility," he told the media. So he has indirectly raised interest rates.
Both industry and bankers are unhappy. Some have even challenged Subbarao. Economic daily Mint quotes State Bank of India chairman Pratip Chaudhuri as saying: "RBI's measures have created panic in the market. If the central bank decides to press the button, it should do it in a more open and transparent way. The RBI's priority is to protect the currency but it should have done so by increasing key rates."
Delhi, meanwhile, has come out with some minor reforms, which went largely unnoticed. But Prime Minister Manmohan Singh has promised more very soon. There is a qualifier, however. "Reforms don't happen just because there is a professional consensus," he said during an event to release a book of essays in honor of Finance Minister P. Chidambaram. "They happen when the political leadership of the time decides to back these initiatives."
Chidambaram's book, however, outlines three options for tackling this type of problem — a sovereign bond, an NRI bond and a quasi-sovereign bond raised abroad by public sector units. In the wings is the unpopular option — a loan from the International Monetary Fund. "Chidambaram is practicing bad economics in the name of good politics," says R. Jagannathan, editor of online news channel Firstpost.