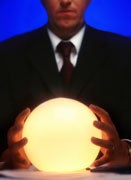 The top three Indian private sector banks — ICICI Bank, HDFC Bank and Axis Bank — were caught in a controversy this week over allegations that they had been engaged in money laundering and income- tax evasion. Cobrapost.com, an online business magazine that has other sting operations to its credit, posted videos of alleged conversations with bank staff in which they made such claims.
"The images of front-office staff and middle-level managers at the branches of banks and insurance companies across India virtually gloating about their experience of handling dubious cash transactions on behalf of their other shadowy customers to get them [out] of the taxman's radar make a mockery of any claims that these banks may make to abiding by ethical business practices," the Cobrapost wrote in a report that accompanied the videos. "In the end, all it took to pull down the shiny reputations of three of India's most high-profile private banks was one intrepid reporter with a sting camera — and a yarn about wanting to launder money on behalf of a leading politician."
The Cobrapost videos, shot under an operation named Red Spider, showed several bank staffers offering to convert black money into white. Some even offered to deliver handsome returns. Economic daily Business Standard reported that "the most common method offered was to invest the money in long-term insurance products. The managers usually offered insurance products of sister concerns, such as HDFC Life and ICICI Prudential Life Insurance."
The videos are telling. But not everybody is taking them at face value. By the next day, the launch of a new smartphone had knocked the story off the websites of the leading business papers.
The finance ministry has asked the banks for details. TV station ET Now quotes Financial Services Secretary Rajiv Takru as saying: "All government agencies and regulators are working together to probe charges." Earlier, Urjit Patel, deputy governor of the Reserve Bank of India (RBI) told the media that his agency "is collecting information and has been in touch with the banks. At the moment, that's all I can say." It is likely that the several inquiries that have been started will be integrated next week.
The banks are conducting their own investigations. "We have constituted a high-level inquiry committee to investigate into the matter and submit its findings in two weeks," an ICICI Bank release said. "We want to assure our customers and all our other stakeholders that we are committed towards adherence to the high standards of business conduct, which is expected of us."
The markets have reacted adversely, but not very much so. ICICI Bank lost Rs. 40.60 (75 cents) on Friday, to close at Rs. 1,087 ($20), down 3.04%. HDHC Bank was down 1.67% and Axis Bank 0.90%. The Bank Nifty, a popular index of banking stocks, was down 1.79%. The entire market was bearish, with the Bombay Stock Exchange Sensitive Index closing 0.73% lower.
But not everyone thinks the matter will blow over soon. "We think these developments, if they were to be true, could potentially lead to slower growth across private banks' deposits and businesses as the RBI may then direct banks to focus on improving risk management rather than expanding," Goldman Sachs analysts wrote in a note late on Thursday.
In a coincidence, Moodys had last year placed the same three banks on rating watch, though the move had nothing to do with accusations of money laundering.
According to legal experts, the Cobrapost charges will damage the image of the banks and perhaps the individuals shown in the videos. But making such claims is quite different from proving a transgression of the law. "The sting operation shows no actual transaction that could be seen as violation of either the Income Tax Act or the Foreign Exchange Management Act, but it could be treated as evidence to prove that there is a motive to violate laws," The Economic Times reported. The economic daily quotes Ashok Paranjpe of MDP & Partners: "Sting operations must either unearth an illegality or a matter of vital and genuine public interest."
"This is enough evidence for banks to carry out an internal investigation," he continued. "There are many cases where banks have filed a criminal complaint against their own employees for wrongdoing. Banks cannot be held liable for their employees' act."