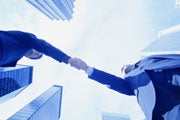 Despite the tumult witnessed across the Middle East and North Africa in the wake of the Arab Spring, senior executives in the Gulf's leading economies remain confident in the region's business climate, according to a new survey conducted by management consultants Oliver Wyman and polling firm Zogby International.
A survey of more than 160 senior executives in the United Arab Emirates (UAE), Saudi Arabia and Qatar found that opinions were mixed about the Arab Spring's short-term and long-term impact on economic development. Just 35% of respondents took a negative view, and most were expatriate Arabs in the Gulf.
"People still are focused on macroeconomic shocks rather than regional issues," says John Turner, who leads Oliver Wyman's public sector consulting practice in the region. "The Gulf, particularly the UAE, was harshly impacted by the global financial crisis, and that is still lingering."
But Turner notes the research reflects "a sizable increase," in concerns about regional, ethnic and religious tensions. This is the fourth survey of regional executives conducted by the firms, and compared to the last poll in December, there was a 19% rise of tension concerns in Saudi Arabia, which has taken a leadership role to forcefully contain any unrest in the region, and a 7% increase in the UAE, despite the absence of social or economic disruption associated with the Arab Spring there.
Also, the widely mentioned contributing factors to the Arab Spring — the need for education and labor reform to address the region's youth unemployment — were considered the biggest threats to the region's long-term competitiveness, and deemed the highest priorities for quick action, according to the survey. "Human capital is at the top of the list for executives in the region," Turner says.
He adds that the challenge of youth unemployment shifts by scale across the region — Egypt has a population of over 83 million, while the UAE has a population of only 5 million. But the traditional regional solution of providing government jobs to young Arabs has reached a limit, he says. Regional governments in recent weeks have taken more aggressive approaches to ensure spots for their nationals; in Abu Dhabi, several state-linked bodies have purged expatriates to make positions for Emiratis.
The solution lies with private industry, but that has been difficult to achieve, Turner notes. The survey highlights a key factor in this issue: expatriate executives in the Gulf prefer to hire other expatriates, rather than local Arab graduates. "They are more difficult to hire, and costly to train," Turner says. "Also, most of these expatriate executives have a three- to five-year horizon. There is a mismatch of incentives."
The survey also took note of the infrastructure spending spurred by the Arab Spring in oil-rich Gulf states — Saudi Arabia, for instance, announced US$130 billion of additional public spending in recent months.
"All those things, businesses like to see, so confidence rises," Turner notes. But these measures largely aren't geared to solving underlying issues, he adds. "In the short term, it boosts businesses and appeases discontent. But in the longer term, does it get rid of the fundamental problems, such as youth unemployment?"
Earlier:
Oliver Wyman CEO John Drzik: The Middle East Needs a Comprehensive Risk Management Strategy
Facebook's Growth in the Arab World Is Surging with Demands for Political Change