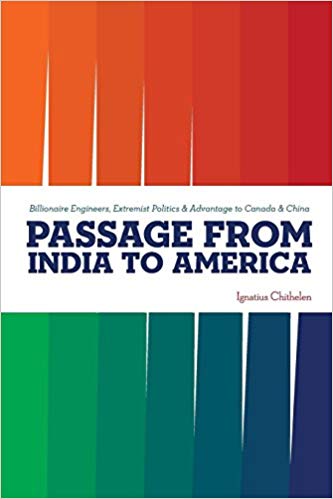 Proposed changes in immigration rules sometimes seem to suggest that immigrants represent a net drain on the country. This view is inaccurate – or at least incomplete – if one considers the experience of immigrants from India, writes Ignatius Chithelen, manager of Banyan Tree Capital in New York City. This opinion piece is adapted from his book, Passage from India to America.
Signals from Washington these days suggest that the current administration views immigrants as a burden to the country. Proposed rule changes in federal policy are likely to "broaden the reasons the government might determine that an immigrant is a 'public charge,'" according to media reports. One commentator recommends – maybe not entirely facetiously – that it might be time to revise the slogan on the Statue of Liberty to, "Give me your healthy, your wealthy, your medically insured, your families earning more than 250% of the federally designated poverty level." But how true is it that immigrants represent a net drain on the country? In my opinion, that belief is inaccurate – or at least incomplete — if one considers the experience of immigrants from India, who have made significant contributions to the U.S. economy.
In recent decades, several hundred thousand doctors, engineers, scientists and managers have moved to the U.S. from India. Some 4 million of them now live in the U.S., representing 1.3% of the total population. More than 20% of the engineers working at Microsoft, Cisco Systems, Intel, Google, Facebook and other high-tech companies are from India. In 2003, Bill Gates, co-founder of Microsoft, noted that Indian engineers have done "great things" for his company.
Several Indian immigrants have risen to senior managerial positions, including as chief executives. The CEOs include Satya Nadella of Microsoft, which has a market value of $820 billion; Sundar Pichai at Google, whose parent company, Alphabet, is valued at $730 billion; Shantanu Narayen at Adobe Systems, which sells software tools for digital publishing and media services, with a market value of $115 billion; and Sanjay Mehrotra, CEO of Micron Technology, a memory chip maker with a market value of $42 billion.
To be sure, Indians are hardly the only successful immigrant group in the U.S. If Indian professionals have risen in their adopted country, it is because they share several traits in common with other highly skilled and hard-working foreigners in America. They are graduates of top universities, with good work habits and ambition. Many also benefit from having a strong command of English. Growing up in India, they are used to working with few resources and can take intense competition and work pressure in stride. In 2018, for instance, less than 1% of 1.1 million applicants were admitted to the world-renowned Indian Institutes of Technology. These and other top engineering, science and medical colleges in India are mostly located in isolated campuses. There, each day for four years, students get used to studying for 12 hours or more a day for months on end. They live, intensely focused on schoolwork, with few distractions. As a result, when they emigrate to the U.S., they find it easy to work long hours in demanding jobs, including in small cities or small firms, where many of them begin their careers.
Diversity in the DNA
Growing up in India offers another advantage, which may not be obvious, to this group of immigrants. Indians go through a unique social experience, which makes it easier for them to deal with different kinds of people and navigate office politics. In India, they have to work, collaborate, compete and play with fellow students from four major religions, four castes, 20 linguistic and cultural groups and different economic backgrounds, all while seeking good grades and trying to win at cricket and debates. As a result, Indian professionals intuitively grasp the motivations, ambitions, skills, temperament, work habits and culture of the diverse Americans and foreigners they encounter at work. They are able to figure out how best to work with bosses, colleagues, junior staff, clients, suppliers, investors and others to achieve their career and business goals. "Diversity is often ingrained in the DNA of Indians," Soumitra Dutta, former dean of the SC Johnson College of Business at Cornell University, told The Daily Mail.

In addition to making their mark at tech companies, Indians have climbed to the top in several other fields. They include Ajit Jain, who is vice chairman of Berkshire Hathaway and head of its insurance business. An IIT graduate, Jain joined the company, run by Warren Buffett, in 1986. Since 2016, N.P. (Narv) Narvekar has managed Harvard University's $39 billion endowment. Earlier, he managed Columbia University's endowment and was a managing director of equity derivatives at J.P. Morgan. He has an MBA from the University of Pennsylvania's Wharton School and a degree from Haverford. Vikram Pandit is co-founder of the Orogen group, a New York investor in financial services companies. Earlier, he was the CEO of Citicorp.
In October 2018, Indra Nooyi stepped down as CEO of soft drinks and snacks vendor PepsiCo, which has a market value of $164 billion. Dinesh Paliwal is CEO of Harman International, a vendor of audio equipment, which was bought by Samsung for $8 billion in 2017. He has a master's degree in engineering from IIT. Rakesh Sachdev is CEO of Platform Specialty Products, a chemicals company with a market value of $3.2 billion.
In June 2018, Atul Gawande began work as CEO of the health care partnership set up by Amazon, JPMorgan Chase and Berkshire Hathaway. The partnership, free from profit-making incentives and constraints, seeks to improve the quality and reduce the costs of health care for the employees of the three companies. Gawande, a surgeon and professor at the Harvard Medical School, has written extensively about health care and related policy issues. His selection to run the ambitious project shows confidence in his potential to deliver results by the CEOs of the three companies, which have a combined market value of $1.7 trillion.
"In recent decades, several hundred thousand doctors, engineers, scientists and managers have moved to the U.S. from India."
Like other senior executives at major U.S. companies, Indian managers have done well financially. Jayshree Ullal, for instance, is one of America's wealthiest female managers with an estimated net worth of more than $1 billion. Since 2008, she has been chief executive of Arista Networks, a computer networking company. Sundar Pichai, CEO of Google, owns several hundred million dollars of stock options in parent company Alphabet. Ajit Jain of Berkshire owns more than $100 million of the company stock.
Since the 1980s, Indians have founded several companies in America. Like all entrepreneurs, they are motivated by a business challenge as well as the desire to acquire wealth. "For most Indians in America, wealth is not inherited…. For us to make it to the top, we have to use our knowhow to create great new technology products and build high-tech companies," Romesh Wadhwani told the Economic Times. A billionaire serial entrepreneur, he is founder of Symphony Technology Group, a private equity fund.
According to a 2016 study by the National Foundation for American Policy, Indians started 14 of the 87 fast-growing private American companies, with a valuation of more than $1 billion. This was twice as many than those set up by entrepreneurs from Canada and the United Kingdom. Syed Ali, who studied electrical engineering in India, co-founded Cavium, which designs and develops semiconductor processors for information technology networks. In 2018, it was acquired by Marvell Technology for cash and stock totaling about $6 billion. Dev Ittycheria founded BladeLogic, a software company, which was acquired in 2008 by BMC Software for $900 million. He is CEO of MongoDB, a New York-based database platform with a market value of $4.2 billion.
Indians have founded businesses based on fuel cells, cloud-based services, data analytics, electrical vehicles, artificial intelligence, drones and other advanced technologies. In 2001, K.R. Sridhar co-founded Bloom Energy, which is valued at $3 billion. Bloom provides on-site clean energy systems using electro-chemical processes. In 2009, Dheeraj Pandey co-founded Nutanix, which makes operating system software. It has a market value of $7.3 billion.
Dark Side of Success

I don't mean to claim that Indians in America have had an unblemished track record. Their success has had its dark side, including civil and criminal cases, fines and prison sentences. In 2014, Mathew Martoma was sentenced to nine years in prison for his role in an insider stock trading scheme involving $275 million in illegal profits and avoided losses. Martoma was an employee of SAC Capital. In 2012, Rajat Gupta was sentenced to two years in jail for passing inside information while he was a director of Goldman Sachs. A former head of consulting firm McKinsey & Co., he is a graduate of IIT and Harvard Business School. Gupta washed dishes in the prison and was punished twice with isolated confinement, according to news reports.
In July 2018, Navnoor Kang was sentenced to 21 months in prison. Kang was a portfolio manager at the $207 billion New York State Common Retirement Fund. Prosecutors charged him with taking bribes totaling more than $100,000, from 2014 to 2016, "…in the form of entertainment, travel, lavish meals, prostitutes, nightclub bottle service, narcotics, tickets to sports games and other events, luxury gifts, and cash payments for strippers … (steering) billions of dollars of business to [Wall Street] broker-dealers who bribed him." Born in India, Kang competed on the professional tennis circuit for three years. He was a graduate in economics from Columbia University. Several Indians have been prosecuted for making illegal donations to politicians and parties. They include Sant Singh Chatwal, a hotel and restaurant owner, and Dinesh D'Souza, a conservative author and filmmaker.
"If Indian professionals have risen in their adopted country, it is because they share several traits in common with other highly skilled and hard working foreigners in America."
In 2017, John Kapoor, chairman, and six other executives of Insys Therapeutics were charged with conspiring to bribe doctors to get them to prescribe Subsys, the company's cancer medication, to non-cancer patients. The medication, popularly referred to as an opioid spray, is 80 times more potent than morphine. It was approved for use only to treat cancer patients with severe pain, according to Forbes. A court hearing on the charges is expected in early 2019. In 2018, Ramesh "Sunny" Balwani, former president of Theranos, was charged, along with the founder Elizabeth Holmes and the company, by the Securities and Exchange Commission "with raising more than $700 million from investors through an elaborate, years-long fraud" making false statements about the company's blood testing technology, business and financial performance. While Holmes and Theranos settled with the SEC, Balwani is contesting the charges. They are also facing charges of criminal fraud.
From Software to Grocery Deliveries
Several enterprises set up by Indians are not based on high technology. In 2015, for instance, Amol Sarva co-founded Knotel, which provides flexible office space to companies with more than 50 employees. It has 1.5 million square feet of office space at over 60 locations in New York, San Francisco, London and Berlin. It has raised more than $160 million in funding and clients include Starbucks and Body Shop. In 2014, Vinit Bharara co-founded Some Spider Studios, which runs web-based entertainment channels Scary Mommy and CAFÉ. Earlier in 2005, Bharara co-founded Quidsi, an online retailer of baby diapers and other consumer goods. In 2011, Quidsi was sold to Amazon for $545 million. Bharara is a graduate of the University of Pennsylvania and got his law degree from Columbia University.
Like other entrepreneurs, Indians realize that job security does not exist in America. They also recognize that it's OK to fail. If a startup fails, as nine out of 10 do, founders move on to apply the lessons learned to their next job or at another startup. Apoorva Mehta failed at 20 businesses, including building a social network for lawyers, between leaving a job at Amazon in 2010 and co-founding Instacart in 2012. "After going through all these failures … I realized … I didn't care about lawyers," or the other products that failed, he told the Los Angeles Times in 2017. He started Instacart, a grocery delivery service, in San Francisco because he loved to cook but could not get the groceries he wanted because he did not own a car. In a funding round in October 2018, the company was valued at $7 billion.
Some Indian entrepreneurs have gone on to become investors, including as venture capitalists. Kavitark Ram Shriram of Sherpalo Ventures was an early investor in Google and is a founding board member the company. He is a graduate in math from Madras University. Vinod Khosla of Khosla Ventures was a partner at Kleiner Perkins Caufield & Byers. Both Shriram and Khosla are billionaires. Promod Haque has invested in more than 70 companies since joining Norwest Venture Partners in 1990. His investments include FireEye, a cybersecurity company. Haque has helped create more than $40 billion in exit values by companies going public or being acquired. He likes to spend time with his four grandkids, teaching them math and science to prepare for a technology-driven world, he told Forbes.
In 1999, Ravi Mhatre founded Lightspeed Venture Partners. In 2018, MuleSoft, a Lightspeed investment, was acquired by Salesforce for $6.5 billion. AppDynamics, another of its companies, was acquired by Cisco in 2017 for $3.7 billion. Other investments include Goop, a beauty, fashion and wellness brand founded by actress Gwyneth Paltrow. "Some people like to garden or golf," Mhatre writes on the fund website. "I'm interested in technology. If I could choose any career I wanted, I'd be doing what I do now."