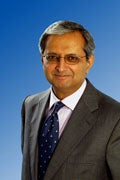 Citigroup CEO Vikram Pandit and president John Havens both announced today that they are stepping down from their positions, raising immediate questions as to what caused their sudden departure and who will follow in Pandit's footsteps.
The answer to the second question was supplied by Citigroup's board, which announced that Pandit's successor will be Michael L. Corbat, CEO of Europe, Middle East and Africa, where he oversaw all of Citi's business operations in those regions, including consumer banking, corporate and investment banking, securities and trading and private banking services.
As for the first question, a late report in today's Wall Street Journal said that Pandit stepped down "following a clash with the company's board over the bank's strategy and performance."
KnowledgeToday asked Wharton finance professor Richard J. Herring and management professor Mauro Guillen for their perspectives on these developments.
KnowledgeToday: What do you think is behind Pandit's resignation? Did you expect this to happen?
Richard Herring: It's no secret that shareholders have been unhappy. They voted against his bonus last spring, and the bank continues to trade at a very substantial discount to book value. The share price has fallen dramatically over his regime, but that's not a fair measure. He was parachuted in to sort out a train wreck. To some extent, he succeeded, but it was less clear that he had positioned Citi on the right track to move forward. The new strategy has not been successively presented to investors.
Mauro Guillen: Pandit has not been a happy camper at Citigroup. Let's remember that the bank did not pass the stress tests, then shareholders revolted against a pay package, and then the bank took a loss during the sale of Smith Barney. I am not surprised the board decided to put a lot of pressure on him, and that he decided to just quit, announcing it on the day of the second Presidential debate so that the issue will be quickly forgotten.
KnowledgeToday: Was the announcement today a sign that Pandit wasn't doing enough to get the bank on firmer footing, even though the bank had reported stronger than expected third quarter earnings and had returned to profitability two years ago?
Herring: I would say the earnings were not as terrific as the headlines would indicate. The main source of increased revenue was from bond trading, which is unlikely to be sustainable. And the results included a very large write-down from the sale of Smith Barney to Morgan Stanley. Some observers felt that Citi did not get a sufficiently high price. But it did enable Pandit to step down on a high note.
KnowledgeToday: Will this surprise move negatively impact the bank (e.g., its share price) in the days and weeks ahead?
Herring: Probably not. Citi now has a much, much stronger board, one that appears to have planned an orderly succession. This is in stark contrast to the situation in which [former CEO Charles] Prince was forced out and the board was clueless about a successor. In fact, Pandit began in an awkward way because there was nothing in his background to suggest that he would be an ideal leader. It seemed more like an act of desperation by a board that was asleep on the job. 

KnowledgeToday: What would you advise the bank to do immediately to mute the impact of such a sudden announcement?
Herring: I think that they need to continue to downsize so that the enterprise can be more successfully managed, and they need to articulate a clear strategy that is persuasive to investors. Since Corbat has had substantial success in slimming down his group, he may well be the right man for the job.