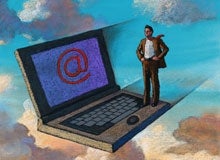 The Indian IT industry is seeing a spurt of activity among its leading firms. While Tata Consultancy Services (TCS) remains ahead of the pack — TCS's results for the second quarter ended September 30 exceeded analysts' expectations — its main rivals, Infosys and Wipro, are trying new strategies to keep pace. (TCS's second quarter revenue at US$2.85 billion was up 13% year-on-year and 4.6% quarter-on-quarter, while net income at US$643 million was up 21.8% year-on-year and 6.4 % quarter-on-quarter.)
Wipro, which lost its number-three position to Cognizant last year, announced on November 1 the demerger of its non-IT business. Wipro's businesses in consumer care & lighting (which includes its furniture business), infrastructure engineering (the hydraulics and water businesses), and medical diagnostic products and services (through its strategic joint venture) are being hived off into a separate, unlisted company to be named Wipro Enterprises Ltd. Wipro will remain a publicly listed company that will focus exclusively on information technology.
In a statement, Azim Premji, executive chairman of Wipro, said: "I am confident that the demerger will enhance value for our shareholders, and provide fresh momentum for growth." T.K. Kurien, CEO of Wipro's IT business, added: "Creating a technology-focused company will allow us to better serve the needs of our customers, and accelerate investments necessary to capitalize on market growth opportunities."
It's a move that has been widely anticipated. For years, when Premji was asked why he did not sell or hive off the non-IT businesses, his constant refrain was that he did not see the need. So, why now? In a media call, independent director N. Vaghul pointed to two main reasons. "The decision was triggered by the fact that the non-IT businesses have reached a critical mass. This demerger gives them an opportunity to pursue their independent growth plans. The demerger will also help improve the competitiveness of the IT business." Wipro's IT business accounts for around 86% of its total revenues. The demerger is expected to improve Wipro's margin profile since the margins in the non-IT businesses are lower than the IT business.
The stock market reacted favorably to Wipro's move: Following the announcement, the company's stock moved up by 3%. Ankita Somani, analyst at Angel Broking, says: "The hiving off of non-IT business would result in an increase in ROCE [return on capital employed] and ROE [return on equity] of the listed entity, as [the] non-IT businesses had lower return ratios. We remain positive on the stock." In their note, analysts Viju George and Amit Shah of J.P Morgan suggest: "The focus on IT services will sharpen, and financial metrics such as margins will be relatively cleaner; hence, [there will be] easier comparisons with peers."
The decision to demerge the non-IT business is also seen as a smart move by Premji to meet the Securities & Exchange Board of India requirement of limiting the promoter's holdings in a company to 75%. Premji currently holds 78.37% in Wipro. One of the options given to the stakeholders as part of the demerger formula could help Premji reduce his stake by 2.7%.
Meanwhile, Infosys, which has been battling its own problems and recently also ceded its second position to Cognizant, has also been firing fresh salvos. Just a few weeks ago, the US$7 billion firm announced its acquisition of Lodestone, a Zurich-based management consultancy firm. Now, it has embarked on an austerity drive. Apparently this has been motivated by the dip in the company's cash reserves on account of the Lodestone acquisition and the salary increases that the company announced last month. According to media reports, in a note to the employees, Infosys CEO S.D. Shibulal has said that cost-cutting measures are on the cards and will be implemented in phases. To begin with, the company has reportedly put a freeze on long-haul business class travel for its senior employees. It has also deferred the joining date of new campus recruits.
How much these moves will help remains to be seen, but clearly Indian IT firms are getting ready to play catch up.