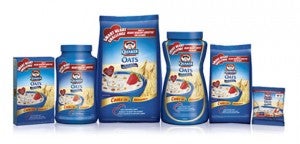 Oats have been a breakfast staple in many Indian homes for a long time. Now, marketers seem to have woken up to the business potential of this humble food.
Currently pegged at around US$37 million, the oats market in India is estimated to have the potential to leap three-fold by 2015. Buoyed by growth prospects, the segment has seen the entry of new players in recent years. These include GlaxoSmithKline Consumer Healthcare, Kellogg India and biscuit maker Britannia. According to some industry watchers, Hindustan Unilever and Nestle India, two of the biggest food companies in India, are getting ready to enter the ring as well.
So what has brought about this change? Industry players say that oats first started becoming popular for their health benefits. Now, taste is the new ingredient in the marketing mix. Sameer Satpathy, executive vice president and head of marketing–consumer product business at Marico, says: "Oats as a category had always existed and its health benefits were known, but not to the mass consumer. Today, marketers are creating awareness for the category which is [attracting] more people. Brands are also investing in developing and customizing oats to the Indian palate."
Satpathy points out that Marico, which made its oats debut in 2010 under its Saffola brand, realized that consumers perceived health and taste at the opposite ends of the spectrum and decided to bridge the gap. "We believe that growth can be unlocked only if there is no tradeoff. And hence our research and development team was given a simple brief: How can we make oats not just acceptable, but relished by Indians?"
In October last year, Marico launched six variants including veggie twist, peppy tomato, classic masala (spicy) and curry and pepper. PepsiCo, which introduced its Quaker Oats in India in 2006, also added a host of variants last year. These include masala, kesar with kishmish (saffron and raisins), lemony veggie mix and strawberry with apple. Britannia, too, has plain, strawberry, savory and multi-grain porridge oats. These come in varying sizes ranging from single serve sachets, pouches, economy jars and boxes. Some brands even offer in-store sampling to woo potential buyers.
Industry analysts say that the category, which is growing at over 25% per annum, is still evolving. "Whenever a food product starts transitioning from nutrition into taste and then [to] trends and fashion, the category grows," notes Jagdeep Kapoor, chairman and managing director of Samsika Marketing Consultants.
This transition is evident in many other food and beverage categories in India. Take, for instance, olive oil, prunes, almonds, fruit juices and green tea. "Health is the latest fad in India. And everybody wants to milk a winning formula. All these products have graduated [further] from the health platform and are today a hit with a young and upwardly mobile target audience…," says Vinay Adhye, business head of Sahakari Bhandar, a Mumbai-based food and grocery chain.
The rising income level of India's 330 million-member middle class is another contributing factor. Consumers can afford to change their eating habits to factor in health, convenience and taste. "I see a pattern here. Companies have realized that operating in a niche does not work to their advantage. If they want to go main stream, they have to cater to the entire family," observes Damodar Mall, director-food strategy at the Future Group.
So, as part of their new strategy, players are promoting oats for use in traditional Indian dishes. PepsiCo, for example, is urging customers to use its Quaker oats to make idlis (rice and lentil cakes), dosas (rice and lentil pancakes) and upma (semolina porridge). Bangalore-based food company MTR has launched oats idli mixes.
A local menu is something that other multinational food companies are also dishing up. Subway, for instance, has opened vegetarian outlets in the country and McDonald's has announced similar plans. "You need to keep moving if you want a large slice of the Indian market," says Mall. "In terms of food, India is not merely an emerging market but an assertive market."