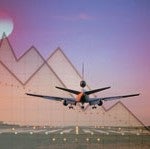 The Indian aviation industry is in turbulence — yet again. For over a week now, the government-owned carrier Air India has been under siege with a section of its pilots on strike. The pilots are agitating over a dispute regarding training, which they say impacts their career advancement prospects adversely. With around 350 pilots reporting sick, Air India has cancelled most of its international flights. It is estimated to be incurring losses to the tune of Rs. 12 crore (US$2.2 million) a day.
Taking swift action, the management derecognized the pilot's union and has also fired a few of the agitators. The strike has been declared illegal by the Delhi High Court. But the striking pilots have refused to buckle. Meanwhile, Air India's Executive Pilots Association (EPA) is supporting the agitators, and private airline Jet Airways' Society for Welfare of Indian Pilots (SWIP) has also asked for the reinstatement of the fired Air India pilots.
This ongoing agitation has only added to the woes of the cash-strapped airline. Just last month, the government cleared a US$5.75 billion bailout for the ailing carrier and is now unwilling to pander to the striking pilots. Talking to a television news channel recently, Ajit Singh, union minister of aviation, noted firmly that the pilots need to consider that Air india "is already on the sick bed and should not go to the ICU [intensive care unit]."
Singh went on to say that all employees and all unions have to co-operate in an effort to make Air India stand on its feet. He warned: "Otherwise it will not stay afloat. They have to realize that if they do not rise above their personal interests, then Air India will sink, and with that all of them will sink."
Talking to daily newspaper Mint, Craig Jenks, head of Airline/Aircraft Projects Inc., a New York-based air transport consulting and advisory services firm, noted that "the Air India strike reflects a franchisee mentality among pilots, a confidence that they can control outcomes to their advantage without fear of competition. The government has encouraged this through the bailout."
G.R. Gopinath, founder of Air Deccan, India's first low-cost airline which was later acquired by Kingfisher Airlines, says that the government "must find the political will to look beyond Air India." In a column in the daily newspaper Times of India, Gopinath notes: "[The government] must create a vibrant aviation sector and spell out a long term strategic vision for all stakeholders. A robust ecosystem is needed, not individual policies to suit Air India or Jet Airways or Kingfisher Airlines, as has been the case with successive governments."
Indeed, even as Air India's problems are compounding by the day, the entire Indian aviation sector is under stress. The rising cost of aviation turbine fuel, service taxes and high airport charges have been affecting almost all airlines adversely. In fact, even as irate passengers were trying to cope with the Air India cancellations, pilots of another beleaguered airline, Kingfisher Airlines, owned by liquor baron Vijay Mallya, decided to go on strike. They were protesting against delayed salaries.
While Mallya has been talking of bringing in foreign investment, industry observers don't expect it to happen any time soon. They point out that the proposal to allow 49% foreign direct investment (FDI) by foreign airlines is unlikely to be cleared in the current parliamentary session, which will end next week.
Rajesh Chakrabarti, assistant professor of finance at the Indian School of Business, points out that "the current crisis has probably brought to a head what was inevitable at Air India. Its timing with the Kingfisher woes has made things worse for passengers." According to Chakrabarti, the striking pilots have a valid cause. He notes that while court strictures will force them to resume duties in a few days, it will not be a long-term solution. Says he: "Air India must have a round of serious reorganization in order to be viable. On the other hand, the industry will probably see some inevitable rise in passenger fares to ensure survival, as well as some consolidation."
According to Jan Zalewski, South Asia analyst, IHS Global Insight, India's aviation sector is in a paradoxical situation. In a recent report, he notes: "Despite double-digit growth rates of passenger air traffic, five out of six private domestic airlines in India posted huge losses over 2011; this paradoxical situation is partly due to high oil prices and a depreciating rupee, but more importantly the losses are due to the highly restrictive and unfavorable operational environment for domestic airlines in India." He adds: "Unless the government adopts more favorable aviation policies that would allow airlines to fly domestic routes profitably, there is likely to be a shortfall in capacity by 2020 which would thwart growth in the sector." Zalewski says that foreign airlines bringing in FDI could help provide domestic airlines with cash flows, but this is unlikely to be a game-changer. "Even if working capital is raised, this would mean that, at best, real financial recovery would occur slowly."