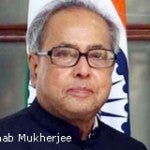 On April 25, ratings agency Standard & Poor's (S&P) downgraded India's sovereign rating outlook from "stable" to "negative." It warned that further action was possible if the country did not find a solution for its twin problems of a high fiscal deficit and a widening current account deficit. In lay language, this means that the government is spending too much.
S&P also lowered the rating of 21 banks and companies, including majors such as the State Bank of India, ICICI Bank, Infosys and Wipro. This will make it more expensive for them to raise money.
Indian finance minister Pranab Mukherjee, however, said that the downgrade did not indicate a crisis — and the stock markets shared his opinion. The Bombay Stock Exchange sensitive index (Sensex) had gone down 190 points on the S&P news, but it recovered to end the day only 56 points down.
Meanwhile, other government officials underscored the point that the only solution was to speed up reforms. The opposition parties have successfully stonewalled all attempts to pass relevant reform bills through Parliament. The day after the downgrade, the Asian Development Bank (ADB) made the same point. The S&P rating cut "is a timely warning," Rajat M. Nag, managing director general of the ADB, told Kolkata-based daily The Telegraph. "Reforms are running into some headwinds."
On the reform issue, the government has created its own problem. A few days earlier, chief economic advisor Kaushik Basu reportedly told a Washington meeting of the Carnegie Endowment for International Peace that there were unlikely to be major economic reforms in India before the next Parliamentary elections in 2014. Basu later issued a statement claiming that journalists had juxtaposed his comments on Europe in 2014 with the Indian election of 2014. Read Basu's statement: "This is unfortunate, because the central message of my talk was the possible European crisis of 2014 and India's major rise thereafter, likely overtaking China."
The damage, however, was done. Indian industry has been saying for some time that the anti-corruption movement in the country has resulted in a policy paralysis in Delhi; bureaucrats and politicians are afraid of making decisions in case they are accused later of having ulterior motives. Basu's statement has been highlighted by the opposition as an official admission that this is indeed the case.
There are other problems which are Mukherjee's own creation, critics note. In the Union budget, he had introduced a capital gains tax on offshore transactions involving Indian assets — but he did it with retroactive effect from 1962. Vodafone and other affected firms are now fighting back. British chancellor of the exchequer George Osborne has met with Mukherjee to lobby for Vodafone. Companies which had their licenses cancelled by the Supreme Court in the telecom scam have also tried to persuade government officials to plead their case with Mukherjee. This includes Norwegian minister of trade and industry Trond Giske: Norway's public sector Telenor was partner in a joint venture — Uninor — that had its license cancelled. Sistema of Russia has meanwhile sought a solution in the India-Russia bilateral investment treaty.
The Supreme Court had asked the Telecom Regulatory Authority of India (TRAI) to come up with an auction scheme for the cancelled licenses. The TRAI has confounded everybody by setting the floor price at a very high level. Telecom industry players say they will go into the red if they have to pay such prices.
Meanwhile, another budget provision, the General Anti Avoidance Rules (GAAR), is causing other ripple effects. Says economic daily Mint: "GAAR gives sweeping powers to the tax authorities to question any transaction with retrospective effect. Overseas investors say they will have to exit India if the law is implemented." According to credit rating agency ICRA: "GAAR is adding to the anxiety of foreign investors." In April, the fund flow from foreign investors turned negative for the first time this year, reflecting the growing negative sentiment.