Kenneth Frazier, Merck's CEO since January 1, is sticking to his strategy of expanding in emerging markets through partnerships, rather than acquisitions. On Monday, Whitehouse Station, N.J.-based Merck announced an equal joint venture with Sun Pharmaceuticals of Mumbai, India to sell branded generic drugs in emerging markets.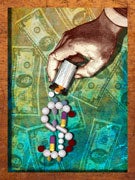 Terms of the deal weren't disclosed, but both companies get to retain their existing businesses intact. "Sun Pharma's promoters are neither selling nor are likely to consider a sale of their stake," Uday Baldota, the company's spokesperson told Knowledge at Wharton.
Acquisitions have become too expensive, Frazier said at a Goldman Sachs investor conference in New York City in January. "We think it's hard to make money if you have to buy assets at the top of the market," Frazier noted. "We like partnerships because we get the local expertise. If you buy somebody, and then you [absorb] them as part of your company, you lose the local expertise, the local presence." The Sun deal is consistent with that approach.
Frazier had in January targeted emerging markets for this approach, noting that Merck could enjoy fewer pricing pressures from governments and insurers as compared to the U.S. Also, Merck at that time had estimated that a quarter of its sales would come from emerging markets by 2013, compared with 18% in September 2010. The company's merger with Schering-Plough was consistent with that objective — Schering-Plough at the time earned 70% of its revenue from emerging markets.
Indeed, emerging markets are expected to drive 90% of the world's pharmaceutical growth, with 75% of that coming from branded generics, according to a joint statement from Merck and Sun. The companies foresee branded generics helping to fill unmet needs in treating chronic conditions such as cardiovascular disease, diabetes and hepatitis. The joint venture will use Sun's manufacturing facilities, and target emerging markets in the Asia-Pacific region, Eastern Europe, Latin America, the Middle East and Africa.
Frazier took over from previous Merck CEO Richard Clark, who now serves as chairman, at a time when the company was still digesting the $41 billion, November 2009 merger with Schering-Plough. In 2010, the combined Merck-Schering Plough entity posted $46 billion in revenue, compared with Merck's $27.4 billion in 2009. Merck had indicated combined revenue of $47 billion at the time of the merger. Sun reported net sales of $982 million for the first three quarters of the current fiscal year, up 46% from the corresponding period in FY 2010.
Other firms are also showing a preference for partnerships over acquisitions in the Indian market, as Mint, an online business newspaper in collaboration with The Wall Street Journal pointed out in a report. Germany's Bayer has a marketing joint venture with Zydus Cadila of Ahmedabad. Merck, too, has more than a dozen marketing partnerships in India.