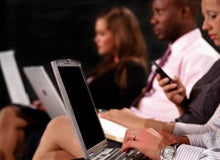 Thanks to social media, companies are able to forge a new, and often more intimate, relationship with their customers — and even with their own employees. But in an ever-changing medium, how can marketers and community managers figure out the best way to respond to queries or complaints, and also disseminate information about their goods and services?
At a panel discussion on social media held last week as part of a conference organized by Wharton's Baker Retailing Center, participants from the retail industry discussed some of the ways their companies are mastering "social media etiquette."
Saying 'thank you': Staff from online eyeglasses retailer Warby Parker send thank you notes to bloggers who write about the company, said Tim Riley, director of online experience for the firm. "It doesn't matter if they have one or one million followers. We try to treat each blogger exactly the same," he noted. "That helps us establish a relationship from the start. Hopefully people will then be more inclined to write about us on an ongoing basis."
Getting personal: Panel moderator Kartik Hosanagar, a Wharton operations and information management professor, told a story about the personalized service that Zappos offered a customer who was going through a rough patch. A member of Zappos' social media team read a blog post in which a consumer wrote about the recent death of her mother and mentioned that she didn't have time to return a pair of shoes to the retailer. "Zappos had a truck sent to her place to pick up the shoes," Hosanagar said. In addition, the company sent the woman a bouquet of flowers. "Customer interaction with retailers is ultimately transactional on the one hand, but with social media,you can create a one-on-one relationship." Hosanagar noted, however, that the situation can also become challenging for retailers because they must extend the intimate relationship offline, when shoppers come to their bricks-and-mortar locations.
Targeted training: Dennis McEniry, president of Estee Lauder's online business, said that the company provides targeted training and advice for employees interacting with consumers via social media. "Rather than trying to train our customer service people to speak online, we took makeup artists and beauty advisors and taught them" to give followers on Twitter, for example, suggestions and tips for using various products, McEniry said. The second group of people who speak online on behalf of Estee Lauder includes community managers who are in charge of social media for particular brands. "The third group is general employees. While we encourage them to speak on behalf of the brand they work for, we train them about what to say and what not to say," and other do's and don'ts during a two-day course, he adds. "We are more worried about what they say, or how they say it, than their active participation [in social media.] We also have a rule that any employees using these tools have to reveal that they work for a particular brand."
For more insights on social media from the Baker conference, check out our previous post, "Making Social Media 'One Giant Hangout."