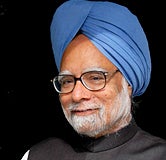 In 1991, when the Indian economy was on its last legs and the country was on the verge of defaulting on its international obligations, Prime Minister P.V. Narasimha Rao and Finance Minister Manmohan Singh ushered in an era of economic reforms. They worked: India became one of the fastest-growing large economies in the world.
But history is now repeating itself. India's rating has been downgraded by S&P and Fitch. And a duo including Finance Minister Manmohan Singh is heading the rescue act. Of course, things are not exactly the same. Singh is prime minister too, having taken additional charge when erstwhile Finance Minister Pranab Mukherjee stepped down to run for president. (The presidential elections are on July 19 but, as a candidate for the ruling party with outside support, Mukherjee is near certain to win.)
This time around, Singh's companion in action is the ruling Congress Party chief Sonia Gandhi and she is expected to want approval on every policy change. On June 27, shortly after taking over as PM, Singh called upon the country to shed the current climate of pessimism. "Revive the animal spirits in the country's economy," Singh told finance ministry officials. (Singh, an economist, was talking in a Keynesian sense of consumer confidence.)
Singh further spelled out the problems facing India. "At the current juncture, we are passing through challenging times economically," he said. "The growth rate has taken a dip, industrial performance is not satisfactory, things are not rosy on the investment front [and] inflation continues to be a problem…. On the external front, I am concerned about the way the exchange rate is going. Investor sentiment is down and capital flows are drying up."
There seemed to be acceptance of the fact that mistakes have been made. Former Finance Minister Mukherjee, on his last visit to his office, told the media: "I know that not every decision I have taken might have been right. But I have taken those decisions always keeping in mind the simple and poor people I knew from my childhood." That is the nearest a politician can get to admit giving in to populist inclinations.
Perhaps Mukherjee's biggest errors, his critics say, have been in the last Union Budget. He reversed a Supreme Court decision in a tax case against Vodafone. Retrospective taxes added to the scare. "There are problems on the tax front, which need to be addressed," noted Singh. Much must be done "to restart the India growth story," he added.
Getting Mukherjee out of the way was the first step, observers note. He has repeatedly defended his tax proposals, and suggestions that he move to another ministry with former Finance Minister P. Chidambaram taking over were not welcomed, as this would have been seen as a demotion. Mukherjee has been through this before. In 1984, when Prime Minister Indira Gandhi was assassinated, he threw his hat into the ring to become prime minister. But the party instead chose Rajiv Gandhi, a pilot for a commercial airline, to become prime minister. And Mukherjee spent many years in the cold. This time the President's job can be projected as a promotion, though the role is entirely ornamental. (In India, it's a job equivalent to that of the Queen of England.)
Will Singh be able to usher in reform a second time? Among the potential roadblocks are that some loyalists of the Gandhi family would like to see him fail, as success would take part of the aura away from Sonia Gandhi and heir apparent, Rahul Gandhi. A successful Singh may start commanding a political base of its own. Besides, the real issue is building up confidence in foreign investors and Indian businessmen. After the shocks they have had from the budget and other measures, that may not be too easy a task. The stock market, the principal leading indicator, has been ambivalent. They prefer to wait and watch.