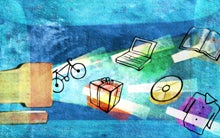 On a recent weekend afternoon, dozens of people showed up at the New York offices of Warby Parker, an online eyeglasses retailer. They were there to participate in a "photo walk" organized by the company. Every participant got a pair of novelty glasses to use in photos taken across the city. The company awarded prizes to images that received the most "likes" after being uploaded to Instagram, an online photo editing and sharing application.
"Up to that point, we had 700 photos on Instagram tagged with Warby Parker," said Tim Riley, the company's director of online experience. "Then the day of the photo walk, we had about 750 additional pictures tagged with our name. We also had 120 people in our offices and got to talk to all of them. It was a giant friendly hangout."
As social media becomes an increasingly important part of retailers' marketing and customer service efforts, it's not just a matter of having the largest number of fans on Facebook or Twitter. Retailers also have to know how to engage users and how to turn those online conversations into positive offline interactions.
At a panel discussion on social media held this week as part of a conference organized by Wharton's Baker Retailing Center, Riley and others from the industry discussed efforts to unlock the value in their online followings.
"'Why don't you have as many fans as Starbucks?' is obviously a metric, but it isn't the most important metric," noted Chuck Hansen, vice president for media strategy at Macy's. "We want to look at engagement level: When we create a post and look at similar posts across our competition, are we seeing a higher engagement level? And is it a positive engagement level?"
A key way to grow engagement is to figure out how consumers want to interact with the brand in question. For example, when Macy's initially started its Facebook page, the company made the decision to focus on fashion rather than promotions. "But when we asked [our followers] what they wanted to talk about, they said promotions," Hansen said. The retailer is now testing a beta program that allows coupons to be delivered via customers' Facebook feeds.
Dennis McEniry, president of online efforts at Estee Lauder, noted that cosmetics brands can spend as much as $1 million to produce "how to" videos for different beauty products. But those videos typically get a fraction of the viewership on YouTube that amateur videos — those uploaded by individual consumers — do. "We've tried to switch to thinking about how to move the conversation to consumers doing videos, rather than necessarily having all of our brands make videos."
Customers also want to feel empowered, panelists said and one way to do that is to get their input at the product level. Estee Lauder, for example, has solicited feedback about names for lipstick shades. Meanwhile, Macy's ran a promotion asking followers to design a balloon for its annual Thanksgiving Day parade, and is running a different campaign allowing people to vote on songs that will be used for the mixtape that accompanies its July 4 fireworks display.
"Done well, social can be predictive," noted Dan Clifford, vice president of marketing for Victoria's Secret. "There's a fine line between letting the customer drive the product too much, but there are definitely moments where we have sought feedback, whether it's about names or certain functions built into a product. When done well, [the feedback] has matched the real-time testing we're doing in stores. But it's also a matter of getting the merchant comfortable [with] hearing from the world at large."
In some cases, consumers also have to get comfortable with that kind of mass feedback. Warby Parker allows customers to have a selection of frames sent to their homes so they can try them on and pick the one they like best. The company started encouraging people to post pictures of themselves wearing each pair of glasses so staff from the company could weigh in. "The customer becomes empowered, and when someone else posts a picture and asks, 'Hey, what do you think about these glasses?', the person we helped before will start answering on our behalf," Riley said.