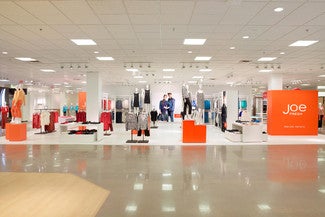 Coming close on the heels of lower-than-expected sales figures, J.C. Penney's recently launched partnership with Canadian clothing brand Joe Fresh might be CEO Ron Johnson's last chance to turn the ailing company around.
J.C. Penney shares jumped 5% after the debut weekend of the Joe Fresh line in about 700 of its 1,100 stores. The line uses a "store-within-a-store concept" that many observers say is key to rejuvenating the antiquated business model of large department stores. Wharton marketing professor David Bell notes that in the medium and long term, determining whether the Joe Fresh venture is a success or a failure isn't entirely tied to earnings.
"There will need to be some boost in traffic and sales," he says. "But the arrangement might also be considered successful if it helps to reinvigorate the J.C. Penney brand as well."
Part of that could be tied to Joe Fresh leading by example. The new "mini-stores" for the Canadian brand reflect the style of its standalone locations: white walls, flooring and fixtures, and strong lighting that offset the brightly-colored clothing and accessories.
Creating a distinct look for Joe Fresh — which has just six U.S. locations, all in the New York City area — was key for two reasons, Bell says. "First and foremost, it is important that customers see the merchandise and that the new brand stands out. Secondly, it's important that it look 'different' to J.C. Penney customers so that they start to 'get' the whole store-within-a-store concept," Bell notes, adding that while he doesn't think the strategy could backfire by making the rest of the store look dull, "it will create some pressure on store managers to make sure that the rest of the store at least looks OK."
But the positive news about initial sales of Joe Fresh was accompanied by a report from research firm International Strategy & Investment suggesting that the best thing J.C. Penney could do to boost itself would be to cut its brand out of the equation. According to the report, J.C. Penney's most valuable asset is the sheer amount of space it owns. Volume allows the firm to pay very low costs for the space when compared to other retailers and if it were to remove all J.C. Penney branding from about 300 of the most strategically located stores and sublet them to other retailers, the Texas-based department store company could clear $1.2 billion annually in rental income, the report states.
The idea makes a lot of sense, according to Bell, who points to the growing realization among retailers in the burgeoning e-commerce sector that it helps to have some sort of physical presence. "[Men's clothing] e-commerce retailer Bonobos has guide shops and a deal with Nordstrom, and [eyeglass company] Warby Parker has 13 showroom partnerships and will soon open flagship stores. My sense is that there are a large number of e-tailers that would love to have a physical presence."
A start-up called Story provides an example of how such a concept could work, Bell adds. The company's 2,000 square-foot space in New York is completely overhauled every four to eight weeks with design, merchandise and fixtures that reflect particular themes.