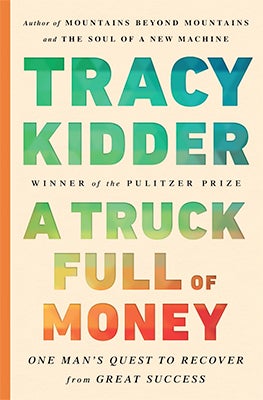 Tracy Kidder is not a typical business journalist. A literary writer in the tradition of John McPhee, he has mined a wide range of material: writing about a fifth-grade teacher in a low-income school in western Massachusetts; two nursing home roommates; a doctor crusading for health care in Haiti; the journey of a survivor of war-torn Burundi; his own war-time experiences in Vietnam.
Yet his first major success, The Soul of a New Machine, for which he won a Pulitzer Prize in 1982, was an intimate portrait of an engineering team racing to develop a cutting-edge microcomputer. Thirty years after exploring the world of building computer hardware, Kidder wanted to write a sequel of sorts, one focused on the craft and business of making computer software. His entrée into that world was Paul English, whom he knew mainly for his philanthropic work, but who was a software developer who had twice scored big with Internet start-ups — mostly recently with Kayak, a travel search engine he sold to Priceline for $1.8 billion in 2012.
As English began introducing him to the world of software development, Kidder realized he was more fascinated with the man himself. He asked about making him the subject of the book. English agreed, eventually — but with an unusual proviso. "You have to promise not to make me look better than I am."
The book that emerges, A Truck Full of Money: One Man's Quest to Recover from Great Success, may disappoint those looking for a nuts-and-bolts breakdown of coding or of Kayak's innovations in user interface. But it will reward readers open to its philosophic nature and collage-like structure. It is at once a portrait of a precocious programmer and entrepreneur, and of his team of life-long collaborators; a meditation on mania and the peculiar mindset behind computer coding; and a look at men driven to create and build, make a lot of money, and then give it all away.
A Young Mind on Fire
Echoes from previous Kidder books run throughout his new one. Tom West, the central character in The Soul of a New Machine, was in his early years a music-obsessed underachiever. Growing up the sixth of seven children in the working-class Boston suburb of West Roxbury, Paul English fit that bill. He showed early signs of precociousness, scoring eighth among thousands of sixth-grade applicants to prestigious Boston Latin. Yet once there, he made it a point of pride to avoid homework if at all possible. The only things that motivated him were playing trumpet in the school band, and Computer Club.
The school had only one real computer at the time, the "dumb terminals" of Computer Club mere conduits to the locked-away IBM. Paul devised an ingenious program for stealing his teacher's password and gaining access to his programs and files. He hacked into the school's attendance folder so he could add friends to the list of those with an excuse to arrive late. In tenth grade, a career counselor told him he should be a priest, a therapist, or an actuary. Paul had no clear ambitions, for college or beyond. He was planning on being a musician. He graduated near the bottom of his class.
"Karl thought of programming as a 'universe unto itself,' and Paul was starting to realize this was a world he too felt at home in."
Emotionally, the young Paul English was a muddle of contradictions. He had moments of being "on fire," his early way of describing the manic side of bipolar disorder. When he was a junior, his mother bought him his own computer, a Commodore VIC-20. He taught himself to write small programs, found a bug in an electronic game his older brother Ed had written for Parker Brothers, and later wrote and coded a game of his own from scratch, selling it to a company that quickly went out of business. He never thought of computing as a career, just a fun hobby.
There was a flip side to his mania, including stretches of inexplicable lethargy. And although he thought of himself as the peacemaker at home, he at times found himself "lost in ferocious anger." As early as fifth grade, he developed a habit of getting in fights, often playing the role of vigilante against a perceived bully. He never felt he would lose a fight, "because he was always angrier than the other kid." He kept his fighting secret from most of his friends and siblings. A girlfriend of the time remembers him as "the sweetest boy in the whole world," and for taking her on dates to the Boston Public Library, where he would help her with her homework. He was also visited by occasional apparitions, a symptom of what would later be diagnosed as temporal lobe epilepsy.
A New World
While 26 of his fellow students got into Harvard, Paul's lack of ambition landed him at the Boston branch of the University of Massachusetts, an undistinguished commuter school whose monolithic architecture earned it the nickname "the fortress." Paul only cared that it had a student jazz band. He thought of himself as a screw-up, at a school built for screw-ups.
That first semester, however, Paul began to discover the school's virtues. During a class discussion on the Vietnam War, he realized the man to his left was in a wheelchair because of wounds from the war, and that the man to his right had lost a son in the conflict. From two Vietnamese students, he learned Chinese chess, or xiangqi. UMass's many night classes allowed him to work his way through school and gain valuable experience on the side.
Paul still had no plan, other than to be a musician. For a while he coded part-time for his brother Ed's new video game company. But it was at UMass that he discovered his gift for coding could be a vocation, and not just a hobby. The computer science faculty there was more than respectable. Unlike other programs that favored theory, the faculty at UMass had considerable practical experience. Over the course of his seven years there, he worked a string of programming jobs that constituted its own supplemental education. After getting his bachelor's degree, he stayed on at the school for graduate work.
It was in graduate school that Paul met Karl Berry, the first of a small cadre of long-term collaborators he would later dub "twenty-pluses." Karl was imbued with the idealism of seminal programmer Donald Knuth, who viewed coding as an art form. Karl thought of programming as a "universe unto itself," and Paul was starting to realize this was a world he too felt at home in.
Assembling the Team
At twenty-five, Paul English married and, with the help of a favorite UMass professor, got a job at Interleaf, a local company at the forefront of so-called WYSIWYG (what-you-see-is-what-you-get) user interfaces. There, he soon became a rising star as a member of the elite product development group.
The intensity of the experience generated frequent highs and periodic lows. He lost track of time and worked hundred-hour weeks. He was well-liked but sometimes had to "struggle for civility" when colleagues couldn't keep up with him. Occasionally he would crash, finding himself "seized with lethargy and unnamable fear" and holing up in his room for an entire day. He was diagnosed with bipolar disorder, and took lithium for a few months, but didn't like the "flat" feeling it produced. He quit, starting a life-long pattern of moving in and out of medication.
An executive at Interleaf was impressed with Paul's "meta sense" — an ability to understand not just the code itself, but also its place in the company's larger strategy. He was moved into management, at first an uneasy transition for him. "Suits" weren't supposed to code, but Paul's initial approach to managing was to push those below him by simply "outcoding" them. He knew this method wasn't sustainable, and immersed himself in books about leadership and management.
In a remarkable act of self-reinvention, Paul seemed to will himself to become an effective manager. On the one hand, he was still a "geek" more at home with fellow coders. But just as, as a jazz musician, he loved the call-and-response interplay of independent musicians collaborating on a complex arrangement, so he came to love the high-energy interplay of teamwork in a programming environment. And keeping his hand in the company's daily coding reports helped him identify two more members of what would become his core team: Bill O'Donnell and Paul Schwenk. For their part, O'Donnell and Schwenk found English at times exhausting, "even exasperating." Yet they were drawn by his undeniable energy and charisma, and would soon follow him when he made the leap from Interleaf.
"'Suits' weren't supposed to code, but Paul's initial approach to managing was to push those below him by simply 'outcoding' them. He knew this method wasn't sustainable…."
Going Solo
Five years after joining Interleaf, Paul left for a start-up company called NetCentric, whose founder pitched it as a kind of 21st-century net-based phone company. He recruited O'Donnell and Schwenk, and also his grad school friend Karl Berry. Two months later, Paul and his friends were out of a job when Paul got in an argument with his new boss, and either quit or was fired.
Paul suffered his major depressive crash — the deep dark "other side of mania." In no time at all, he'd gone from VP of a hot new start-up to being holed up in his attic. He worried that he wasn't as good as he thought he was, and about leading his friends down the wrong path. During long sleepless nights, he couldn't even bear lying in bed. "A bed seemed too insubstantial. While his family slept, he would climb out and crawl across the floor toward a window … watching for the sun to appear."
He retreated to a beach house in Hull on Boston's North Shore, and there essentially programmed himself back into health by creating a complex program for an online xiangqi gaming site. It was a passion project that never went anywhere commercially, but it showed him he still had his "chops."
Soon Paul and his team were back in the game, and this time they would score, big time. With some seed money from an initial contract to retool the website of The Boston Globe, Paul launched the e-commerce platform Boston Light Software. As it turned out, he couldn't have timed the dot-com bubble any more perfectly. He founded Boston Light in 1998, three years after quitting Interleaf. The following year, Intuit invested $2 million in the company and then bought it outright for just over $33 million.
A Philanthropic Mentor
By his own account, Paul's timing with Boston Light had been "obscenely lucky." Even after sharing half of his proceeds with his team, he had walked away with about $8 million. He wanted to give some of it away, a lot of it, in fact. For years, he'd known of Thomas J. White, a local legend who'd made a bunch of money in construction, and then quietly proceeded to give most of it away. One of Paul's oldest friends happened to be White's nephew.
The two men hit it off immediately, developing somewhat of a father-son relationship. White firmly believed there was "no such thing as a self-made man." Like Paul, he had grown up in a large Catholic family, and never felt fully at home in the elite class he eventually ascended to. His passion project was Partners in Health, the charity he founded in Haiti in 1987 with Dr. Paul Farmer, the subject of Kidder's book Mountains Beyond Mountains.
Paul began writing checks to homeless shelters, and to Partners in Health. When he hit it even bigger with the sale of Kayak, he fell into a deep depression, and thought back to his lunches with Tom, who had since passed away. By coincidence, the therapist he was seeing at the time had also been Tom's doctor. Tom himself had been very depressed when he first met Paul. "And you really helped him," the doctor assured him.
"'Money's supposed to move around. I mean, money's a fiction, right?'"
Kidder, who had interviewed Tom extensively for his earlier book, writes that he hears an echo of him in Paul's voice as he talks about wanting to give away most of his Kayak fortune to his own charity in Haiti, Summits Education. "Money's supposed to move around. I mean, money's a fiction, right?"
The Kayak Story
Paul would descend into a dark place following the sale of Kayak, and his huge success with the company was preceded by an extended dark period as well. Paul was emotionally drained by the experience of caring for his ailing father. He eventually had to place him in a nursing home, where he fell and hit his head and never woke up. Paul felt he'd failed his father. His marriage came undone, and he was gripped by panic attacks. Further neurological testing indicated he had temporal lobe epilepsy, and he had some success with an antiepileptic drug.
"In Paul's telling," Kidder writes, "the Kayak creation story began with Tom White." Tom had long urged him to travel to Haiti, and he finally did after his father's death. He returned shaken by what he had witnessed, but determined to create a new company and "make an obscene amount of money so I can do the right thing and help Haiti."
Via his old boss at Interleaf, Paul was introduced to entrepreneur Steve Hafner, who had helped found the online travel company Orbitz. Hafner had a new venture in mind. Travel was 8% of the U.S. economy, and the largest piece of the e-commerce pie. There was room for a company that didn't sell anything, but just provided a comprehensive travel search service. He was looking for a CTO for the company. He pitched the idea to Paul over a 45-minute meeting, and the two shook hands and each committed a $1 million.
Paul reassembled his old team, and together they succeeded in crafting an elegant user interface that presented relevant search results cleanly and efficiently. Founded in 2004, the lean company almost immediately began turning a profit. By 2012, Kayak could boast of nearly $1.5 million in revenue per employee, one of the highest ratios among all publicly traded companies. It received many buy-out offers over the years, but at $1.8 billion, Priceline's offer late that year was too rich to turn down. Paul and his team had hit Internet gold a second time.
"Paul reassembled his old team, and together they succeeded in crafting an elegant user interface that presented relevant search results cleanly and efficiently."
The Birth of Blade
With the sale pending, Paul remained at Kayak for a while, but was restless and prone to mood swings, riding the old thin line between mania and despair. Mentally he had moved on from his old company, but he needed something to move on to. With his old collaborators, he had been batting around the idea of creating a new incubator to draw on the entrepreneurial talent produced by nearby MIT. But he was pulled in dozens of directions at once — by projects that ranged from a variety of apps, to an anti-NRA called the American Gun League. His internal turbulence grew more pronounced. He would spend two days holed up and shut down, sleepless at night, waiting on the floor for the sun to come up. Then he was suddenly "super manic," his body "screaming with energy."
Blade eventually began to shape up as a solid idea, with O'Donnell and Schwenk on board as partners. They leased an industrial property on the water in Boston's Fort Point neighborhood. Yet Paul's manic side still held considerable sway, too much for his partners' liking. There would be "Blade-by-day," a cutting-edge incubator of start-ups. But there would also be "Blade-by-night," a vaguely conceived night-club-tech-meetup space with disappearing desks, a sleek bar, and a state-of-the-art sound system.
The need to secure seed funding from venture capitalists imposed a necessary discipline on Paul's visions, and in late 2014 Blade finally opened its doors. In order to succeed, the company needed to make big bets and hit some home runs. In his pitch to investors, Paul said he wanted to launch disruptive companies that could take on established behemoths like Amazon, PayPal and Fidelity.
Those home runs never happened. Blade's fledgling companies had promise, but they were not game changers. In the end, though, the company was saved by Paul's infectious love of teams and team-building. Even as he sought to create an environment designed to support other teams, he was building his own in-house team: young talent he spotted and simply couldn't resist hiring, even though the new positions didn't really fit Blade's business model. "Hiring is my comfort food," he confesses to Kidder. "When I don't feel good, I hire people."
After a presentation of all of Blade's projects to its board, one member, a professor at Harvard Business School, said that while she liked the start-ups, none of the teams was as impressive as Blade's own in-house team. They should go and create something on their own, she said.
And so they did. Paul and his team performed a quick and decisive pivot, and by the end of 2015 announced that Blade would be devoted to a single project: Lola Travel, a personalized, human-centered travel agency that was, in a sense, an anti-Kayak.
The World's Richest Uber Driver
The closing pages of A Truck Full of Money find Paul English at least approaching a kind of peace and equilibrium. After a long on-and-off relationship, he has decided to marry Brenda White, who had been a part of his ventures going back to the Interleaf days. He feels he has finally learned to contain his "fire." He lectures at MIT and is helping them reshape their school of management. Of Lola Travel, he says, "I was born to make this company."
Years ago, Paul had entertained a fantasy about starting from scratch and "re-entering society" as an Uber driver. Now he has actually become a registered driver. He does it for research. He describes it as "putting lots of pieces of my life together." Once he picked up a high school student from China, traveling with her mother and aunt, neither of whom spoke English. She told Paul she wanted to attend MIT. "I teach at MIT," Paul told her. "I teach people how to start companies."