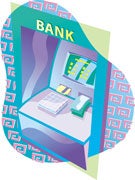 In February this year, the Reserve Bank of India (RBI) issued guidelines for new bank licenses allowing corporate and public sector entities to enter the banking sector. As part of this, it has mandated the new banks must open at least 25% of their branches in unbanked rural centers.
For Chennai-based Vortex Engineering, this makes for a huge business opportunity. Backed by investors like Tata Capital, Aavishkaar, Ventureast, Oasis and IFC, Vortex, with its portfolio of innovative automated teller machines (ATMs), is all set to aid banks in reaching out to unbanked and under-banked regions.
Vortex's Gramateller ATM, for instance, can run on solar power, has a built-in uninterrupted power supply (UPS), doesn't need air-conditioning, prints receipts in regional languages, is designed to work in extreme temperatures and can operate through biometric authentication. Its Ecoteller model is a low-cost, low-power-consuming machine.
"Conventional ATMs are designed [for] a developed-world scenario — they require air-conditioning and consume 1,500 to 2,000 watts of power. It is an unviable and expensive proposition to install them in rural or semi-urban areas [in India] where the transaction amounts are low and operational costs are high. The people in these areas, therefore, end up traveling 15 to 30 miles to access banking services," says V. Vijay Babu, CEO of Vortex. According to Babu, the overall cost (installation, operations, etc.) of Vortex ATMs works out to 35% to 50% less than conventional ATMs, which typically cost around US$6,000.
Vortex currently has more than 800 ATMs deployed in the country. Of these, over 300 are solar. "We have orders to set up 9,000 ATMs in the next two years. We opened our second manufacturing facility in January this year, upgrading our capacity from 100 ATMs to 900 ATMs per month. We closed last fiscal [year] with a turnover of US$2 million and are targeting US$7 million this year," adds Babu. The company also has been exporting its machines to SAARC (South Asian Association for Regional Cooperation) nations and a few African countries over the past six months.
Babu's optimism is rooted in pure numbers. "Though India has seen a four-fold increase in the number of ATMs in the past four years — from 25,000 in January 2008 to 100,000 in December 2012 — [the country's] ATM industry is largely underdeveloped. It is also the fastest growing ATM market in world … expected to touch 250,000 by 2015."
Other players, too, are busy creating a product portfolio to grab the opportunity. For instance, Georgia-based NCR Corporation has rolled-out a host of new ATMs with features including solar power, biometric readers and a text-to-speech engine that provides detailed instructions for the visually challenged user. Ashok Shankar, solutions deployment manager for NCR India, notes: "The market dynamics have changed significantly in the last year.… As part of the new announcement by the ministry of finance, PSU [public sector undertaking] banks will roll out over 60,000 ATMs in rural India by 2014. Our new ATMs particularly address the challenges that banks could face in rural India."
The opportunity comes with its set of challenges, though. "Unless financial literacy is in place, chances of people adopting these modes of technology seem bleak. RBI is taking proactive steps in this direction, which will hopefully address the behavioral and psychological barriers that people have," says Bharat M., research analyst, business and financial services at Frost & Sullivan.
According to Babu of Vortex, loading cash in ATMs that are geographically dispersed in semi-urban and rural areas is a huge logistical challenge. But he believes that it is a short-term concern. "As the ATM density increases, this problem will get addressed automatically."