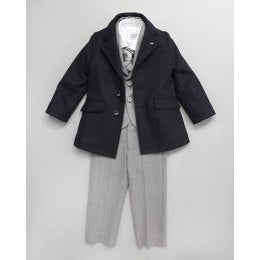 The kids' clothing market in India is growing up. In 2011, it was Rs. 37,300 crore (around US$7 billion), according to research and consultancy firm Technopak Advisors. It will record a compound annual growth rate (CAGR) of above 10% for the next decade, says the Delhi-based firm. A study by apex chamber of commerce Assocham is even more upbeat. It sees market size in 2015 at Rs. 80,000 crore (US$14.8 billion). The figures in this industry cannot be compared across research organizations because of definitional issues. Some take "kids" as those under age 14; others prefer age 16 and below.
The numbers are comfortable enough for manufacturers and retailers to roll out big plans. For a long time, much of the market has been strictly utilitarian; school uniforms account for some 40% of the total pie. "Earlier, the trend was to buy functional kids' apparel rather than branded [items]," says the Assocham study. "Children's garments were usually purchased from small stores and from street shops, while branded garments were only bought by very high-income families." (For Assocham, kidswear is up to age 21.)
Today, however, children have become brand conscious, parents have more money (thanks to double-income families in the cities) and peer pressure is growing. This segment has not been impacted by the economic crisis, says Amit Gugnani, Technopak senior vice-president (fashion). "It is poised for significant growth.
"Many international brands have entered India recently, thanks to the growing market opportunity in this segment," adds Gugnani. Armani Junior has opened a 2,000 square foot store at Delhi's upscale DLF Emporio mall. It is one of Armani Junior's 12 stores worldwide. Gron Stockholm, an Indian firm which represents a consortium of European brands of organic kidswear, has launched three new stores in Delhi. Its main brand offerings are Geggamoja, Bamboo Baby, and Mijn. "We decided to enter the retail space to fill the vacuum for organic kidswear in India. In Europe, organic clothes already enjoy one-third market share," says Deepak Aggarwal, founder & CEO, Gron Stockholm. "We have started with three stores and are aiming to open 25 more, mostly in the metro cities, this year." Mumbai, Bangalore, Chennai and Kolkata have been identified as the next stops.
"Global retailers are assessing the Indian market with keen interest," says a report by PricewaterhouseCoopers titled, "Winning in India's Retail Sector – Factors for Success." It lists children's wear as a high-growth category. "[Global retailers] have recognized that the next wave of growth in terms of generating revenues, reaching new customers (including the large number of middle-class consumers) and harnessing R&D and innovative skills will come from emerging markets…. 93% of retail CEOs believed that they would expand their Asian operations over the next 12 months," says the report.
While Armani Junior and Gron are opening their own stores, other global retailers whose brands have been available in India – though not through exclusive outlets – are also thinking expansion. These brands include Pinco Pallino, Fendi Kids, Miss Blumarine, Baby Dior, Burberry and Zara. These brands are much more expensive that their Indian competitors. For instance, a shirt for a toddler costs US$100 at Armani Junior. An equivalent Indian branded product would be only one-fifth that.
But local retailers are also on the move. Indian fashion designers are eyeing the premium space. Some have begun retailing their wares for kids through stores such as Kidology in Delhi, Mumbai and Hyderabad, and Mal in Mumbai. Big business houses are also examining the opportunity. This includes the Pantaloon chain and Mahindra Retail.
"Most of this segment is still unorganized," says Technopak's Gugnani. "However, there are domestic brands including Catmoss, Lilliput, Gini & Jony and Mothercare." One challenge is to get the product mix right. The real threat is not competition but the high real estate cost, adds Gugnani.
Some entrepreneurs have discovered that already. Catmoss Retail (in which private equity major SAIF Partners had invested around US$18 million), Lilliput Kidswear (backed by TPG Capital and Bain Capital) and Gini & Jony (Reliance Capital and Arisaig Partners) are facing financial problems. "A clutch of private equity-backed retailers have landed in trouble after rapid expansions," says a report in financial daily Mint.
The international chains with deep pockets should last the course. "The branded children's wear segment is growing at more than 25% per annum," says Assocham. Even if that includes young adults, the kidswear component has clearly come of age.