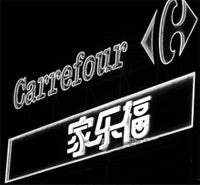 Like other big holiday seasons in China, January's Lunar New Year was a slow time for news. But perhaps not as slow as French firm Carrefour might have liked. As New Year revelers headed to their local stores to stock up for the festive season, many couldn't help but notice that the prices they were paying at Carrefour's check-out counters were higher than expected. All of a sudden, the world's second-largest retail chain (after Wal-Mart) — and one of China's top five — found itself in the headlines in the country's newspapers for all the wrong reasons, and not just because of a national pricing scandal embroiling some of its stores. Public wrangling with one of its biggest suppliers also provided plenty of news fodder.
And while news coverage of Carrefour is now dying down, the retailer isn't in the clear just yet as it settles record fines with government regulators and wades through sticky contract negotiations with key suppliers.
For better or for worse, Carrefour is in good company. Other foreign retailers in China have also stumbled recently. In January, U.S.-based Home Depot, the biggest home improvement chain in the world, confirmed that it shuttered its remaining store in Beijing — its fifth closure in two years — leaving just seven of the stores it acquired from local chain Home Way in 2006. And earlier this month, U.S. toy-maker Mattel closed its loss-making flagship Shanghai Barbie venture, only two years after cutting the ribbon on the six-story, multimillion-dollar store. Meanwhile, U.S. electronics giant Best Buy is beginning a new China strategy after its surprise announcement a few weeks ago that all nine of its stores in China will cease operating, leaving hundreds of staff and many customers high and dry.
In the case of Carrefour, public relations — or a lack thereof — may be an additional hurdle, according to Li Fei, professor of management at Tsinghua University's School of Economics and Management. "Carrefour in China has traditionally only focused on maintaining good relationships with the government and industry associations, but it doesn't know how to build up effective communication with media, academics and consumers," Li says. That was evident during the Beijing Olympic Games in 2008, when Chinese consumers began a nationwide boycott of the retailer's stores following pro-Tibet protests during the Olympic torch relay in France and reports of Carrefour executives donating funds to the Dalai Lama. No stranger to controversy, then as now, Carrefour's PR efforts have been part of the problem, rather than the solution, experts say. When news of the recent current crisis broke, says Li, "the company refused to give interviews, didn't issue public communications like press releases and has been very slow in reacting." All told, he adds, "this could very likely ruin the golden opportunities of its future development in China."
To read more, see: "Carrefour in China: When the Price Isn't Right"