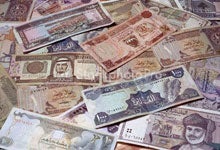 Even as the eurozone's troubles deepened this year, Saudi Central Bank Governor Muhammad Al Jasser said in September that long-delayed plans for a common currency for the Gulf were moving forward. Saudi newspapers carried the results of a survey released by Qatar University this month that found a majority of Gulf nationals supporting a common currency.
But the idea of a "khaleeji" currency, as it is informally known, has since garnered opposition from International Monetary Fund analysts. "Without a higher degree of synchronization in business cycles, the cost of a monetary union may outweigh its benefits," wrote IMF economist Serhan Cevik in a report on the region's business cycles. "The [Gulf Cooperation Council] countries need to expand and deepen economic diversification and become more complementary in intra-regional trade and financial flows."
Of the six countries in the Gulf Cooperation Council (GCC), only four still support the creation of a regional monetary union: Saudi Arabia, Bahrain, Kuwait and Qatar. Oman and the United Arab Emirates (UAE), two countries representing almost a third of the region's entire gross domestic product, are not involved. The UAE was part of the union's discussions until 2009, when political disputes led to its exit, scuttling a 2010 deadline for a currency launch.
Any currency bloc would also have to tackle divergent opinions about keeping the U.S. dollar as a currency peg. Kuwait moved to a basket of currencies in 2007; a number of Gulf analysts and financiers would like to follow its lead, but Gulf government officials remain committed to the dollar. "We are very much with the [dollar] peg," UAE Central Bank governor Nasser al-Suwaidi told reporters in November.
A Gulf common currency does have support from one academic though — Nobel laureate Robert Mundell, who spoke earlier this year about the proposal with Arabic Knowledge at Wharton. The "father of the Euro" said that a common currency for the Arab Gulf nations is still a potent idea, and will eventually be instituted. "The zone is not just purely economical, it's also social and defense as well," Mundell noted.