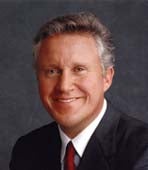 Jeffrey Immelt, chairman and CEO of General Electric, is a frequent visitor to India and optimistic about the country's future. During a visit to the country earlier this week, Immelt noted that "people [in India] are concerned around the economy slowing down from 8% to 7.4%, [but] honestly, it doesn't sound bad to me at all." He went on to add that all of GE's businesses have a growth momentum in India.
While he was tightlipped about GE's revenues in India, Immelt noted that GE India is among the three fastest-growing countries within GE worldwide. John Flannery, president and CEO, GE India added: "Jeff's mandate to us is to grow 30% year on year and we are on track to achieve this."
During his visit, Immelt announced that GE is setting up a multi-product manufacturing facility in Pune, near Mumbai, at an investment of $200 million. This facility will be spread over 68 acres and will have an employee pool of around 2,000. It is expected to give a significant boost to GE's presence in the country. Immelt pointed out that the focus of GE in India is to constantly increase the localization of products — ensuring that the products in the India portfolio are built around Indian customers, their needs, specifications and price points. The setting up of the manufacturing facility in Pune, he said, is a further step towards this.
Other multinational companies are on a similar track. Korea's Samsung, for instance, recently announced an investment of $70 million to triple the capacity at its mobile phone manufacturing unit in Noida, near New Delhi. Announcing the company's fresh investments, J.S. Shin, president & CEO of Samsung South West Asia said: "India is one of the top three mobile markets for Samsung in the world and we stand committed to this market and our Indian consumers. Given the strong potential of this market, we are working on consistently strengthening our presence in the country through a very innovative mobile portfolio as well as enhanced manufacturing and R&D operations."
The U.S.-headquartered 3M Corporation recently inaugurated a new state-of-the-art R&D facility in Bangalore at an investment of $20 million. This is one of the largest investments of 3M in India in recent times. During the inauguration Ajay Nanavati, managing director of 3M India noted that "innovation is at the heart of 3M's DNA and this facility will enable us to offer world class innovative products and solutions that meet Indian customer needs." Jay Ihlenfeld, 3M's senior vice-president of Asia Pacific added: "We believe that this facility will be a critical hub to contribute new product platforms for India and ultimately our global markets."
Immelt echoed the sentiments of his counterparts across industries and across the globe when, addressing the media in Bangalore, he said: "In the 1980s and 1990s and early 2000s, globalization was all about outsourcing….Today, I think, it's about where the markets are. Outsourcing is less important today than being a big player in the market."
This is not to say that GE is not looking at creating jobs in India. At present, GE has around 14,000 employees in the country. According to Immelt, over the next two to three years this is expected to increase to 20,000. But Immelt, who is also the chair of President Barack Obama's council on jobs and competitiveness, does not see a conflict in creating jobs outside of U.S. "We are dedicated to creating good jobs in the U.S. and being a great employer in the U.S. just like we are in India and other places. We don't see it as an either-or [situation]. We see it as a win-win [situation]."