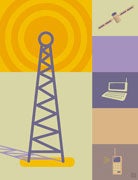 Verizon Wireless' move last week to spend $3.6 billion on new wireless spectrum acquired from cable companies led by Comcast was called brilliant by a bevy of analysts. But Wharton legal studies and business ethics professor Kevin Werbach says there are policy implications to ponder.
On December 2, Verizon announced that it would buy 122 Advanced Wireless Services spectrum licenses from Comcast, Time Warner Cable and Bright House Networks. In a statement, Verizon said that the additional spectrum will bolster its network coverage. Verizon will also begin selling the cable companies' services at its retail stories, and the cable companies will do the same for the wireless company.
On the surface, Verizon Wireless' spectrum acquisition was "ingenious," noted Oppenheimer analyst Tim Horan. "Spectrum is the most critical infrastructure bottleneck and whoever controls the most will have the best quality/cost trade-off," he said.
Werbach agrees that Verizon's spectrum acquisition was a smart one, but adds that the deal gives the Federal Communications Communication, which will rule on the sale, several issues to consider. "The deal is a huge win for Verizon, especially coming on the heels of the government deciding to block the AT&T/T-Mobile merger," Werbach says. "But it's more than that. This transaction represents the endpoint of 20 years of U.S. communications policymaking. For two decades, regulators have pushed for cross-platform competition.  With cable and Verizon dividing the broadband market into wireline and wireless fiefdoms and agreeing to cross-sell, we have instead a small number of integrated players under nonaggression pacts."
According to Werbach, the FCC will have to decide whether consolidation of wireless spectrum is a competitive worry. Most analysts expect FCC approval of Verizon's spectrum acquisition because the spectrum is likely to be used instead of hoarded. Werbach notes that the deal is a huge win for Verizon because it trumps top competitor AT&T. Comcast also comes out a winner because it turned a profit on its wireless spectrum and won't have to build its own mobile network.
One thing is certain: Verizon Wireless is grabbing as much spectrum as it can so it can build its high-speed 4G services. On December 5, Verizon swapped spectrum with Leap Wireless in an unrelated deal. Leap Wireless acquired spectrum in Chicago for $204 million. Verizon gets spectrum in various markets around the U.S. for $360 million in two separate deals with Leap and its subsidiary, Savary Island Wireless.