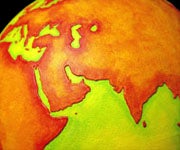 As Muslims around the world begin observing the month of Ramadan, non-Muslim visitors and expatriates in Gulf countries are being asked to take heed of Islamic customs to avoid problems with local authorities.
Although abstinence from food, drink, smoking and intimate relations during the day are required of observant Muslims during Ramadan, non-Muslims are also expected to follow the same rules while in public in Gulf countries.
In Dubai, the glitzy sheikhdom of the United Arab Emirates (UAE), one language school is offering a free "Ramadan etiquette" course to non-Muslim expatriates, while a number of local newspapers have published etiquette guides, and do's and don'ts lists. Some Western embassies have also released advisories on proper public behavior.
Though offered in the vein of broadening cultural understanding, these advisories also serve as guidelines for self-preservation. Breaking these rules in some Muslim countries, notes an advisory on Ramadan from the British Foreign Office, could result in arrest. Just this past month, a British expatriate was fined $US800 by the Dubai Court of Misdemeanors for insulting Ramadan on her Facebook page.
Even Dubai, considered the most Westernized city in the Arab world, said it would police the behavior of non-Muslims living there. For a first infraction, an expatriate would receive a warning if caught by police. Subsequent infractions, according to Dubai police, could result in arrest and a fine of up to US$550.
Dubai's chief of police, Lieutenant General Dahi Khalfan Tamim, told Arabian Business, "We train our officers how to deal with different nationalities and to respect non-Muslims who may inadvertently offend Muslims during Ramadan by eating, drinking or smoking in public places during the day…. They are to deal with it in a courteous way so that [non-Muslims] would refrain from doing it again."
International companies have learned it is good business to adhere to Ramadan. A number of brands offer Islamic-themed advertisements and Ramadan messages to customers throughout the Gulf. In addition, it is now common practice for companies to hold corporate "iftaars" (the meal Muslims take at sunset to break their fasts) as a means of socializing and deal-making.
Doing business globally often requires companies to conform to different cultural and governmental systems, but many of those challenges are ultimately outweighed by the benefits of operating within those nations, Wharton management professor Michael Useem told Arabic Knowledge at Wharton for a 2010 story about clashes between BlackBerry maker Research in Motion and governments in the Middle East over demands to monitor the company's e-mail service. "It's a little bit like operating in cities like Bangalore, where the power goes [out] for three hours a day," Useem noted. "It's a royal pain in the backside, but you still create your operation there. It's one more challenge there of doing business."
For long-time expatriates in the Gulf, the strict rules related to Ramadan come as little surprise. Though the oil-rich Gulf countries, with the exception of Saudi Arabia, tend to be the most hospitable to Western expatriates in the region, there has been an increased demand in recent years from the native Arab populace to protect cultural norms.
Partly fueled by locals feeling inundated by expatriates — foreigners make up nearly 90% of Dubai's population, for instance — there have been a number of recent cases where Western expatriates have run afoul of local customs and laws, and have been jailed and deported.
In 2008, two British expatriates became infamous for being caught having drunken sex on the beach in Dubai, and were jailed and deported. Another Briton was jailed in Dubai for two months last November, and then deported, for giving the finger to an airport worker. And in 2007, a famous British DJ was sentenced to four years in prison after he was found to have 2.16 grams of cannabis in his possession. Due to these and other high-profile cases, the British Embassy said in 2009 that Britons were more likely to be arrested in the UAE than anywhere else in the world.