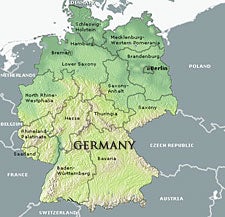 Anke Merz left her job as a global brand manager at Procter & Gamble in London in December 2002 after seven years with the company. She loved the work but wanted to return home to Germany to be closer to her husband, who had remained there while she spent more than three years abroad.
Thirteen months later, in January 2004, Merz gave birth to a son, Alexander, and chose to be a stay-at-home mother for a time. Merz, 38, says she plans on returning to work at some point, although she knows this won't be easy. It is not that it will be hard to find a full-time position, given her work experience; rather, Merz would be hard-pressed to find facilities to take care of Alexander, now 3, while she holds a demanding job that requires flexibility and frequent travel.
Thousands of other mothers are in Merz's situation. Although the German government provides citizens with a generous family-leave policy, being a working mother in Germany is harder than in many other industrialized countries, according to faculty members at Wharton and German business schools, as well as German corporate officials. This is partly because the culture still, to some degree, frowns upon the idea of mothers not taking care of their small children at home. As an old German expression puts it, the responsibility of women is "Kinder, Küche und Kirche" (children, kitchen and church). But the chief reason for the problem facing mothers is that there is not much of a child-care infrastructure in place to cater to working mothers. Historically, the German school system has been structured so that boys and girls — from Kindergarten though high school — were dismissed around mid-day. This is still largely the case.
The lack of an extensive day-care infrastructure is partly due to the government itself, according to Katja Seim, a German native and professor of business and public policy at Wharton. "Until very recently, German laws were geared to enabling women to stay home with more children for extensive periods of time at the expense of having a widespread day-care system for young children. Statistics show that fertility is lowest among college graduates. The opportunity cost of being a working mother is high."
Chancellor Angela Merkel, who does not have children, has acknowledged that making it easier for mothers to hold jobs is a key national issue because the country has been beset by a declining birth rate since the mid-1960s — a problem that has grown more acute in recent years. On January 1, a government program that offers financial incentives to encourage working women to have children went into effect, but it remains to be seen how successful this program will be.
No Cafeterias
Wharton management professor Nicolaj Siggelkow's own elementary school and high school days in Germany, in the 1970s and 1980s, were part of a typically traditional family life. "When I went to school in Hamburg, school would start at 8 in the morning and would be over about 1:30," he recalls. "You would go home and have lunch, and mom would be there, and often dad would come home and we would have lunch together. That was the main meal. And then you did homework. School was half a day. In my school, there was no cafeteria."
The public education system has not changed since that time, Siggelkow adds. "It might be nice if there were afternoon programs in schools today. But it's a slow movement in that direction. The whole system isn't set up for that."


Martin Hoegl, chair of leadership and human resource management at the WHU-Otto Beisheim School of Management in Vallendar, Germany, says he does not see "a general cultural sentiment against working mothers," noting that the former East Germany, under the Communist regime, had very high levels of women in the workforce, mainly because the government encouraged them to work.
"However, the infrastructure does seem to be a big problem," Hoegl says. "While the government provides some tax breaks and financial benefits to parents, day-care facilities for very young children — say, from six months on — are extremely rare. One would almost need to hire a full-time nanny, which is not financially feasible for many families or single mothers."
Hoegl says it is rare to find grandparents "willing and able to step in as full-time nannies." But even in cases where grandparents are available, relying on them "greatly reduces the geographic mobility of the working couple to take up work elsewhere."
Overall, corporations have a difficult time keeping mothers on their staffs — due in part, ironically, to generous government programs for parents. "In post-industrial societies such as Germany, we do see that some women and men freely choose to take time out for their kids, particularly if their financial situation allows it," notes Hoegl. "This is further supported by long-standing laws on unpaid maternity leave and by guaranteeing the job of employees for quite some time after childbirth. Taken together, all of this makes it tougher for companies in Germany to keep highly productive female employees on their staff as they start to have families."
Martin Moehrle, global chief learning officer at Deutsche Bank in Frankfurt, disagrees with Hoegl to some extent. Moehrle says one should not underestimate the cultural pressure on mothers to stay home with children, at least for their first few years. "My personal impression is that it is not only an infrastructure issue but a mental mindset and cultural attribute in Germany," Moehrle says. "Working mothers have a bad conscience if, after a relatively short period of time, their newborn is being taken care of by a day-care center or a nanny. There is a general understanding that this would not be good for the development of children."
Moehrle adds that this view is held by a large percentage of women themselves, not just many men. He says any number of successful women have appeared on TV shows and written books discussing how they deliberately chose to make the decision to stay at home with children, and that this does not mean they are out of step with the times.
Vive la Difference! The French Way
If some women in Germany are still wrestling with this issue, the situation in other European nations is decidedly different.
"Until about 20 years ago, women in Germany tended to stay home, have a child and let the husband be the breadwinner,' says Christian Schneider, a native of Germany and manager of the Multinational Research Advisory Group at Wharton's Center for Human Resources. "Compare this to, say, Sweden where the equality movement between women and men happened much, much earlier. Sweden was one of the countries that pioneered the concept of paternity leave. Flexibility was created. And Sweden saw to it that there were enough crèches [nurseries], kindergartens and all-day schools outside the family to take care of children so that people, particularly women, could pursue full-time work."


Schneider says France is doing more than other European governments to provide state-run day-care facilities. "Even more so than in Scandinavian countries, family policy is viewed in France as something the government is in charge of. This includes proper child care. Thus, within the European Union, France offers the greatest variety of child-care services to parents."
Among the most frequently used types of day care in France are crèches for children under three years. There is no legal right attached to this type of day care, and costs run between about $395 and $450 per month, depending on the community parents live in, according to Schneider. For children three to six, there are pre-schools known as écoles maternelles, which are free of charge and voluntary. However, since they are part of the national school system, parents have a legal right to their use.
"Both types provide, if needed, all-day child care," Schneider explains. "In France, the strong role the government plays in child care — and the school system in general — is viewed as normal. Indeed, it is expected. This allows French women to fully integrate into the workforce." France has the oldest tradition — going back to 1881 — of all-day schooling in Europe. Today, all French school students, from pre-school to high school (lycée), go to all-day schools.
Although the half-day school is still dominant in Germany, public sentiment in support of all-day schools is rising, Schneider notes. Currently, about 1,600 all-day schools operate in Germany, with the highest concentration in Berlin (eastern Germany), and in North-Rhine Westphalia and Rhineland Palatinate (western Germany), according to government figures.
The growing sentiment in Germany for all-day schools may have something to do with the fact that an ongoing study by the Organization for Economic Cooperation and Development — called the Program for International Student Assessment, or PISA — shows that students from countries with all-day school systems, such as Finland, Sweden and Canada, scored higher than students from half-day school systems, according to Schneider.
It is also noteworthy that in France and Sweden, kindergartens last all day, while this is the exception in Germany. Within Germany, there is a major difference in the number of hours that kindergartens stay open: in western Germany, only 16% of kindergartens have all-day classes, while in the east the figure is 71%. "This is a reflection of cultural differences in West and East Germany," says Schneider. "The East has had a long tradition of women at work, with children being in the care of governmental day-care facilities."
Merz, the former P&G brand manager, says that if a mother wants to start working when her child is, say, three months old, the mother might seek a place for the infant in a Tagesstätte, a privately run day care of which there are few. Otherwise, she would need to hire a Tagesmutter, a nanny who does not live in the home with the child. Typically, both offer services only until 4:30 or 5 p.m. Some may take care of a child for additional hours, but that would cost more. If the mother is a professional and works very long hours, which is not uncommon, she would have to find another person to cover that extra time. An au pair or nanny would provide the most flexibility, but they can be expensive. At age 3, all German children have a legal right to a place in a kindergarten, but, again, these schools are not much help to working mothers since most are open only half a day.
"Contrary to what one might expect, it actually gets more difficult when children enter school," says Merz. "Elementary school ends at noon or 1 p.m. A few schools offer [to provide the children] lunch and look after them when they do their homework, but this is still rare. If you want your child to do other activities, like music, ballet lessons or sports, you have to organize this privately."
Moving to take up some of the slack in day-care are several of Germany's biggest companies — Deutsche Bank, Siemens, Volkswagen, DaimlerChrysler and others — which provide facilities to look after children while their mothers work, Schneider says.
The Gender Gap
Germany has made progress in closing the gender gap but Merkel has said that more must be done. The statistics seem to support this view.
According to a 2006 study by the Switzerland-based World Economic Forum, Germany ranked a lowly ninth among 58 industrialized and emerging-market countries on a scale intended to measure the overall extent to which women have achieved equality with men. By comparison, France ranked 13th and the United States 17th, while the Scandinavian countries occupied the top spots.
The overall score took into account five categories: economic participation, economic opportunity, political empowerment, educational attainment, and health and well-being. Germany's overall ninth-place rating reflects, in part, the fact that the country ranked only sixth in the area of women being politically empowered and 10th in health and well-being. But Germany ranked 28th in economic opportunity, 20th in economic participation and 34th in educational attainment.
According to statistics compiled by the German government, 11.6 million women aged 15 to 64 were working in 2004, the latest year for which figures are available. Of these 11.6 million women, 7.4 million were working mothers. Only 5% of women say they want to be housewives long term. And a report released in 2006 by the Federal Ministry for Family Affairs, Senior Citizens, Women and Youth — also citing data from 2004 — says that 45% of all employees in private-sector companies were women. Of all employees in public service, 63% were women.
Women are well represented in middle management: 41% of middle management positions in the private sector were held by women, 47% in the public sector. (The head of the family ministry, Ursula von der Leyen, is herself the working mother of seven children.)
Only 24% of "senior management positions" in the private sector were held by women in 2004, as opposed to 41% in the public sector, according to the ministry. The ministry did not define the term "senior management," however, so it is not known just how high-ranking these women were in their companies. In German corporations, which do not use titles such as senior vice president, members of management boards are generally the equivalent of senior executives in U.S. companies.
The number of women on management boards of Germany's biggest publicly traded companies is believed to be few or none. "Among the 30 large corporations listed on the DAX [stock index], there wasn't a single female member of any of those companies' management boards in 2000, and I don't think that has changed," says Schneider. "Germany's special problem with regards to top management is that women in large companies do not make it to the top."
Indeed, in a February 22, 2007, speech at a conference on women's economic empowerment in Berlin, Merkel made note of the absence of women in boardrooms. She also stressed the need to help more women move into the managerial ranks and into the workforce in general. One particular need, she stated, is to provide child-care facilities for boys and girls under three years of age. "In the past 10 years, it has become generally accepted in society that children over three should be legally entitled to a nursery place," the chancellor told the gathering. "Now the discussion has turned to children under three: What care should be provided for them?"
Freedom of Choice
"There is a principle that is accepted by all parties — free choice," Merkel said. "Parents should be able to decide how and to what extent they wish to combine work and family while their children are still young. Free choice means freedom of choice. And freedom of choice presupposes that there is a choice. When there are only enough places for 7% of the children under three in the western federal states, many parents, in fact, have no choice. In the eastern federal states, the situation is somewhat better. Child care is on offer for almost 40% of the age-group — a much better guarantee of freedom of choice."
Merkel went on to say that 40% of German women with a university degree are childless. "We really can't leave it at that. And so we have to consider what to do. I am the last person to believe there are any simple solutions. But I do not believe that more people will want to start a family unless child care is available and compatibility of career and family is assured."
Merkel said she was pleased to note that 28% of all self-employed persons in Germany are women. "But at the same time, a woman on the board is a rarity in the 30 largest German companies, the so-called DAX companies. You could say they haven't caught up with political realities. So you see, this is still a major task for us, too. Some things may take a long time, but we must push on with them."
Hoegl, the professor at the Otto Beisheim School, says companies pay a steep price when educated, experienced women leave work to have children. "Losing them generally creates disruption in your human resource planning," he says. "These women take valuable expertise and experience with them. Their replacements need to be trained and developed. And upon reentry, the returning women also need to be trained on current developments. All this is somewhat disruptive and incurs costs. The same is, of course, true if the father takes time out."
Moehrle of Detusche Bank notes that government policies regarding working mothers — despite all the good they do — have a perverse downside: They do not do much to help professional women stay on an upward career trajectory.
"The German system allows you to take three years of unpaid maternity leave, after which you are guaranteed that you can go back to work for the same employer," Moehrle notes. "I find this is the wrong thing to do because it harms the careers of women. Research shows that, for a sales clerk job, you can come back relatively quickly to your old productivity and performance. But if you had a dynamic career ahead of you and you're in your 30s and you take two or three years off, you can harm your career. These are the formative years. At this critical stage, it can impact women's ability to move up to senior management levels."
Deutsche Bank has taken steps to go beyond the government policies, according to Aletta von Hardenberg, the bank's diversity manager. If a mother returns to her job after staying at home with a child but finds it difficult to balance office and home issues, she can obtain an additional six-month sabbatical from the bank. "We also do workshops for parents on parental leave to discuss with them what their future work schedules could look like, and we have regular kindergarten for children over three," von Hardenberg explains. "This summer, we'll have child-care facilities for children younger than three. We also work with an agency to help employees find other family-care options if they need them."
"Parents' Money"
Observers say that government and corporations have little choice but to push ahead with efforts to ensure that working mothers have ample opportunities to hold good jobs if they want them. Part of the reason is that Germany needs children. It has a low birth rate of 1.37 children per woman. By comparison, France's birth rate is 1.9 and Sweden's is 1.75.
On January 1, professional German women became eligible to receive a financial incentive from the government to stay home for a year and look after their children. Women who make this choice will receive 1,800 euros — or about $2,370 — per month in Elterngeld, or "parents' money."
The financial incentives represent a major change in the traditional family policy of the Christian Democratic Union (Merkel's party) and its sister party, the Christian Social Union, based in Bavaria. As an article in The International Herald Tribune put it, "For years, the parties sought to have educated mothers stay at home and depend on the man as the breadwinner. But Merkel and Von der Leyen have been trying to modernize the party and make it more attractive to professional women."
The Elterngeld program has an added attraction intended to give both parents roles in helping working mothers: If the child's father stays at home for two months once the mother goes back to work, the parents' money will continue for an additional two months and can reach a total of 25,200 euros, or about $33,235.
Hoegl notes that the government's efforts may be admirable but they have yet to address the lack of child-care facilities. "The government is seemingly starting an offensive on addressing the compatibility issue of having a family and working at the same time, rather than taking time out for extended periods," he says. "Their main driver, however, seems to be the low birthrates in Germany and the already mounting demographic issues for social security systems. The main thrust of the government's efforts seems to be going to additional financial support for having kids. The shortage of day-care facilities for the newborns is not yet being noticeably alleviated."
Still, there seems to be optimism that this issue will be addressed. "There will be political and societal pressure to employ [working mothers] because we don't have alternatives," Moehrle says. "The lack of human resources 20 or 30 years down the road means employers will arrange for more flexibility and make arrangements around that. If [some people] say women should stay at home with children, my guess is there will be more women working from home with more flexible arrangements. But I am optimistic because this was a topic no one cared about until five years ago. Today it's heavily debated."
Merz, too, is optimistic about the emergence of more day-care facilities for infants. She thinks that "things will change and I'm confident that the next generation of manager moms will have it easier," Merz says. "I have a feeling I was five years too early."