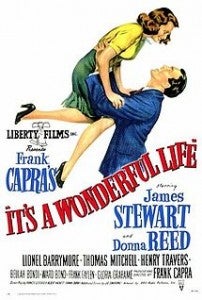 It's a Wonderful Life is a Christmas standard, but, according to Wharton statistics professor Edward George, the movie also wouldn't be out of place as required viewing for aspiring CEOs.
The 1946 Frank Capra classic — set in the imaginary town of Bedford Falls, N.Y., and starring James Stewart as the down-on-his-luck George Bailey — provides a strong narrative about the importance of character in being an effective leader, George pointed out during a talk last week as part of the Wharton Film Series.
"The role of character is essential in a good businessperson," George said, noting that the theme comes across "as plain as day" in It's a Wonderful Life. "It resonates so strongly that it's a terrific reminder of how important this quality is."
Through a series of clips, George showed how Stewart's character constantly gives up on his own dreams in order to help others until he is left broke and facing criminal charges on Christmas Eve. Thinking he has no other options and nowhere to turn, Bailey intends to commit suicide until an angel named Clarence shows him what Bedford Falls would have been like had he never been born.
Does Bailey have a choice about sacrificing his dreams for others? "He does have a choice as far as we're concerned, but given his internal makeup, he almost doesn't have a choice," George noted. Stewart's character is powerless not to help people in need, but he doesn't realize the social capital he is building up in the process, he added.
But this becomes clear throughout the movie, including where Bailey is able to calm the townspeople attempting to stage a run on his family's bank. Although Bailey partly accomplishes this by using the $2,000 he and his wife had saved for their honeymoon, "he's also built this reputation, and because of that people are willing to follow him," George said.
When he hits rock-bottom, however, Stewart's character doesn't consider that his friends and fellow townspeople wouldn't "run him out of town on a rail," as Bailey's nemesis, slumlord Henry Potter, suggests. But when Bailey's wife, Mary, spreads the word that her husband needs help, everyone rallies to his aid. "I suspect that we all have a lot of chips to cash in that we don't know about," George said. "We all have tough times that we have to get through, and it's easy to become myopic about it."
The movie, which takes place in the post-Depression era, also has many parallels with the current state of American business, which is still recovering from the recent recession. "Wealth is power for Potter," George noted, and the movie "can be seen as critical of banking. But the Savings & Loan [George Bailey's business] is also a financial institution. I don't believe that institutions are necessarily bad, but often it's the people at the helm of them [who are]."