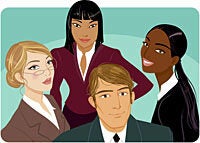 Weldon J. Rougeau, a long-time civil rights activist, has considered the issue of diversity from many perspectives — as director of the office of federal contract compliance programs at the U.S. Department of Labor during the Carter administration, as president of the Congressional Black Caucus Foundation and even as a prisoner for 78 days (58 of them in solitary confinement) in a Baton Rouge, La., jail cell when he was a student activist.
But perhaps Rougeau's most poignant perspective on the current and future position of corporate diversity in America comes from his nearly 10-year run as an American Express vice president in the 1980s. "I was the only black executive in many meetings," recalls Rougeau, now an attorney with Arent Fox in Washington, D.C. "I went through a lot of things that hopefully most executives won't go through, and I had to deal with a lot of problems as one of the only black executives."
Times change. These days, Rougeau exalts his old employer as a symbol of corporate diversity progress. Kenneth Chenault, CEO of American Express who joined the company around the same time as Rougeau, is one of the most powerful and influential people on Wall Street and he is African American. "Just the mere presence of blacks in CEO and chairman positions promotes a lot of change," says Rougeau. "It promotes change among the employees who are able to look at their peers in an entirely different light than [they did] in the late 1970s when I was in government. That's all very good. Does it mean that there are not any problems in the workplace? No, of course not. That is the quest — to try to overcome. But there are tangible signs that the world is changing."
With that in mind, Knowledge at Wharton and Nightly Business Report collaborated on a project to analyze the benefits of diversity and the costs of discrimination in the U.S. The project included identifying companies, like American Express, that demonstrate a strong and genuine commitment to diversity, interviewing leading diversity experts, including Bernard Anderson, Wharton practice professor of management, on the characteristics of an effective diversity program, and looking at which companies are doing the best at meeting certain standards and why.
The goal is to understand the meaning of diversity in the workplace and learn from the most effective diversity programs — even as it is clear that what makes a company truly diverse has become increasingly complicated over the years. Most agree that an effective diversity program is one designed to reduce racial and gender inequality in the American economy. But what is the means to that end? Observers consider a number of elements when measuring companies that are the most successful at fostering diversity.
Commitment from Senior Management
In simplest terms, diversity is variety — different ethnicities, races and genders represented within a workforce at every level, from the mailroom to the boardroom. Many experts maintain that representation is the backbone of a strong corporate diversity program. Strategic recruitment and retention programs help achieve this goal, with a blended workforce as the end result. "I place representation at the top of the list when it comes to measuring effectiveness," says Anderson, who has done extensive research on workforce diversity. "If the diversity program is not effective in producing a diverse racial, gender, ethnic workforce, then it's not worth the paper it's written on."
While representation is an important measure, it should not be the only measure, say Anderson and many of his colleagues around the country. Roosevelt Thomas, president of R. Thomas Consulting & Training in Decatur, Ga., is a diversity expert and author of several books on the topic, including his latest, Building a House for Diversity. Thomas has developed a process to help companies integrate diversity into their vision, strategy and objectives. The bottom line is this: Companies need to look beyond representation and begin seeing diversity as something much richer and all-encompassing. "I feel that diversity is essentially stuck, primarily on representation and relationships," says Thomas. "Most corporations are just beginning to think about diversity in the non-representation sense. I'm not advocating that representation should be ignored; I'm arguing that you need representation, plus. I think we need to go to the next level, which involves learning how to empower this diversity through quality decisions and strategic diversity management."
For this kind of company-wide integration, a devotion to diversity must begin at the top, suggests Gil Casellas, an attorney with Mintz Levin in Washington, D.C., who served as chairman of the Equal Employment Opportunity Commission for three years in the Clinton administration and has been a corporate diversity enforcer in many other roles. Casellas joined Mintz Levin five months ago when he was cherry-picked along with several others to form a team of senior-level minority lawyers to focus on diversity. Casellas and his colleagues developed a diversity audit, which has the rigor of a financial audit, to evaluate diversity policies within companies.
"I think the first key element is a clearly stated commitment from senior leadership," says Casellas. "The question is, how do you integrate diversity into what you do and how your business makes money? The business case for diversity has to be made clear. Then there should be tangible, actionable goals, accountability and oversight by senior leadership. Compensation should, in part, be determined by success with diversity. There should be ongoing commitment of training and education and regular communications around the strategy. I would consider those to be the major elements of a diversity plan. Inside each one of those elements there are various components. What really counts to make it sustained and institutionalized is that it gets integrated into everything you do, baked in, so to speak."
Once diversity is tied to business needs, adds Nancy DiTomaso, a professor of management and global business at Rutgers Business School in New Brunswick and Newark, N.J., it needs to be "sufficiently inclusive to build alliances and bridges, rather than create disruption and discord."
And while the focus must be on building successful diversity practices within, companies need to remember that their desire for diversity is in essence an attempt to mirror the differences within society. Therefore, says Anderson, companies with effective diversity programs must stay in touch with the outside world. "A diversity program should contribute in a positive way to the economic advancement of the community or communities in which the company is located in order to contribute to the development of the workforce and the quality of life of the people who live there. Along with that should be purchasing programs where companies make a special effort to reach out and make purchasing agreements with minority and women-owned businesses."
PepsiCo Sets the Bar
In general, most of the experts feel that only a few companies are meeting these diversity standards. "Some meet them to different degrees in different parts of the company," says Anderson. Adds Casellas: "In the course of the last few months as our team of lawyers has visited companies, we have found that they are all in various stages. It's surprising that some folks are so far ahead and others are still grappling with even establishing a policy."
That said, many companies are known for their commitment to corporate diversity. As a first step in identifying U.S. companies with effective corporate diversity programs, Knowledge at Wharton compared and contrasted some of the top magazine lists that annually recognize successful companies in this area, including Fortune, Black Enterprise and Hispanic Magazine, then identified companies that appeared on all lists and finally, turned to diversity experts to help choose the standouts.
Some of the names that most often rise to the surface include Nordstrom, Verizon Communications, Yum! Brands, General Motors, Bank of America, CitiGroup, Prudential Financial, Goldman Sachs, IBM, PG&E, MGM Mirage, SBC Communications, Coca-Cola, PepsiCo, Denny's, UPS and Xerox. Others are McDonald's, Eastman Kodak, Starwoods, Pitney Bowes, Fannie Mae, Darden Restaurants, Coors and Procter & Gamble.
PepsiCo is an oft-mentioned name in relation to diversity these days, which makes for an interesting comparison with its number one rival, Coca-Cola, also a usual suspect on the diversity radar. PepsiCo CEO Steven Reinemund is said to be the most regular vocal advocate of diversity. Everywhere he goes, whether it is to internal meetings and external meetings or meetings with analysts, he raises the issue of diversity.
Casellas, who lists PepsiCo among his top three companies with effective programs, is in an interesting position to comment on PepsiCo's policies in relation to Coca-Cola. Four years ago, as a result of a $200 million discrimination settlement, Coca-Cola was required by the court to set up an outside task force to monitor the progress of its diversity program. Casellas sits on that task force, which will be in place for one more year. "Coca-Cola is a turnaround, but still a work in progress," he notes. PepsiCo, on the other hand, "voluntarily established its own diversity advisory forums to monitor its progress with African Americans and the Hispanic community. The senior leadership at PepsiCo has a clearly expressed commitment, with its diversity policies all over the website and corporate documents. It has a board of directors that is itself diverse and a senior leadership team that is diverse. It has a diversity plan that is integrated into the business plan." Five of PepsiCo's 13 top officers are minorities — one of the highest percentages among large corporations.
Representation from the top down raises many companies to superstar diversity status. Both Verizon Communications of New York City and Xerox of Stamford, Conn., for example, are among those corporations lauded repeatedly for bringing talented people of color into the senior management ranks. At Verizon, a $71 billion telecom company, minorities now reportedly make up 25% of the board and nearly one-third of the workforce. Among the 271 senior management positions, 50 are filled by ethnic minorities, 25 of whom are African Americans. And of 11 board members, Verizon has three who are ethnic minorities, including two African Americans. Fortune magazine's 2005 list of the "50 Best Companies for Minorities" mentioned that a fifth of Xerox's 50 top-paid employees are minorities.
A handful of companies has been able to improve past poor diversity performance. The names that are mentioned most often as turnarounds include Coca-Cola and Denny's, which, like Coca-Cola, has become more sensitive to corporate diversity in response to a discrimination lawsuit. According to its 2005 listing in Fortune, nearly half of Denny's 1,011 franchises are owned by minorities, 255 of them by Asian Indians, while one-third of restaurant managers and one-fifth of executives are also drawn from the diner chain's minority ranks. Still, some believe that Denny's still has work to do. "Denny's has turned around, but with respect to the depth and breadth and stability of its programs, it hasn't turned around enough," says Anderson. The company changed "in response to a rather prominent and visible legal action, but when you look at what it has been able to do and how much progress it has been able to make, I would assign Denny's less credit than others." Even so, since 2001, Denny's has remained near the top of Fortune magazine's "Best Companies for Minorities" list.
Anderson prefers to spotlight what he sees as successful turnarounds at MGM Mirage and SBC Communications. MGM Mirage, a Las Vegas-based hotel and casino company, declared in 2000 that diversity was a critical business imperative. CEO J. Terrence Lanni says that he believes diversity provides measurable benefits to the company. That philosophy and attitude now permeate all aspects of the organization, says Anderson. "MGM Mirage has done better because of the presence of a new CEO who had a sense of fairness and of what is right for the company. He [felt] that the company ought to be doing better in a variety of ways and could do better without jeopardizing the economic interests of the company."
That same top-down commitment defines SBC Communications' diversity turnaround, suggests Anderson, who has studied in-depth the employment practices in the telecommunications industry. SBC, which closed its acquisition of AT&T on November 18, 2005, to become AT&T Inc., reportedly understands that to be able to compete successfully it needs a diverse workforce that can communicate with customers of many different cultures and experiences. Says Anderson: "CEO Edward Whitacre Jr., when he was coming up through the ranks of the company, had worked with a young African-American attorney in the legal department. When Whitacre became CEO, he made this lower-ranked executive the company's general counsel and gave him the responsibility to develop a corporation-wide diversity program. As a result of that, that company became one of the most successful in diversifying its workforce." For example, the company's employee-initiated group HACEMOS (the Hispanic Association of Communications Employees of SBC), has started an initiative that will link thousands of students across the country via satellite for High Technology Day, which educates students about technology careers.
Much progress has been made in the area of corporate diversity — and much still needs to be done, experts say. They also note that it's important to consider corporate diversity in the greater context: The benefits of equalizing opportunity, through such policies as diversity recruitment and retention and even the controversial affirmative action, which lowers the credentials bar, work toward establishing a U.S. economy that remains relevant and vital. Workforce development and economic development are interchangeable.
"We are in a labor market where more and more emphasis is placed on cognitive skills and education-based skills, the changing economy," explains Harry Holzer, a labor economist who is a professor of public policy at Georgetown University. "Minorities and especially African Americans lag behind in those measures for a whole bunch of different reasons, but largely because they haven't had the opportunities to develop those same skills. Equalize opportunity for those people to prove their capabilities. I think the benefits go beyond just the individuals themselves who are getting hired and promoted. You build networks that help other people get hired, you develop mentors and role models to help the next generation and it helps the companies themselves."
The cost of discrimination? "What gets sacrificed," says Holzer, "is a very simple notion of fairness and justice."