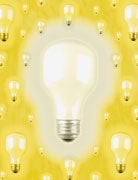 The numbers of African Americans going into the fields now collectively referred to as STEM — science, technology, engineering and math — are not just disappointingly low: They are shocking statistics, according to panelists at Wharton's recent Whitney M. Young, Jr. Memorial Conference.
"The level of discrepancy is startling," said Irving Pressley McPhail, a speaker on a panel titled, "The New Digital Divide." McPhail has been the president at three community colleges and is now president and CEO of the National Action Council for Minorities in Engineering. "When you have young people who have not had the requisite courses in science and math, it is not difficult to see that you are not going to have many going into the STEM work force," McPhail noted. "We have a tremendous amount of work to do with parents and teachers, not just the students themselves."
But panelists observed that connecting young people with mentors is just as important as making sure they receive formal training in science and engineering fields. "My parents were entrepreneurs. We were not rich, but we had a corner store in Miami," said Chris Bennett, co-founder and CEO of Central.ly, which helps businesses with their websites and social media outreach. He noted that his mother, who also worked for telecommunications company Bell South, "made sure I knew how to use a computer by the time I was in second grade. And since my family was in business, I learned that early on. I sold lollipops when I was a kid, then concert tickets later on and books when I got to college."
McPhail grew up in Harlem in the 1960s and said that while his middle school did not have the proper equipment, his seventh grade science teacher was a wonder. "Mr. Parham did not have a lab to take us to, or a microscope where we could see the best slides, but he knew how to get the material to us with chalk and a blackboard," noted McPhail. Unfortunately, he added, many students today may have even fewer opportunities and resources at their disposal. "Unless we get more people interested in teaching these subjects properly, the divide we talk about will continue."
Yet there are bright spots for the African-American community as time goes forward, according to the panelists. "The way we are living today, it is mobile first," said Bonita Stewart, vice president, Americas, partner business solutions at Google. She noted that African-American consumers have been pioneers in using mobile devices, but added that many entrepreneurs aren't leveraging digital tools to sell their products. "We have to get minority businesses moving in the right direction, not stalled," said Stewart, who has also worked at IBM and the former DaimlerChrysler AG in interactive communications. "They are just not conscious yet of how to make technology move the bottom line."
According to Tim Reese, founding partner of the National Minority Angel Network, even minority investors are sometimes leery about giving money to start-ups headed by African Americans, perhaps because the community is so lacking in STEM education in general. "From an African-American community perspective, I have to think that having a black President who has this kind of thing on his agenda will raise consciousness," Reese noted. "The first exposure is usage, to be sure, but there is more work that needs to be done. We have to start creating these platforms, not just using them. I am not sure just what the solution is, but the minority community has to see that."
Stewart agreed that it is up to the minority community in the technology sector to be more color-blind, unilaterally. "We were talking about the 'digital divide' in 2000, but now we should be talking about digital collaboration," she noted. "You have to go where the fish are…. Especially in Silicon Valley, things can open up. The way to opportunity is to make sure you are collaborating and not putting yourself in a silo. There are not that many [African Americans] in technology, so we have to seek out other groups to help in collaboration. Frankly, that is part of the tech business, so we have to get used to it."
The panelists also stressed that it is important for technology professionals to continue to learn and evolve as a way of moving toward greater levels of success in their careers. "You have to be nimble. You have to be ready to go when the opportunity comes up," said Bennett, who suggested that young African Americans in tech should not buy a house, since the purchase would both tie up capital and tie someone down to a geographical area. "In my opinion, you should build up your savings so that you can be able to spend six months, a year, 18 months not earning money and working on your start-up or your ideas. You need to have liquidity to really be able to make it."
In the end, though, the goal for those African Americans who have made it in the tech world is to encourage more young people join them. Reese has been raising money for scholarships for African-American students who want to go into the sciences, and McPhail's organization works with 50 universities interested in attracting more students of color to their engineering programs.
Reese said it would be wonderful if every African-American engineer could follow "the Zuckerberg model" and found a Facebook at age 18 or 19 and go from there, but that is hardly realistic. "We need to help [them] through the community. What is a community, after all, but people with the resources helping those just starting out?" Reese asked, noting that creating such a support system was the reason why he founded the National Minority Angel Network. "We want to have friends and family being supportive, but we also want to see that those in our community who are trying to start businesses, and trying to learn as much as they can about science and technology, have the resources. We are aware it is difficult, but we don't want to think it is impossible."