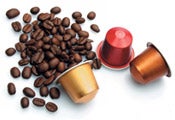 Nestle's Nespresso brand has managed to dominate the world market for home-brewed coffee that comes in capsules since the product was created 25 years ago. But others are seeking to end the Swiss company's control of the market.
Nespresso's pioneering strategy involved establishing a marriage between the design of the coffee machines and the capsules that the devices used. From the moment the consumer purchased a Nespresso machine, his or her relationship with the brand was sealed because the machine was not compatible with capsules from other players that later moved into this product category, such as U.S.-based Sara Lee and Italy's Lavazza.
But now Sara Lee and others are introducing capsules that are compatible with the Nespresso machine. Capsules sold under the name "L'Arome Espresso" by Sara Lee subsidiary Marcilla have broken sales records in Spain's supermarkets. Already, 10 million capsules have been ordered. Ignacio Gafo, a marketing professor at IE Business School told Universia Knowledge at Wharton that, with this development, Marcilla can not only generate financial losses for Nestlé, but it can also change the consumption habits of customers.
Nestlé has responded to the competition with a legal battle regarding supposed violations of its patents and intellectual propriety. The Swiss company's system is protected by 1,700 patents. Nestlé's lawsuits against Sara Lee in France and the Netherlands have yet to be resolved. In Spain, Nestlé has yet to make a move against Sara Lee on the legal front, but experts anticipate that the company will take a similar defensive strategy.
According to Gafo, Nestlé could face a scenario quite similar to the challenge facing makers of printers that use device-specific ink cartridges: Consumers could confuse their experience with the cartridges with the performance of the machines that use them. "If a user buys the cartridge of an alternative company and it functions poorly, or they don't get the same quality, consumers don't stop to think [about who is responsible]; they immediately assume that the problem is the machine."
In the case of coffee, Gafo says the blame for problems with an off-brand capsule might fall on Nestle and the Nespresso machine. "If there is a bad experience because the capsule doesn't meet their needs, it is Nestlé that has the problem…. So Nestlé has everything to lose."
Read more on the coffee capsule battle at Universia Knowledge at Wharton.