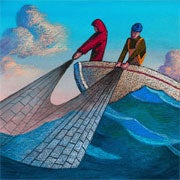 Just days before the Occupy Wall Street Movement began, business leaders and a former Hungarian prime minister gathered in Philadelphia to explore a topic now debated in the streets: Can for-profit corporations be good citizens?
Presented by the Penn Program on Democracy, Citizenship & Constitutionalism in partnership with the National Constitution Center and The Zicklin Center for Business Ethics Research at Wharton, the panel discussion touched on a variety of concerns now scrawled on cardboard placards from New York to Los Angeles. Chief among them: job creation, and what role corporations should play.
Panelist Gordon Bajnai, former prime minister of Hungary, questioned whether the global economic and financial crisis is forcing the world to reconsider the role of corporations in a capitalist society. "When times are good, you can do flamboyant, sophisticated things. But when there is a crisis, you go back to your core functions," Bajnai said. "If you are sick, you try to control your core functions. That has happened to a large extent with corporations, which were very active in corporate social responsibility [before the crisis]. Now, many of them are focusing on pure survival."
Yet even in an economic crisis, Bajnai noted, there are minimum standards that corporations should meet and societies should expect. Companies should make sure their products and processes are safe and do not harm their customers, society or the environment. They should pay their taxes. They should do their best to maintain relationships with their suppliers and contractors, so that when the economy recovers, there is no disruption in the production chain. And they should retain employees as long as possible without jeopardizing the firm's survival, since jobs lost during a downturn may not easily return once the economy rebounds.
"One of the biggest risks of this crisis is that, globally speaking, hundreds of millions of people are losing their jobs," Bajnai said. Over the past 30 years, with the help of a growing economy and cheap credit, millions of people have made their way out of poverty and into the middle class. The biggest risk to social stability would be large numbers of middle class people "destabilized as they were in the 1930s [depression]. A great historian once said that revolutions are not made by those who are poor, but by those who have been disappointed."
The government cannot force corporations to create jobs, according to Bajnai, but it could "make it very cheap and very easy to hire people" and find ways to encourage companies to retain jobs if a slump appears temporary. "If the ecology of employment, suppliers and corporations falls apart, those areas can go down for a very long time."
But the suggestion that government should incentivize corporations to hire more people is "an extraordinarily slippery slope," according to panelist John E. Abele, retired co-founder of Natick, Mass.-based Boston Scientific, which focuses on medical innovations. "The company really does need to operate in the most efficient way to serve its particular marketplace," he said. After all, a firm that acts as a great corporate citizen at its own expense won't be able to help the community for very long.
If a corporation is successful and maintains strong ties to its community, vendors and partners, those relationships could spawn new positions at other companies, Abele added. "We actually have relationships with [partners and vendors] that led to them hiring more people. You have to think of it in a very broad sense."
Location, Location, Location
Something as simple as the location of a company can spur job growth within that firm's community. In South Carolina, the J M Smith Corporation helped to revive business in downtown Spartanburg when it decided to build two new buildings there in 2004. The $2 billion health care company is the third-largest privately held firm in South Carolina, employing more than 1,000 people in six business units.
When the company decided to move downtown, Spartanburg was suffering from an exodus of shopping centers, and the city was struggling. "Everybody kept saying, 'How do you turn Spartanburg into a city again?'" recalled panelist William R. Cobb, the company's chief executive officer. "For us, it was a fairly simple answer: You have to make it a place people want to be. We moved downtown, and it's helped a little bit."
Helping the community thrive in turn helps the company hire more workers. "It becomes critical to us to retain talent," Cobb said. "Nobody wants to live in the desert. When people come and talk about jobs with us, they ride around town to see what the opportunities are. We have a vested interest in what our community looks like and how it functions."
Capitalism is "a machine propelled by interests," with the corporation as its lead actor, Bajnai noted. "Interests are driving this machine and it cannot stop. But you can try to drive and steer this machine through the best currently known form of governance, which is democracy — based on rule of law, based on transparency, based on checks and balances, and … based on a very strong civil society."
In the end, quality of life is up to citizens, not corporations. "Ultimately, it is you — the customer, the voter — who is responsible for your own well-being," Bajnai said. "You should expect from your corporations and your politicians that they do what you want them to do."