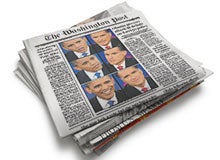 The sale on Monday of the 136-year-old Washington Post newspaper for $250 million to Amazon.com founder and CEO Jeff Bezos is the latest wake-up call for print publications amid the changing preferences of increasingly digitally savvy reader-consumers.
Last Saturday, The New York Times Company announced that it plans to sell The Boston Globe and affiliated publications to commodities investor and Boston Red Sox owner John Henry for $70 million, a fraction of the $1.1 billion The New York Times Company paid to buy them in 1993. The same day, IBT Media bought Newsweek magazine for an undisclosed amount from media mogul Barry Diller's IAC/InterActiveCorp. Sidney Harman, a philanthropist and founder of the Harman Kardon electronics company, had bought the magazine from The Washington Post Company in 2010 for the symbolic price of one dollar along with $47 million in debt before selling it to Diller.
In April 2012, a group of business leaders including New Jersey insurance executive and Democratic Party fundraiser George Norcross III bought the company that owns The Philadelphia Inquirer and the Philadelphia Daily News for $55 million. A group of investors paid $515 million to buy the papers in 2006.
In a letter explaining the decision to sell the newspaper, Donald Graham, CEO of The Washington Post Company, said his family, which has owned the publication since 1933, was no longer the right group to run it. "We had innovated, and to my critical eye our innovations had been quite successful in audience and in quality, but they hadn't made up for the revenue decline," he wrote.
Bezos, who grew Amazon from an online bookseller to an e-commerce behemoth, will have to find a way to reinvent the Post's business model and to enhance the reader experience, according to Wharton legal studies and business ethics professor Kevin Werbach.
At Amazon, which had revenues of $61 billion last year, Bezos has been successful in "innovating around the business model and around the experience," says Werbach. "Amazon beat bricks-and-mortar bookstores like Borders and Barnes & Noble by offering books more cheaply and with a much bigger inventory. The company took the most mundane aspect of e-commerce — shipping fees — and turned them into a huge competitive advantage [with promotions like the free "super saver" option and free two-day shipping for subscribers to Amazon Prime.] And then it innovated around the activity of buying books online, first by including reviews, then later with lists, recommendations, Kindle and more."
Werbach notes that newspapers like the Post face "a higher cost structure than alternatives." But he does not expect Bezos to make severe cuts on the editorial side "because that would kill what makes the Post distinctive and valuable." It's also unlikely Bezos will completely get rid of the print product, Werbach adds, since there continues to be demand for one. But he does foresee Bezos seeking a broader national and international focus for the Post so it can better compete on the digital side with publications like The New York Times and The Wall Street Journal.
"No one in the newspaper business understands marketing and customer service the way the great technology companies like Amazon.com and Apple do," Werbach says. "The relationship has to extend beyond receiving a paper on your doorstep each day and sending a check [to pay for the subscription] every few months. I do not know how Bezos and his team will achieve this, and I doubt he does, yet. We really have yet to see true experimentation in the newspaper business the way we have with other media industries, though, so the opportunity is great."
Such innovation is imperative in an age when there is "immense portability" of the reader, Raju Narisetti, a former managing editor of The Washington Post told Knowledge at Wharton in an interview last year. He added that the only way for newspapers to be competitive and build engagement and loyalty is to "take your great journalism and create an amazing experience around it."
In a Knowledge at Wharton story about The Washington Post Company's purchase of hospice services provider Celtic Healthcare published last October, Wharton management professor Daniel Raff pointed to Amazon as an example the Post could follow. "There are ways for newspapers to generate revenue that are not confined to [charging readers for access to the site]," Raff told Knowledge at Wharton at the time. "Amazon started out selling books and got itself in the position of being the most prominent address on the web."
Now, Bezos will own a "storied franchise" that has more to it than unearthing scandals like Watergate, Raff notes. The Graham family that ran it for the past 80 years made it "respectable" and "one of the principal ornaments of American journalism," he adds. "That is the source of the brand equity."
Although Bezos is buying the Post in his personal capacity, he could also find synergies between the paper and Amazon, especially with regards to the Kindle e-readers and tablets, Raff says. For example, Bezos could use the Post's archives and current articles to create "a valuable platform" for nonfiction prose on matters of great public interest. The infrastructure of Kindle ownership could make that "a very interesting possibility."
Raff notes that Bezos has the skills to fill the gaps the Post's owners leave behind. "Bezos is undoubtedly a brilliant man and an extremely wealthy man. He is certainly capable of making investments with a long time horizon and pursuing them imaginatively to give hope to a storied franchise like that of The Washington Post."