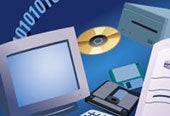 Infosys, part of of India's information technology (IT) services triumvirate — which includes Tata Consultancy Services and Wipro — has decided to augment its presence in the products arena. According to VARIndia, which describes itself as the "magazine for Indian value-added resellers", the IT firm will be setting up a separate company for the purpose. "We are discussing several options," Subhash Dhar, Infosys head of business innovation, told VARIndia. Another option could be to take over a company and transfer Infosys employees already in innovation space to this outfit.
The major focus will obviously be shrink-wrapped software, but there is speculation this could be a staging point for a future entry into hardware. Though this looks farfetched, firms such as MindTree have taken this route. Infosys 3.0, as the company has been dubbed since the recent retirement of chairman N.R. Narayana Murthy (see Narayana Murthy of Infosys Technologies: Putting the Institution above the Individual), needs to grow into a far more broad-based organization in an environment of increased competition. Infosys shares fell some 8% on the Mumbai bourse after it announced its results for Q4 (January-March) 2011-12. The consolidated net profit was up 14%, but this was below market expectations.
The product areas Infosys is likely to focus on include cloud computing and mobility. These have been growing at a fast pace. Says new CEO S.D. Shibulal (one of the seven original founders who have been taking turns in leading the company): "We have identified seven megatrends that our clients will have to leverage for their growth and profitability and we are developing deep expertise in them." These trends are digital consumers, emerging economies, sustainability, new commerce, health care, smarter organizations and pervasive computing."
Making the change from services to products won't be easy, however. Today, products account for 10% of the Infosys turnover. Just one – banking software Finacle – makes up 60% of this. The truth is that software piracy is rampant in India; inexpensive off-the-shelf software doesn't make sense. Products like Finacle work only because the user investment is high (and piracy is limited in large organizations like banks).
Indian product companies have to therefore concentrate on foreign markets. But the hurdles there are the high marketing costs and lack of expertise. (See India's Software Industry Reboots for an Expanding Market). The product route is more risky. But it may be the only way out in a market where India's traditional advantages – cost arbitrage and availability of talent – are fast disappearing. "We have to reinvent ourselves," says Shibulal.
Other IT companies have failed in their diversification ventures. MindTree went into mobile phones (hardware) and ended up losing money and its CEO Ashok Soota. (See Growing MindTree: Can Added Services and a 'Gardener' Help the IT Firm Reach New Heights?). To hedge such risks, software makers such as Infosys might have to set up a separate company for products.
Regardless of what Infosys ends up doing, at least in hardware, big money and private equity funds are backing entrepreneurs. For instance, Hyderabad-based Notion Ink's Adam tablet PC, considered a challenger to the iPad, has financial backing from Mukesh Ambani, who ranks ninth on the Forbes global list of billionaires and has assets worth US$27 billion. If their plans work out, Adam may well be the first Indian IT product to make its mark on the global market.