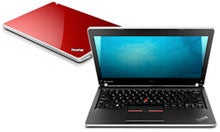 Earlier this month, Chinese PC maker Lenovo launched its latest and thinnest business laptop ever — the Lenovo ThinkPad X1 — in India. The India launch followed quickly on the heels of the global launch, a clear indication that Lenovo views India as an important growth market. During the launch, Amar Babu, managing director of Lenovo India, said that the company aims to be the number one PC vendor in the country in the next few years. It is currently in fourth position after Hewlett Packard, Dell and Acer. "We have captured a double-digit market share at 10% in the last quarter. Now we want to focus on growing faster, retaining our customers and becoming number one in the next few years," he said.
According to the IDC India PC Market Tracker report, Lenovo has been gaining ground in the country. Expanding at twice the market growth rate over the past five quarters, Lenovo has increased its market share from 7.2% in the first quarter of calendar year 2010 to 10% in Q1 of 2011. The growth has been uniform across all of Lenovo's business divisions, including enterprise, consumers and small and medium businesses. Over the past year, Babu has increased the company's retail presence in India significantly by more than doubling its retail outlets from 150 to 400. He is now looking at upping this to 1,000 by March 2012.
Gaining the number-one position may not be easy, though. The biggest challenge for Lenovo in India, and indeed for all Chinese companies, is to overcome the commonly held perception that Chinese products, while very price competitive, are also very low in quality and not durable.
Chinese firms in India face another challenge: Political tension between the two nations. Last year, India blocked purchases from Chinese telecom equipment vendors because of security concerns.
Analysts also point out that unlike their Korean counterparts, Chinese firms have not made significant investments in India. Talking to the business daily The Economic Times, Alka Acharya , associate professor in Chinese studies at the Centre for East Asian Studies at the Jawaharlal Nehru University in New Delhi, noted: "The pricing advantage of Chinese players has been neutralized by the fact that all the global majors like Nokia, Motorola and Siemens have set up manufacturing facilities in the country."
Some of that may change. In December 2010, Chinese Prime Minister Wen Jiabao came to New Delhi with a 300-plus business entourage. They signed bilateral trade agreements worth $100 billion by 2015.
"Chinese companies have changed considerably to adapt to the Indian environment," says Weimin Yao, vice-president (corporate affairs) of Huawei Telecommunications (India). Huawei started with an R&D center in Bangalore 10 years ago; it is only over the past few years that the company has started doing business here. Weimin is himself an example of that adaptation: His card reads "Rajiv Weimin Yao" — Rajiv being far more pronounceable in India. "Chinese companies are now manufacturing here for export to other countries," he adds. "Our R&D center is doing work for all over the world."
Lenovo, meanwhile, has consciously played down its Chinese lineage and positions itself as a global company. In 2007, it centralized all of its marketing communications and services from across the globe in India.
Of course, one could argue that Lenovo's lineage has a strong U.S. flavor. In 2005, it bought IBM's PC business for US$1.75 billion and jumped from being the eighth largest PC maker in the world to the third position. It is currently the fourth largest PC vendor globally.
Hari Rajagopalachari, a partner at PricewaterhouseCoopers, points out that China today is in the same position that Japan was in before the quality revolution took place there. "Post-World War II, Japanese products were considered cheap and not very high in terms of quality, but over a period of time, led by the automotive players [like Toyota, Honda, etc.], Japan came to be known for both low cost production and high quality." Rajagopalachari adds that although China has yet to make that shift regarding quality, there is no doubt that having mastered mass production, China, too, will go through a quality revolution. "But this will take time, maybe another 10 years," he says. "It takes time to get an entire workforce to think of quality as a religion." (See A Young Woman's Mission to Brand China.)
See also: "Liu Chuanzhi on Rebuilding the Lenovo Brand"