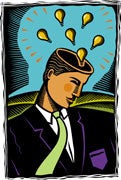 A couple of years ago, the city of Bangalore made global headlines thanks to President Obama. In May 2009, when, in a bid to boost the U.S. job market, Obama removed some tax incentives for U.S. companies that offshored work rather than creating domestic jobs, his rallying call was "Buffalo [New York] before Bangalore." Obama was reflecting popular public perception when he chose to highlight Bangalore. A few years prior to his speech, the term "Bangalored" — meaning to be laid off due to outsourcing — entered the lexicon.
Indeed, over the past few decades, Bangalore has been seeing a steady makeover. Riding on the success of its booming information technology and business process outsourcing (BPO) industry, the city has become the "IT capital of India" and has even been called the "back-office to the world."
Bangalore now has another aspiration: to become the innovation hub of Asia. This was the theme of the recently-held India Innovation Summit 2011 organized by the Confederation of Indian Industry (CII) in the city. Various speakers at the event pointed out that this goal is grounded in current realities. Bangalore is already home to a large number of technology professionals, both from within the country and many who have relocated there from across the world, and some of the world's leading edge technology work is being done from there. For many of the multinational companies, be it GE, Cisco, Intel, Yahoo, 3M and others, their research and development centers in Bangalore are among the largest in their network. With India being one of the fastest-growing economies of the world and with a huge market, many global innovations by multinationals are now happening in the country.
According to Praveen Vishakantaiah, president of Intel Technology India, "the research and innovation capability is present in the DNA of Bangalore. Over the past decade, the development work from there has ramped up significantly. It is now time to push the research element." But Ajay Nanavati, managing director of 3M India, pointed out that, for innovation to grow, there needs to be a lot more interaction between the different companies. "What we have at present is a very silo-ed mindset," he said. "Everyone is working in their own little universe." Stronger industry-academia interactions, well-defined IP protection policies and a wider and deeper talent pool are other aspects that need to be explored, he added.
But that's not all that Bangalore needs if it wants to don the mantle of Asia's innovation hub. The city's infrastructure — its roads, power supply and transportation system — all need a massive and urgent overhaul. For example, take the city's power supply constraints. Vivek Mansingh, president of the collaboration and communication group at Cisco Systems, noted that "we have thousands of square feet of lab space, but we don't have enough power to bring in more work here." In terms of transportation gridlock, Bangalore ranked sixth in IBM's most recent global Commuter Pain Index, which was conducted across 20 cities.
Sridhar Mitta, IT industry veteran and founder of NextWealth Entrepreneurs, said that in 2000, researchers from Stanford University concluded that "what distinguishes the Silicon Valley is not its scientific advances or technological breakthroughs, but the overall habitat or environment that is tuned up to turn ideas into products and take them rapidly to market by creating start-ups."
So what does the government have to say? Addressing the audience at the CII conference, D.V. Sadananda Gowda, chief minister of Karnataka (Bangalore is the capital of the state of Karnataka) was categorical that, "The government is committed to supporting all initiatives needed to foster innovation."
Now it remains to be seen if the government and other stakeholders will walk the talk.