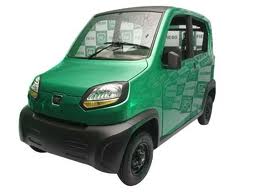 At the recently held Auto Expo 2012, India's premier automotive exhibition, Bajaj Auto showcased its latest offering — the RE60. This is the first four-wheeler from the world's largest maker of three-wheel vehicles and India's second-largest maker of two-wheelers.
While there had been earlier rumors about Bajaj Auto foraying into the small car segment, Rajiv Bajaj, managing director, is categorical that the RE60 is not a car. "As a marketing position, we are an anti-car company," he told the media. "Our core customers will be the ones who are users of three-wheelers."
So what is the concept behind the RE60? Powered by a 200 cc engine, the new entrant is being positioned as a small four-seater, intra-city public transportation vehicle. Currently, there are around five million three-wheeler passenger vehicles (called auto-rickshaws) in the country. These auto-rickshaws are designed to accommodate up to three passengers, though they often carry more. They cost less than taxis and are a popular mode of public transportation.
Bajaj believes that the RE60 could be an alternative to auto-rickshaws. But Bajaj Auto itself is the leader in this space. So will the RE60 not cannibalize its own product? It well might, but Bajaj says it's also about creating a new category and providing more options.
Abdul Majeed, leader in the automotive practice at PricewaterhouseCoopers (PwC) India, agrees. "In India, we have different kinds of customers with different needs. So from an opportunity perspective, what Bajaj Auto is doing makes a lot of sense."
Bajaj could well have a free run for some time. A small, intra-city public transportation vehicle is a unique requirement of emerging markets. It has not yet caught the attention of the global auto makers, which have their sights set on the small passenger car segment.
But the RE60 will have other challenges. Auto-rickshaws are more flexible, easier to maneuver and require less turning radius and parking space. These features come in handy while crisscrossing through India's narrow lanes and by-lanes. More importantly, auto-rickshaws are lighter on the wallet. "But the RE60 promises more stability, more safety and more comfort and also an elevation in status," says PwC's Majeed. "If Bajaj [Auto] gets the product, the pricing and the distribution right, the RE60 could well be a game changer. The important thing is to deliver on its promise."
While the pricing of this new vehicle is yet to be revealed, it is expected to be far lower than a car. "We have tried to insist that we are not making a car but a four-wheeler, because a car borrows from the skills and cost structure of the car industry, whereas a four-wheeler borrows from the skills and cost structure of the two- and three-wheeler industry," Bajaj told India Knowledge at Wharton. "So fundamentally, this space can be addressed by coming down — I mean [creating a] smaller car — or going up, making something bigger than a two- and three-wheeler. The two approaches are completely different."
Rakesh Batra, national leader, automotive sector, Ernst & Young, notes that success of the RE60 will depend on the value proposition it offers to buyers. "Since the RE60 will be for commercial purpose and not for personal transportation, it needs to offer good returns to the owners. If they can earn more money out of this without significantly increasing their costs, it could be an attractive proposition."
The last big auto product from India — the low-cost Tata Nano — was expected to create a huge wave and redefine the small car market. It has barely created a ripple. It now remains to be seen how far the RE60 will go in redefining public transportation in India.