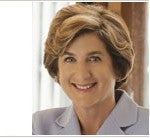 Denise Morrison had never really thought she was breaking any glass ceiling when she became president and chief executive officer of Campbell Soup Company. After all, she had been conscious from childhood that women were going to be able to do anything — because she had a father who told her so.
"I didn't realize it at the time, but he was setting down a blueprint for my career early on," Morrison told audience members at the 17th Annual Wharton Leadership Conference in June. "If I wanted a stereo, [for example,] I would have to make a business plan about it — [explain] how I would pay for it and why I needed it and so forth." There were Saturday family outings, but they would often be to the library. "He was a man who early on believed that times were changing — that the world would open up in all ways to women," she said. "Of course, he had four daughters, so I guess he would have to believe that. But the fact is, he did, and he prepared us for it."
For Morrison, that forward-looking approach has continued on in her career. "I am very proud that when I came [to Campbell] I put together a 'Focus Forward' campaign," she said. "[The company was] 140 years old and usually looked backwards, but in a volatile world, you can't stay stuck…. In a sense, [I had] a dual mandate — satisfying [our] core [consumers] and expanding into new higher-growth spaces, whether it was different consumer segments or different [regions of] the world."
After having worked for decades in the food industry at companies such as Nestle, Nabisco and Pepsi-Cola, Morrison came to Campbell in 2003 as president of global sales and chief customer officer — the latter being a new role at the firm. Now that she is CEO — she took over from previous CEO Douglas Conant in August 2011 — she has brought the principles of her former job to the corner office. 'Our rallying cry is now: 'Consumer First,'" said Morrison.
When she took over, Morrison noted, expansion had stalled. "How could we reinvigorate growth? It was no real secret of leadership — just going back to the consumer," she said. Campbell's core consumers were the baby boom generation, and Morrison wanted to keep them satisfied. "But we were virtually ignoring 80 million millennials. The question now was, how are we going to make food they want to eat? It was exciting, but it was daunting."
As a result, Campbell's menu now includes items with more global flavors and "chef-inspired" tastes. Meanwhile, despite cutbacks in advertising, sales are up: The company reported a 14% increase in soup sales in the third quarter of the 2013 fiscal year — its largest quarterly jump in five years.
Morrison is actively involved in the movement to stamp out childhood obesity and is a founding member of the Healthy Weight Commitment Foundation, an initiative of manufacturers and retailers to combat obesity in the marketplace, workplace and schools. The battlefront includes Campbell's impoverished hometown — Camden, New Jersey — where the company launched its "Campbell Healthy Communities" program in 2011, setting an ambitious goal to reduce childhood obesity and hunger by 50% by 2020 through initiatives that educate children and families about nutrition, cooking and exercise. The company has set aside $10 million for the program.
"A great percentage of the children in Camden suffer from obesity. There have been lots of cuts in Camden's schools, and it seems the first thing that is always cut is nutrition education. I want our company to be aware of that and to give back to the community in this way. It's important for our future," she said. "I want to, as we say [at Campbell], think out of the can."