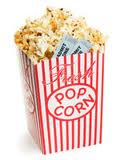 Looking at the disappointing summer movie season that finally wrapped up Labor Day weekend, Timothy Corrigan, a University of Pennsylvania professor of English and cinema studies, sums it up: "There just aren't that many good movies coming out now."
The numbers support him. According to an article this week in The Wall Street Journal, attendance at movies declined 3.93% compared to last year, the lowest since 1993, and box office receipts were down 2.8%, from $4.4 billion in the summer of 2011 to $4.28 billion this year.
"The kinds of movies Hollywood is churning out now suggest that [studios] have surrendered to, and continue to exploit, the 'high concept' formula," says Corrigan, referring to movies that are based on short and simple premises that "can be reduced to about three sentences." Examples, he says, would be the remake of an earlier successful movie, or the adaptation of a successful book or the decision to produce yet another Batman or Bourne film. "It's hooking the economic future of the movie on some notion of a quick hit that connects with lots of audiences."
Compare a high concept film with "great movies from China, Iran, South Africa and Europe," Corrigan says. "Technology today allows people to explore what else is out there. What's good about films like A Separation [from Iran, which Corrigan recently saw on video on demand] and Moonrise Kingdom [from American director Wes Anderson] is the writing. Hollywood has never much cared about the writing, and it's starting to show."
Not that movie theaters are going to become obsolete, he notes. "You go to the movies to go out – on a date, to get out of the house," to break up a routine, and so forth. "That's why movie theaters will always stay alive and attract audiences — not as big as before, and not the same kinds of audiences. But we often go to the movies for reasons that have nothing to do" with what's being shown.    
Wharton marketing professor Jehoshua Eliashberg explains the box office blues by noting that not very many movies are "aiming at broad audiences and have legs – i.e., manage to attract viewers' attention for a long time period." Nor are there very many good 3D movies, which can command higher ticket prices, he adds.
Both professors note that theatrical screenings are rapidly being undermined by the shift to numerous other platforms, "from Netflix to illegal downloads to iPads and so forth," says Corrigan. "That's been happening for a while and will continue to happen."  According to Eliashberg, "faster spread of word of mouth — often not positive — on social networks also draws away consumers from the movie theatres. In addition, the unfortunate shooting event in Colorado [at the opening of The Dark Knight Rises] may have had some, albeit hard to measure, effect."
Neither Corrigan nor Eliashberg think the struggling economy affected the lackluster summer season. "One of the boom decades for Hollywood movies was the 1930s," says Corrigan. "And that was a much worse depression" than the current downturn. Eliashberg describes movies as "a recession-proof business. In fact, my hypothesis is that the hot weather has helped the industry. It could have been worse if the summer had been cooler."
Eliashberg is "not terribly optimistic" about the fall lineup. "I have not heard about too many movies that have generated very positive 'must see' buzz, although some sequels – like Taken 2, Paranormal Activity 4 and Twilight: Breaking Dawn Part 2 — are likely to attract loyal fans."
Wharton marketing professor Eric Bradlow adds one thought: "All media distribution channels, movies included, are fighting for customers' attention.  At the end of the day, content will drive that attention, and in some ways big brands are more valuable than ever. Why would someone go to a movie starring the Avengers? Because there is brand value in the actors and in Marvel Studios."