In 2000, America Online announced that it was acquiring Time Warner Inc. for a record $165 billion to create the largest media company in the world — combining premier brands such as HBO, CNN and Warner Bros. with AOL's reach into millions of U.S. homes through its online service. But a scant nine years later, Time Warner spun off AOL, worth just $3.4 billion, to exit what often has been described as one of the worst mergers in history.
Now, AT&T has tied the knot with Time Warner for $85.4 billion, laying out the same ambitious goals. "The content and creative talent at Warner Bros., HBO and Turner are first-rate," said AT&T Chairman and CEO Randall Stephenson, in a statement. "Combine all that with AT&T's strengths in direct-to-consumer distribution, and we offer customers a differentiated, high-quality, mobile-first entertainment experience."
But can AT&T avoid making the same mistakes as AOL? History is not on its side. Such mergers have "been tried for decades but it doesn't seem to work out very well," said Gerald Faulhaber, who worked on the AOL-Time Warner merger as chief economist at the Federal Communications Commission and now is a Wharton professor emeritus of business economics and public policy.
Not only are there company-specific challenges to overcome, but there is also the added difficulty of merging a content company — Time Warner — with a conduit business — AT&T. "It seems pretty rare to actually make that work," Faulhaber said. Comcast and NBCUniversal were able to integrate well and create synergies from their combination, but they are the exception. "My view is that Comcast is an unusual product and [CEO Brian] Roberts is a very unusual, very competent CEO," he added.
"What you need to make a business out of Walt Disney is just very different from what you need to make a business out of Comcast." –Gerald Faulhaber
According to Faulhaber, the mistake companies make is to lump the content and conduit business models into the same bucket of providing entertainment. Actually, their businesses are very different. "Conduit is a network business," Faulhaber explained. "They're about maintaining a physical plant [such as cable systems] and making sure it doesn't break."
Content needs little physical capital but loads of human capital — creators willing to take risks and make bets on potential hit TV shows or movies. "What you need to make a business out of Walt Disney (content) is just very different from what you need to make a business out of Comcast (conduit)," Faulhaber noted.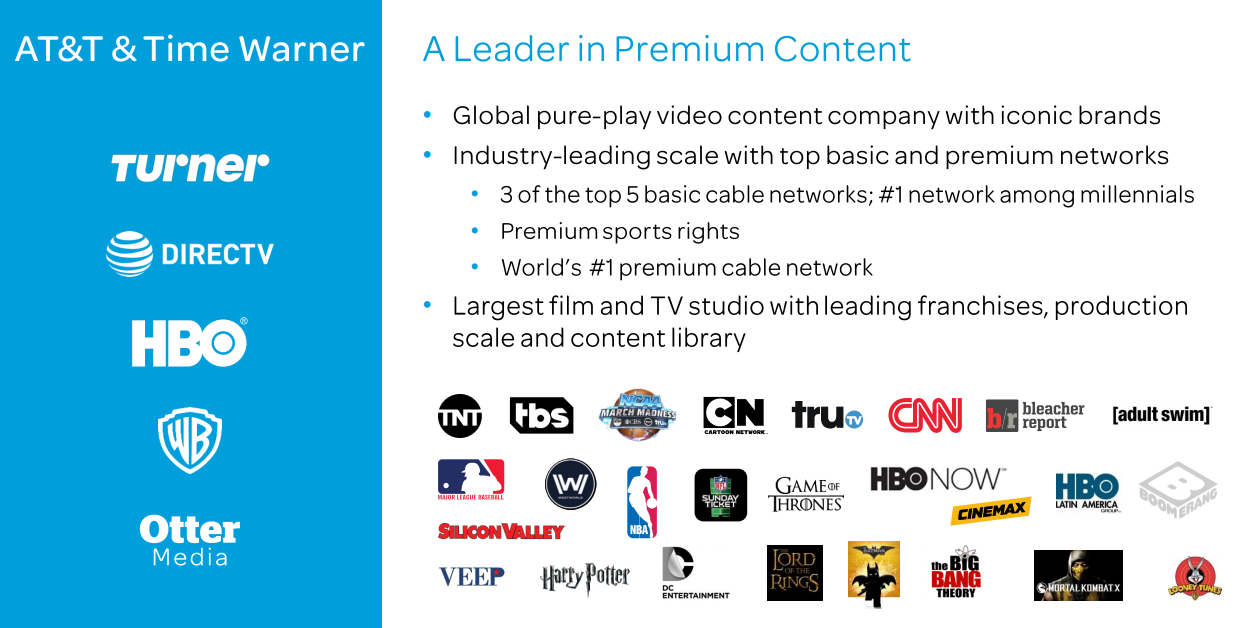 Breaking Down Silos?
In an interview with CNBC last year after a federal court cleared the AT&T-Time Warner deal, AOL co-founder and former CEO Steve Case looked back at the mistakes made in the AOL-Time Warner merger. He identified two main culprits: clashing cultures and short-term thinking. "There were a lot of people at Time Warner that weren't as enthusiastic about the digital path, weren't as enthusiastic about the internet, were worried about how it might cannibalize some of their businesses," he said.
"So they tended to play defense to protect what already existed as opposed to playing offense and try to create what the future would be," Case continued. "If AOL-Time Warner was run as one company, not as a bunch of independent, siloed divisions, it would have enabled us to lead the way in digital music, lead the way in digital video, and other kinds of things."
This month, AT&T took steps that could be seen as breaking up the old silos within Time Warner, which it renamed WarnerMedia. Previously, Time Warner had organized content under the Warner Bros., HBO and Turner units (TNT, TBS, Cartoon Network and other entertainment cable channels). That means entertainment content could be found under any of the three divisions, whether it is episodes of HBO's "Game of Thrones," the hit sitcom "Friends," or blockbuster films such as Batman, Wonder Woman and Harry Potter.
Now, AT&T has organized operations by type of content under its three units: Warner Bros., and the newly created WarnerMedia Entertainment and WarnerMedia News & Sports divisions. It placed HBO, TNT, TBS, truTV and the direct-to-consumer business (which includes streaming services), under the Entertainment unit. CNN, Turner Sports, Bleacher Report and the AT&T Regional Sports Networks went to News & Sports. Warner Bros. has the film, TV and games businesses, plus family, kids and animation content (Cartoon Network, Adult Swim, Boomerang).
But the reorganization also led to the exit of two veterans: HBO Chairman and CEO Richard Plepler and Turner President David Levy. Plepler had been at HBO for 27 years and Levy at Turner for 32. The new entertainment boss is Robert Greenblatt, formerly chairman of NBC Entertainment, while CNN Worldwide President Jeff Zucker will be in charge of news and sports.
"Netflix and Amazon Prime [Video] have demonstrated that you can excel on both dimensions and deliver creative content via efficient streaming platforms." –Josh Eliashberg
AT&T initially retained Warner Bros. CEO Kevin Tsujihara, but he decided to step down this week due to revelations that he helped obtain roles for an actress with whom he was in a relationship. A replacement has not yet been announced. Tsujihara had been at the company for 25 years, and his exit means that all of the old Time Warner division heads will be gone. Meanwhile, AT&T's new division chiefs will report to John Stankey, CEO of WarnerMedia and formerly the phone giant's chief strategy officer.
By organizing for efficiency, could AT&T harm the creativity that has propelled HBO and other cable channels to enduring success? Not necessarily, said Jehoshua "Josh" Eliashberg, Wharton professor of marketing as well as operations, information and decisions. "Netflix and Amazon Prime [Video] have demonstrated that you can excel on both dimensions and deliver creative content via efficient streaming platforms," he said. "AT&T, being a technology-oriented company, can certainly enhance the technological aspect of HBO without necessarily hurting its creative strength."
Inside HBO's Creative Process
Eric Kessler, former president and chief operating officer of HBO, was there during AOL's problematic reign at Time Warner. "I am a survivor of the AOL-Time Warner merger," he said in an interview with Knowledge at Wharton. "There was a big issue in terms of culture. You put two very different cultures together and if it's not managed correctly you're going to have significant problems — and that's exactly what happened at Time Warner."
As a conduit company, AT&T is going down the same path as AOL — aiming to combine its distribution reach and technology with Time Warner's content to prevail in the media wars. Technology is certainly useful in helping expand distribution, improve the streaming service and develop targeted ads. "But you have to know, when you are acquiring a creative business, the limits of technology," said Kessler, a Wharton MBA graduate.
Creative talent is key to making great content, even if there are no guarantees for success. "You're going to fail. You have to accept that. You have to give creative people a wide berth to operate. You have to be willing to take risks, and at the end of the day it's really about a leap of faith," said Kessler. "You are going to listen to the vision of the creator of the show, listen to the programming executives, and you're going to hold hands and you're going to walk to the edge of the cliff and take a step and hopefully … there's a bridge above the chasm. Sometimes that bridge is not there. That is just the nature of creative content."
Kessler remembers when David Chase, a staff writer for some TV shows back in the late 1990s, approached HBO with an idea for a show about a mobster in New Jersey. They shot a one-hour pilot episode and liked it, so they filmed some more. "We had no idea that David Chase was going to turn out to be a genius and he was going to create … one of the greatest shows in the history of the medium." That was "The Sopranos," which ran for six seasons.
On the other hand, consider "Vinyl." "It was the story of a record executive in the 1970s, and it had sex, drugs and rock and roll. What could be better, right?" Kessler said. The HBO show was written by Terry Winter, one of the main writers on "The Sopranos," executive produced by rock star Mick Jagger and directed by Martin Scorsese. Plus, it had a $100 million budget. "You look at all those elements on paper and you say, 'Wow. This should be a great show,'" he said. "It turned out not to be a good show, and it was cancelled after a year for a variety of reasons."
Some shows take HBO a long time to get on board. That's the case with "Game of Thrones," the hit fantasy action-drama about feuding kingdoms. "When we were pitched "Game of Thrones" … HBO thought about it for a year and couldn't decide [whether or not] to make it. David Benioff [screenwriter and TV producer] walked in and said, 'Forget the dragon. Forget the magic. Forget everything. The show is about one thing — it's about power. How you get it and how you keep it," Kessler said. "That was a great line because it enabled us to understand why this show was going to connect with people" since fantasy mainly appeals to niche audiences.
But will HBO's mojo disappear with Plepler gone? "It's never been about a person. It's about a brand, and the programming flows from an understanding of the DNA of the brand," Kessler said. When former HBO CEO Chris Albrecht left in 2007, there was also concern about the future since he had been in charge of programming when the cable channel developed "The Sopranos" and "Sex and the City." But HBO did not derail. "It was an HBO programming strategy, and it was an HBO brand," Kessler said.
"You have to know, when you are acquiring a creative business, the limits of technology." –Eric Kessler
Kessler is hopeful AT&T will keep the creativity flowing at HBO, the king of the premium cable networks. "They acknowledged up front the importance of maintaining the [HBO] culture. They acknowledged up front the fact that programming is not their expertise," he said, pointing to the hiring of NBC's Greenblatt and decision to keep HBO Programming Chief Casey Bloys and his team in Los Angeles. AT&T is "moving forward in a way that I hope will enable them to sustain the magic of the HBO brand."
Future of Media Is Streaming
Back in the early 2000s, Time Warner executives were wary of technology cannibalizing existing businesses, according to AOL's Case. But the media landscape was also very different. The idea of watching TV on a mobile device was hard to fathom. Netflix was just a young company renting out DVDs by mail. Fast internet was not yet widely available, and the iPhone and iPad were not yet on the market. TV shows and movies were not yet streaming to mobile devices. YouTube wasn't even around yet. The cable and satellite TV business — pay TV — looked like a safe bet with its take-it-or-leave-it cable channel bundles. (AT&T's U-verse and Verizon Fios would launch in the mid-2000s.)
By 2015, the game had drastically changed. "The broadband market had grown. Netflix had obviously grown. Everybody could see where the future was going," which was online streaming, Kessler said. Apple came out with the iPhone and iPad that made watching video on mobile devices much easier. Amazon got into video; so did Google's YouTube and soon Apple. More competition arrived and many consumers were cutting the cord. "Distributors [such as cable, satellite and telecom-TV providers] weren't happy about it certainly, but they acknowledged that was the future."
HBO changed, too. Because many online video services were now competing for viewers, it made sense to get in the game and launch its own service called HBO Now, which made its premium content available to anyone, even cord-cutters, according to Kessler. Previously, HBO had launched a streaming service called HBO Go, but it was only available to subscribers of pay TV. At the time, HBO and Cinemax collected $4 billion from pay TV providers, and bypassing them would jeopardize these affiliate fees.
Kessler, whose team launched HBO Go in 2010, said if they had gone directly to consumers back then, they would have lost a lot more than they would have gained. "The math simply didn't work." This type of internal wrangling is common for traditional media. "HBO has been struggling for a long time with how to integrate its creative content with technology [in the face of] changing audiences' consumption of entertainment content" such as through streaming platforms, said Wharton's Eliashberg.
"HBO has been struggling for a long time with how to integrate its creative content with technology [in the face of] changing audiences' consumption of entertainment content." –Jehoshua Eliashberg
AT&T sees the future. Three years after launching DirecTV Now, an online video streaming service of cable channels, it plans to launch two new skinnier streaming bundles in April: DirecTV Now Plus and DirecTV Now Max at $50 a month and $70 a month, respectively. The company still offers its DirecTV satellite TV service, which lost 1.24 million subscribers last year, and AT&T U-verse, which gained 50,000. DirecTV Now's growth slowed to 436,000 net new customers last year from 888,000, according to its latest 10-K filing with the SEC.
One area AT&T needs to focus on is developing an efficient data analytics capability, which is in line with its strengths, to inform the company's decision-making, Eliashberg said. It can also think innovatively about content. "I don't mean innovativeness only in content generation, but also in how the content is consumed by consumers," he said. An example is the "interactive movie consumption such as Netflix's Bandersnatch where consumers can alter the narrative based on their mood and preferences."
But while AT&T is righting its ship, charging forward are other deep-pocketed rivals: Comcast-NBCUniversal, Disney-Fox and the tech giants. Prevailing over them "will not be easy," Eliashberg said. At least, WarnerMedia is shoring up other parts of AT&T's business. It brought AT&T revenues of $18.9 billion last year, versus $30 million in 2017 without Time Warner. AT&T's biggest business, its wireless and wireline operations, saw revenue fall to $144.6 billion from $150.4 billion year-over-year.
AT&T seems to be learning from the missteps of AOL. But in the end, it will take time to see whether the acquisition will succeed or not. "AT&T has come in and they're making organizational changes and restructuring [Time Warner]. They believe there is a more effective and efficient way to operate the organization, not just HBO but the whole WarnerMedia group of companies," Kessler said. "Time will tell whether that's the right decision."